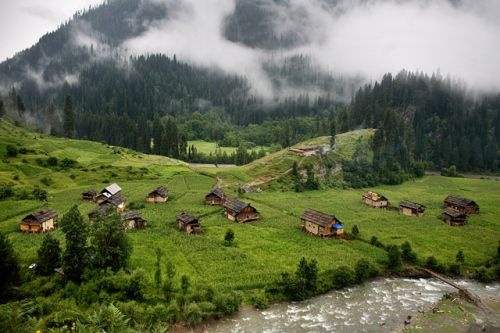 Neelum Valley
Natural beauty can never be compared with anything. Many beautiful places can be found to visit in Pakistan. The best visiting places can be found in the northern region of Pakistan. This country is famous because of it high mountains, beautiful green valleys, rivers and lakes of fresh and clear water and awesome wildlife. One of the amazing place is the "Neelum Valley" or Mini Switzerland, the "Swat valley" and the "Hunza valley" are the places where maximum tourist visit. You can see the real beauty of a place and can't stop without appreciating.
Neelam Valley is a bow shaped valley situated in Azad. The Valley is 144km long and lies in the North & North-East part of Muzaffarabad (Capital of Azad Kashmir). The Neelum River valley has an amazing scientific beauty and valley has hills on both its sides. The enchanting forest lush green forests, enchanting streams and attractive surroundings make the valley unspeakably beautiful.
Transportation to this place is preferable by four wheeler or else even busses are available for easy transportation.
Communication medium is important no matter where ever we go. Telephone booths are available in various places on the way towards the place.
Accommodation in this place is easily available. When people visit this place, they want to spend at least a night in this place to experience the night beauty of this place. Hotels and guest houses are available for accommodation.
When we plan a tour we want it to be easy and convenient. Pakistan has many places that are praised and tourist can visit the places anytime they want by being sure of all the basic travel needs to be fulfilled. Everyone loves the place.