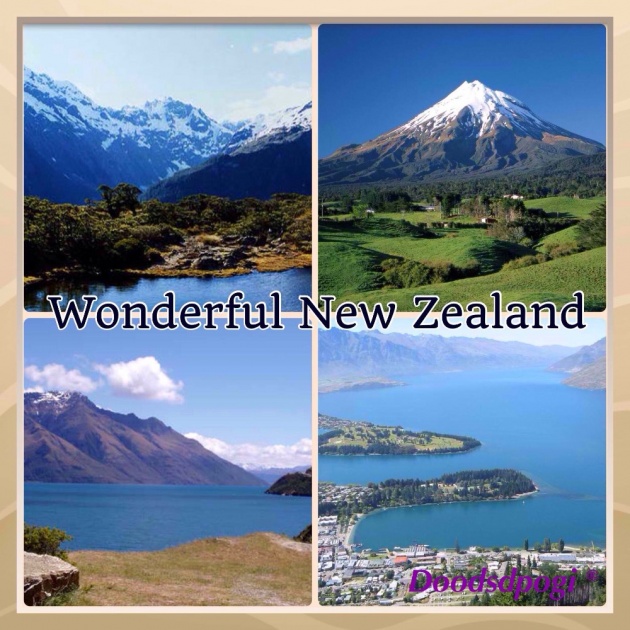 The land of the long white cloud, New Zealand
The land of the long white cloud, the New Zealand is here. This often forgotten, consisting of two skinny islands in the southern most part of South Pacific, is well worth visiting. I went there on assignment from Readers' Digest in 1970 and was so enthralled by its natural beauty and exotic birds and animal life that I returned to write a book: Life on a Lost Continent. For indeed New Zealand offers a view of the world and it was in the beginning of human history. Flowers, trees and animals have profligate in dense forests untouched by man. Three quarters of the vegetation in New Zealand is unique. It is also home to the world's only flightless bird, the kiwi which was adopted on the symbol of the country.
Southern Islands boasts of the world's grandest glaciers deepest fjords and highest mountains North Islands, where the capital Wellington is located offers sunny beaches, fine fishing lakes and a thermal area seething with mud pools, steaming geysers and boiling hot springs, where the local Maoris cook food that they lower into the bubbling water in the net bags.
Besides the unique kiwi bird, New Zealand is also home to the world's only "Living Fossil" a three-eyed lizard-like creature, the tuatara which was a contemporary of the dinosaurs 135 million years ago.
New Zealand remains sparsely populated---it used to be said there were more sheep than people----less than four million inhabitants most of whom live in the largest cities, Auckland Wellington and Christ Church.
A Mecca for sportsman from all over the world, New Zealand offers the opportunity to catch a marlin in the Pacific a six-pound trout in Lake Taupo or hunt wild pig, goat and elk.
When the British settlers first arrived, they fought with the native Maoris but in 1880, a treaty was signed which granted the Maoris equal representation in the Parliament and equal benefits in education, housing and employment. New Zealand's original settlers, these Polynesian Maoris drifted in their canoes to the "Land of the Long White Cloud" as they called it, from the Central Pacific 700 years ago.
In recent years New Zealand has moved away from its traditional export economy of dairy products, lamb and wool, to forestry, fishing and the development of global tourism. Today 36,000 Filipinos call New Zealand home.
Thanks to Beth Day Romulo (Philippine Panorama)