It been awhile since my husband and I had gone to somewhere away from the city. Well, actually not too long because we went home to Oslob during the Holy Week which was three weeks ago but then, we both felt like it has been a year so we had to travel and get ourselves fresh air from the province where the city pollution is nowhere to be found. It was a coincident that the cousin in law's family lives in the northern part of Cebu thus we opt to go there instead.

Tabogon is a third income class municipality in the province of Cebu, Philippines. It has a population of 33,024 according to the 2010 Census. Its original name was "Agoho" which is a name of a very huge tree with thick foliage but it has been changed to Tabogon when Spaniards came in the 16th century. Tabogon means a hiding place, a reminder of their elders' experiences in the hands of Moro pirates.

Before we traveled towards the said town, I personally searched for any beauty we can sought in the town. I found certain beach resorts, one which had really made me excited was the cold spring which is a public one. My inner wanderlust soul had made its own cartwheel move upon reading some good reviews about the said spring. And so on Saturday, my husband and I head to north with our trusty motorcycle, which we call Mia.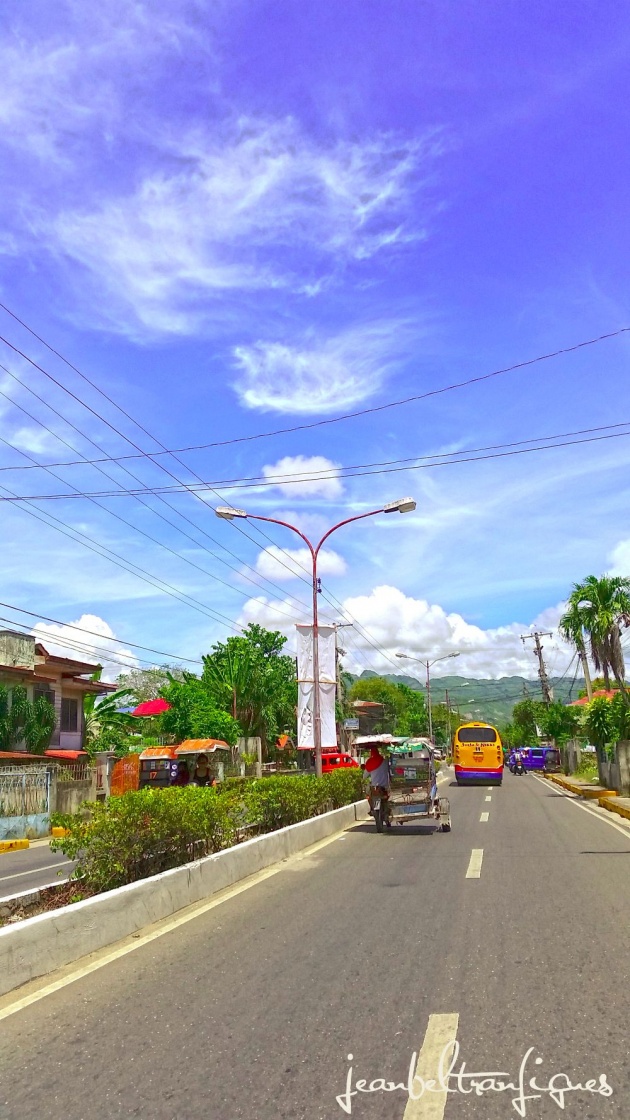 It was a three hour drive which seems long but because I love to see the environment around while my husband is busy with taking care of the wheels. I take photo, video or whatsoever of each town we pass by. I never thought there are other towns here in this part of Cebu which are not really that famous. Like Sogod and Tabogon, this escapade had been an eye opener for me and I am thankful I got this chance. As you can see, we rarely travel north because my husband's province is in the southern area of the province. I had already memorized the towns heading south but not the ones in the northern area of Cebu.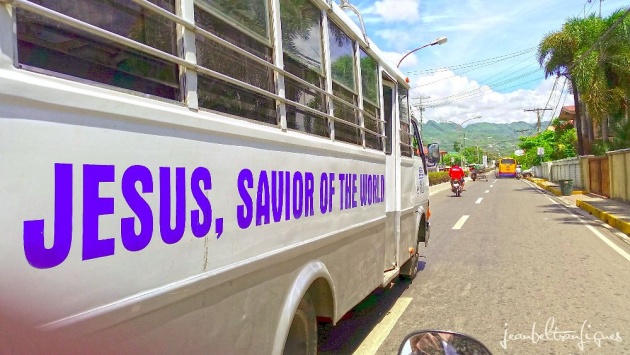 Got a good shot of a bus heading North too, I just realized the signage on its side when reviewing the photos. I can't help but share it to others too!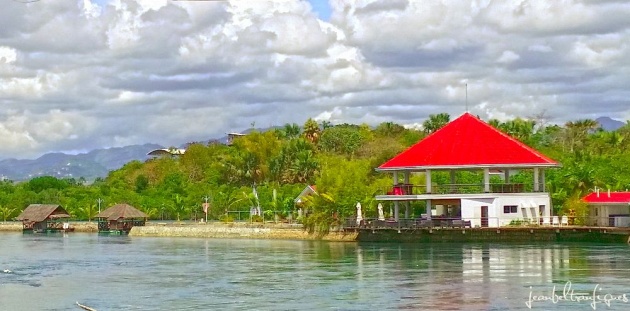 Here's a cool place to stay during summer as well. While on our way through North Reclamation Road, we passed along a certain resort which is just in between a bridge. On our right side were some ships and yacht being docked along the bridge.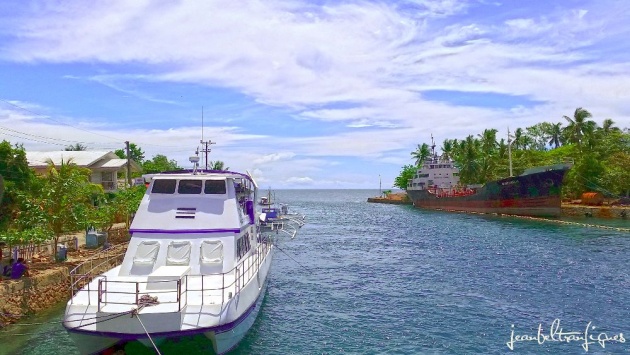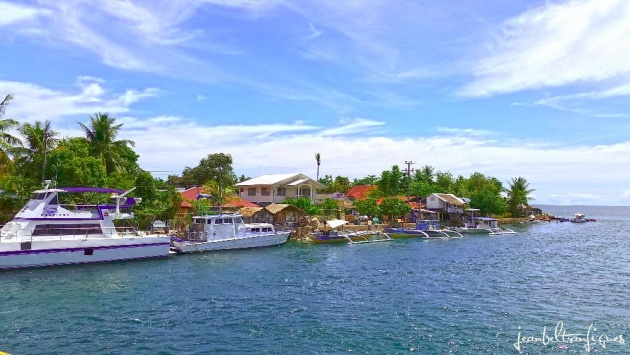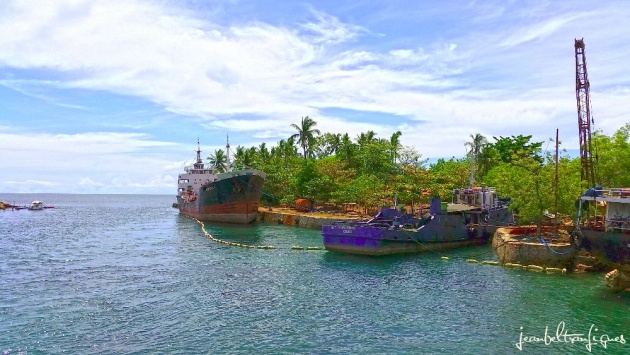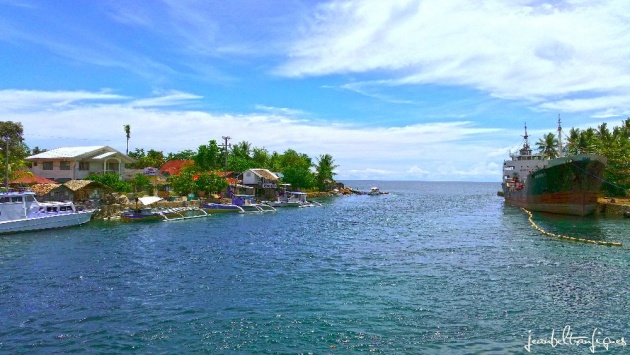 And one more thing, it was our first time to travel using the North Reclamation Road. Unfortunately, there were road constructions going on so we experienced a bit of heavy traffic but the stress was still manageable. I saw certain beautiful sites in that side of Cebu, it is just along the sea area so there were certain resorts and docking areas for ships. I also saw an abandoned ship which I fail to take a photo because my husband was driving so fast. But he promised me he will make it up, we will go back to that area in the future. Here are some of the photos taken while we were in the North Reclamation Road.

From Cebu City, we passed along a shortcut with NRR so we didn't go to Mandaue and Consolacion, the road led us to Liloan instead.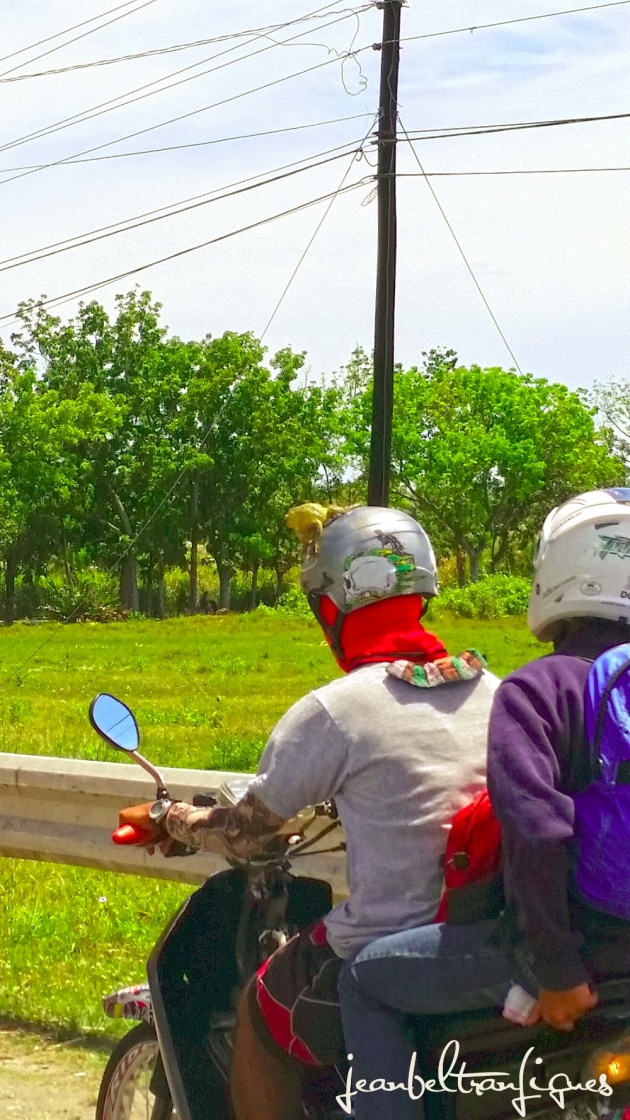 It was not easy capturing this photo above as the motorcycle was running really fast. I had asked my husband to run after this motorcycle so I can get a good shot of the driver's helmet. Why? Because this guy had a frog on its helmet.
Check the video I had taken while we were running after them: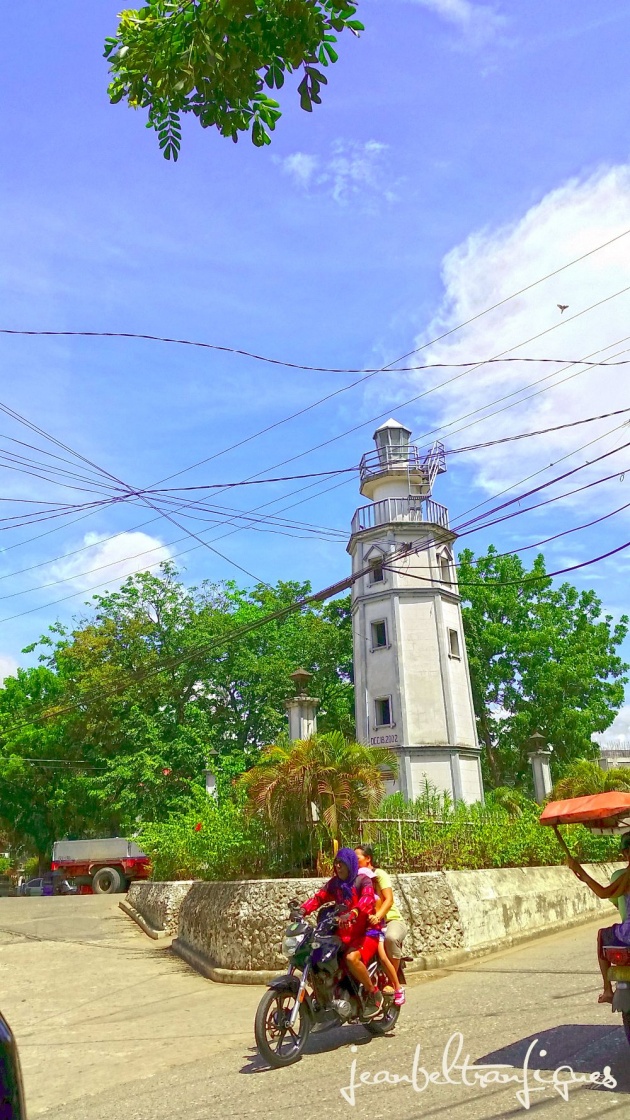 The Liloan intersection and although it is a one way lane, this cool elder just passed in a different way and without helmet, his passengers don't have one as well.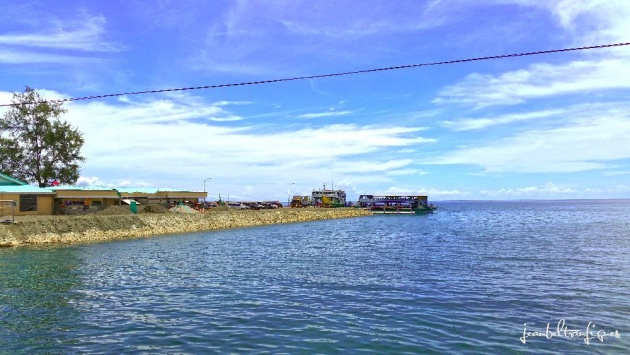 After Liloan, we reached Danao where certain famous beaches are also laying just in the highway areas. I blogged before about one beach resort which we went before, El Salvador. Here are some videos of the beach resorts situated just along the roads of the said city of Danao.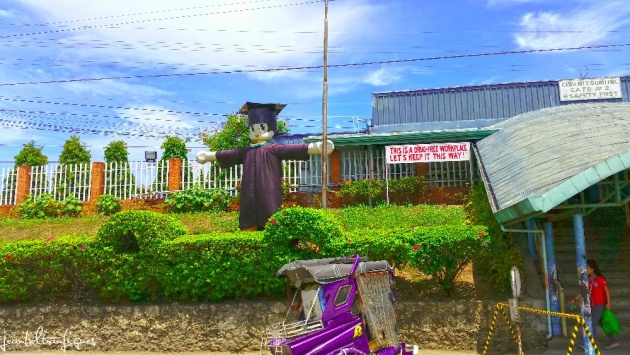 Then we arrived to
Compostela
which is a small town,
Catmon
sounds magical but it is a town's name where a lot of beach resorts are also available. Then we passed by
Sogod
which I have no idea that there's a town named like this in
Cebu
. It's a silent town and we somehow found a lot of fenced properties of
MLhulier
, my husband and I were both surprised to see those properties.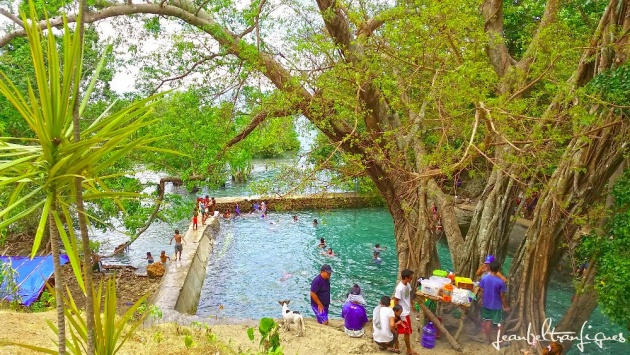 Now time to reach the town which we are heading to and we stopped by a sari sari store to quench our thirst. We also stopped along a
cold spring
which the locals refer to as
Guiwanon Cold Spring
. We can't take a swim right now as the we just came from a long ride, we have to do it the next day.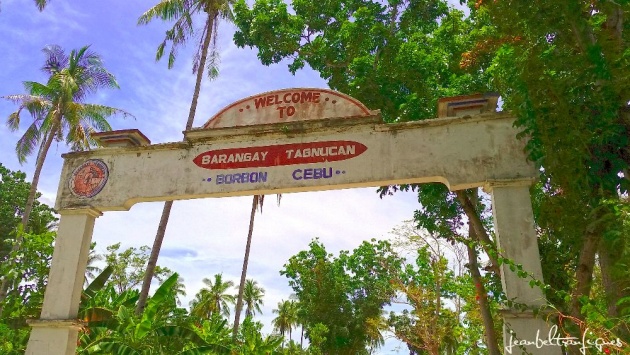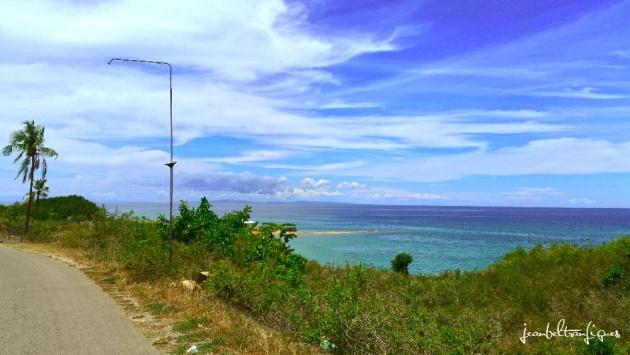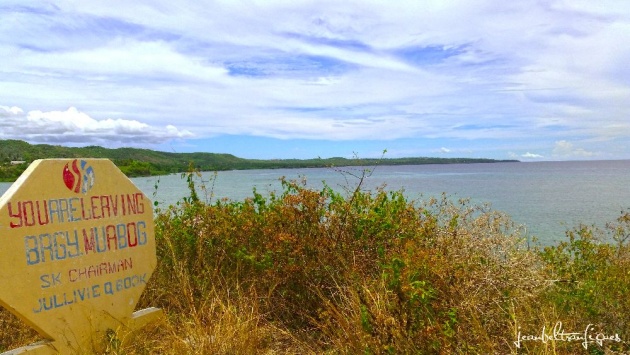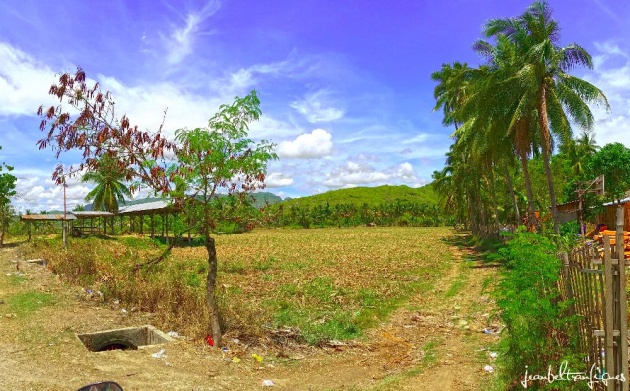 Upon reaching the place where the relatives were staying, I felt the extreme happiness to see the ocean's horizon from a far, just a distance away and I have a glimpse of the
Leyte Province
. We have to wait for the afternoon time to get a cool air at the top of the mountain where the we can witness the sunset.
Will share more about our
Tabogon
stay in the next days, for now, our road trip adventure towards the
North
ends here.