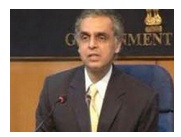 India has no role to play in tackling internal affairs of Bangladesh, and it is the government and the people of Bangladesh to decide how their society would be shaped.
Indian foreign ministry's spokesperson Syed Akbaruddin said this to journalists at New Delhi today, Monday.
He made the comments while responding to queries about the hot issue of Amit Shah's reported phone call to Khaleda Zia.
Akbaruddin said India always wants welfare of Bangladesh so that peace, stability and security prevail in the country.