JUDO CHAMPIONSHIP SHOWDOWN
WITH SIX TEAMS FROM BRAZIL, CANADA, FRANCE, GERMANY, RUSSIA, USA
New York Open Team Judo Championship - Sunday, March 3, 2013
Featuring Olympians and World Champions on TEAM USA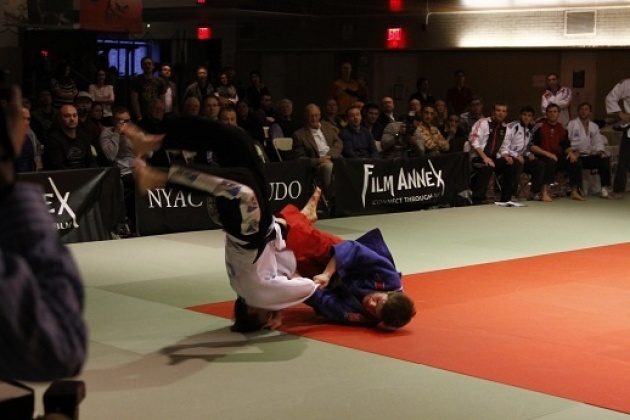 NEW YORK, NY - The New York Open Team Judo Championship will be a showdown of Brazil, Canada, France, Germany, Russia and USA on Sunday, March 3, 2013, in NYC at the New York Athletic Club. The teams in the Judo tournament include some of the strongest players in the world, featuring World Champions and London 2012 Olympians. The tournament is sponsored by Film Annex, United Water and the New York Athletic Club.
The event begins at 10 am, followed by a Sambo demonstration by top Russian Sambo masters, and Judo rules demonstration by two-time Olympian Taraje Murray.
At the event, US Olympian Kayla Harrison, Gold medalist; US Olympian Travis Stevens; and four-time US Olympian Jimmy Pedro, Bronze medalist and 2012 US Olympic coach will be honored.
Each team consists of five athletes in the following weight divisions: 66 kg, 73 kg, 81 kg, 90 kg and over 90 kg. Total prize money of $10,000 and a coveted champion's plaque is at stake: the winning team will receive the champion's plaque and $7,000 to proudly bring back to their native country. Second place team will win $3,000.
Germany, the New York Open Team Champion for 2011 and 2012, is returning to defend their hard fought title. Team USA will be fighting to take revenge over their narrow loss in the final against Germany. Team France, the 2012 New York Open Bronze medal winner, is competing for the second time in the team event. Team Canada is always a tough challenger, and Team Brazil and Team Russia are power-packed and strong contenders in the quest for the Gold medal. The competition will be in a five-man team format utilizing a round robin format.
Team USA features: In 66kg: Brad Bolen, Pan American Champion, three time World Cup medalist and three time World team member. Aaron Kunihiro is 66 kg alternate. In 73g: Bobby Lee, ranked #2 in the USA, National Champion 2008, and US Open Champion 2006. Anthony Vennitti is 73 kg alternate. In 81 kg: Travis Stevens, two-time Olympian (2008 & 2012),€" 5th place in London, current World ranking #2, Germany Grand Prix-Gold, Moscow Grand Slam-Silver, Abu Dhabi Grand Prix Bronze. In 90 kg: Zack Piontek, €"South African Open Championships 2012 1st place (0 kg & open weight), South African Open Championships 2011 1st Place, Eastern State Championships (America) 1st place. Shintaro Hiogashi is 90 kg alternate. In +90kg: Kyle Vashkulat, €"Olympic team member 2012 (100kg), five time World Cup medalist, two time Pan Am Medalist. The coach of Team USA is Jimmy Pedro, US Olympic Judo team coach 2012, World Champion 1999, Olympic Bronze medalist 1996, 2004, World Championship Bronze medalist 1991, 1995, US World team member 1991, 1993, 1995, 1999, US Olympic Team member 1992, 1996, 2000, 2004, five time US National Champion.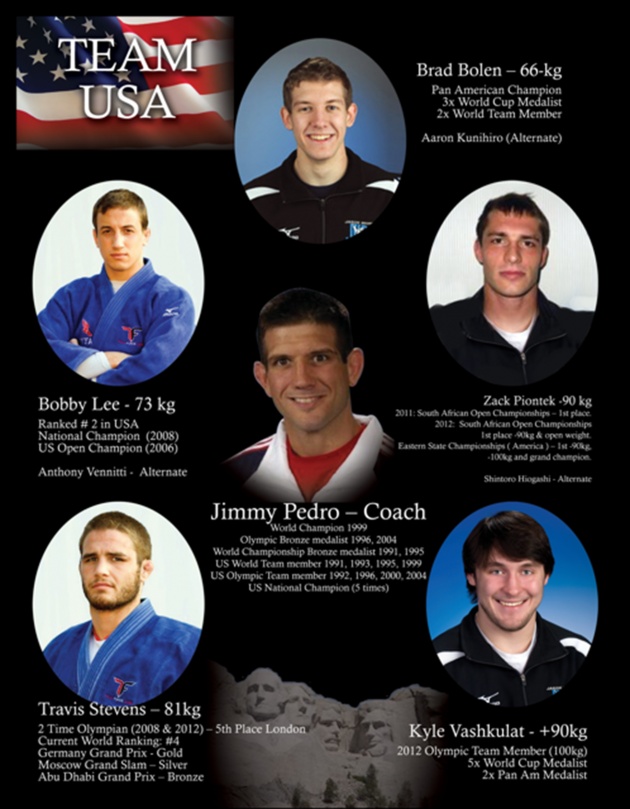 The coaches of the six teams all have a history of excellence. Team USA has Jimmy Pedro and the coach of Team Canada is Nico Gill, Olympian and 2012 Canada Olympic Judo team coach. The coach of team Brazil is Ney Wilson Pereira da Silva, 2012 Brazil Olympic Judo team coach, and the coach of Team Germany is international champion Toni Lettner. The coach of Team France is international coach Maxime Nouchy, and the coach of Team Russia is Olympic medalist Alexsei Budõlin.
Team Judo is considered to be the most exciting in the world to watch, and cheering for your favorite country is encouraged. Fans wave country flags and root for players, rocking the room with energy and good-natured rivalry, and at this event a live commentator calling the action on the mat and a DJ all add to the spirited atmosphere.
The judo tournament will be held at the New York Athletic Club, located at 180 Central Park South on the 6th floor. All spectators are welcome, and tickets can be purchased for $25 at the door for general seating, $85 for VIP seating. The tournament action will begin at 10 am and finals at 4 pm.