Finally got to see the Ocean's Eight movie and boy was I mildly entertained. No it's not too great for me but it's good enough. Want to know why? I'll break it down for you. First, let me start with the cast and the rest of it until you see my review.
Note: Spoilers ahead.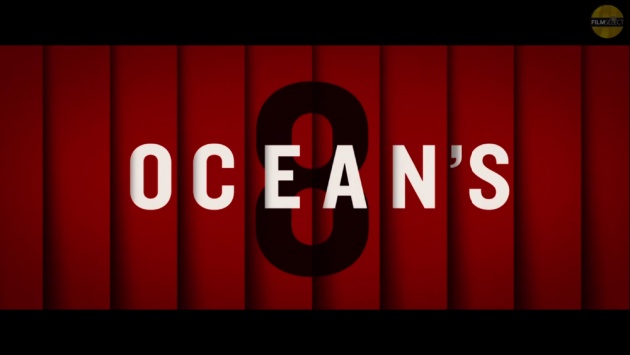 ♣ The Cast ♣
◙ Sandra Bullock plays Debbie Ocean
The mastermind of the jewelry heist. Sister of Danny Ocean.
◙ Cate Blanchett as Lou
Partner in crime of Debbie. Also owns a club.
◙ Helena Bonham Carter as Rose Weil
An established fashion designer whose career was on a downturn until she met Debbie and Lou.
◙ Anne Hathaway as Daphne Kluger
The actress presenting the jewelry exhibit at the Met Gala.
◙ Rihanna as Nine Ball
The team's hacker.
◙ Awkwafina as Constance
The pick pocket of the team.
◙ Mindy Kaling as Amita
The jeweler in charge of separating the necklace into several pieces.
◙ Sarah Paulson as Tammy
The event coordinator and inside worker of the team.
♣ The Trailer ♣

♣ Synopsis ♣
The story begins with Debbie Ocean, Danny Ocean's younger sister, just fresh out of prison on parole. Upon release the first thing she does is fool people into thinking she bought some items at a department store.
Next thing she does is check in at a hotel where a couple just came out of. She pretends to be the wife from a certain hotel room that got vacated and stays there for a day. She visits her brother's grave and then she goes to her friend Lou to tell her they were doing a jewelry heist.
They assemble a team in order to pull it off. One by one they gather the team members depending on their skills. There's a jewelry maker, a failed fashion designer, a hacker, a mom and profiteer and a pickpocket.
For revenge, they even included the ex-boyfriend of Debbie into the picture. Lou isn't happy with it but Debbie insisted on taking revenge since she went to jail because of him. While in jail for more than five years, she plotted this elaborate scheme just to put him in jail too and make themselves rich.
First they had to check on the venue for the Met Gala event at the Metropolitan Museum of the Art in New York. They looked at all the details they needed to factor in to pull it off.
In short, they went with the plan afterwards and everything went well. They were able to steal the Toussaint, a 1930s Cartier diamond necklace worth $150,000,000. Amita separated parts of the necklace in order for them to be able to bring it out of the event without being detected. And while everyone else was busy when it got lost, they were also stealing the rest of the jewelry at the exhibit and replacing them with fakes. Also, we learn that even the actress Daphne, who wore the necklace at the Met Gala exhibit, was revealed to be an accomplice to the crime.
After the big heist, a jewelry insurance fraud investigation took place and of course Debbie's plan to implicate the ex-boyfriend succeeded. He went to jail and Debbie's team members all went on their separate ways to have a better life.
♣ ArtGirl's Review ♣
I like heist movies when I get impressed by it. This one did not impress me as much as I might have expected. Actually I watched it with no expectations whatsoever. As usual, I did not read any reviews about the movie. I only saw the trailer and that's it.
So let me tell you what I think about the film Ocean's Eight.
◙ Characters & Story
As much as I enjoyed Ocean's 11, I can't say the same about Ocean's 8. First of all, we see this ex-con doing cons fresh out of prison. Okay, that's not new. I just don't like the story that much. The entire run time I was only thrilled about a few things.
Seeing Akwafina with the rest of the cast fresh from Crazy Rich Asians' success.
Being amazed at the props and liking the costumes.
Seeing some members of Danny Ocean's team.
Other than these I think the story is just not that amazing because they simply gave away what could have made the movie fantastic. Which part am I referring to? Well the fact that Anne Hathaway's character is part of the heist team when she should have been secretly chucked in there during the promotion. I mean, I was already expecting Anne to be part of the team so what would be the twist in the movie?
They made the story like Daphne should come as a surprise but they already included her in the promotion as part of the team so why expect a surprise that she's part of it after all? The only other things that surprised me were how the characters had the gall to do such and how stupid they made everyone else look. That's all.
And frankly this is clearly empowering women in the wrong way. I'm wondering which part of this movie makes women empowered that it made it into bitLanders' movie writing list. If the writing theme wasn't about women empowerment this movie would probably sit well with me.
As you can see quoted below is the short information about the bitLanders Film Series blogging theme.
We identify great films about women, their hopes and dreams, their struggles and challenges, and their truly inspirational stories. (by Francesco Rulli, Founder of bitLanders).
First of all Ocean's Eight is about women stealing jewelry, lots of jewelry, worth millions of dollars. That is empowering and inspiring women in the wrong way. The movie makes one wish to be a thief and not get caught doing it! What's truly inspiring about that? Hello, don't get surprised to see shoplifters in a store near you soon!
In their defense, I watched one of their press conference videos on YouTube. The same question came up and they defended the "girls growing up wanting to lead a life of crime" movie phrase. They said it is not to be taken literally. It should imply instead that girls "should do what they want" and not just want to "grow up and be a princess". This means there are other things women can do aside from just being mum about anything like in the old days. I'm sorry but those still sounds like big fat excuses to me. Not everyone watches press conferences and if I didn't watch it I don't think I'd ever know that was their intent.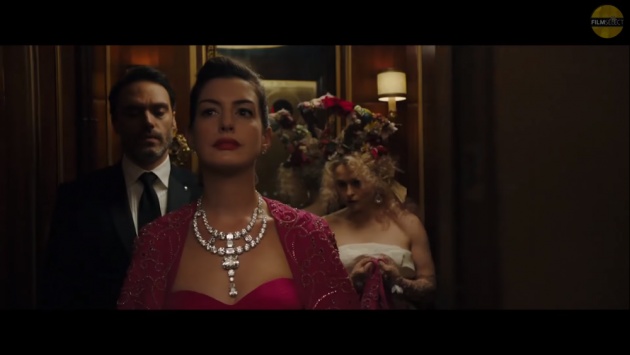 Next, justifying stealing for all the wrong reasons will never make it right. I mean, you have to do an elaborate heist just to take revenge on your ex-boyfriend and get filthy rich? What's empowering about that?
Whatever happened to save and invest your hard earned money in order to be rich? Do you think doing bad things is a good way to be empowered? Isn't that just being abusive, egotistic and vindictive? Is revenge even the right kind of empowerment for women? What do you think?
What actually counts more as women empowerment for me is to find out the design of the coveted jewelry was made by a woman in the 1930s. Named after Jeanne Toussaint, the real necklace the Toussaint is based on was actually designed for a Majarajah. Now that's an admirable feat!
(Photo credit: Cartier's collection privée via theadventurine.com)
The designer was the legendary creative director of Cartier at the time. Isn't that more impressive than leading a life of crime!? That piece of bling made for a Majarajah would definitely be worth $150 million today if it still existed as a whole.
Now that I think about it, if the movie creators also added more of the jewelry designer's story or the Toussaint's history, perhaps the film would have had more meat in it. That could have added more intrigue and mystery and perhaps an additional twist to Ocean's Eight. Or maybe this is just me wanting more elements of fantasy or mysticism added into this very human story.
As for character development, well I don't think the story required anything deep at all. It's not a thinking man's movie, nor is it dramatic in any way. It's just a simple story of some women who got away with stealing jewelry worth millions of dollars. It's not really something to be amazed at unless you want to commit the same crime. Ocean's Eight can even be an episode of a TV show and you'd probably appreciate it more.
Anyway I suggest you watch it if you want to see women in all their frivolity and simpleness. Perhaps it's not surprising how it shows women as petty and shallow given the fact that a man mostly wrote it. Even with a female writer in the mix I think the characters were written for fun instead of story, if that makes any sense.
And yeah, the marketing execution was not thought through as much as they should. The story also does not tug at the heart at all. It's a very light movie you can pass on for a much better chick flick. On another note, you can still enjoy watching how they did everything, maybe.
◙ Acting
I think there's very little acting required here. I mean, for the most part I feel like Awkwafina's role was the most fun to watch. Anne Hathaway was good at being bitchy and selfish, which is nothing new. The dynamic of Debbie and Lou's friendship was there, making the actresses disappear. However, to me the best actress of the bunch is Helena Bonham Carter.
But of course, we all know Helena for playing uncommon roles so it must have been a piece of cake for her to play the "disgraced" fashion designer. Also both her and Anne have worked together before so seeing them interact in this movie seemed natural.
Suffice it to say, anyone could have played any of their lead parts. The movie wouldn't have drawn much viewers though if it weren't mostly an all-star Hollywood cast. Oh and let's not forget the other star cameos. There's a bunch of them sprinkled in for you to enjoy.
As far as casting is concerned, I commend them for having various races represented in the team. There's an Asian, Indian and Black representative in the bunch, making the team as diverse as America is.
◙ Cinematography, Production Design & Music
Set design is fabulous. I love the costumes and the props. I also love Rihanna's dreads and the beautiful gala dresses. The music I didn't notice that much. Nothing stood out to me so maybe it was just right for each scene.
(Photo credit: Eric Bidou © Cartier via theadventurine.com)
As for the Toussaint necklace, it was a recreation made by Cartier jewelers. It was a reduced version which took 8 weeks to make! The presence of several accessories and watches from the same jewelry company made the "Met Gala" and heist look authentic enough. Gadgets used are also cool enough to watch.
Of course there were also amazing shots of various places but that's it. The star props of the film are the jewelry and flashy costumes (Lou's in particular) and nothing more.
◙ Rating
Based on what I mentioned above, here is my rating for each part.
Characters & Story: 6
Acting: 7
Cinematography, Production Design & Music: 8
This brings my final rating to a total of 7 out of 10 stars. If you don't watch it, you're not missing out on much of anything really. Unless you're a jewelry and fashion fan/lover and into seeing any of the female Hollywood stars on screen then go ahead and watch it.
Even Manny the Movie Guy preferred another movie over this one. Check his review below.
For my other movie reviews and related blogs, click below:
To know more about this site, read the FAQ in the gear icon upon signing up.
If you have any problem or site issues,
please report and send an email to cs[at]bitlanders[dot]com.
All images are copyright of their respective owners.
Written for Bitlanders by ArtGirl. All rights reserved
© Art x Stephanie Rue
If you're not a Bitlanders member yet, click here to sign up
and be appreciated for what you post as you earn extra $$$.