As I brought up on my previous blog (The Magical Readathon), at the beginning of October, I was looking for a number of readathons that I could participate to help me catch up with my reading challenge. Feel free to check out that blog post for a little background story.
Long story short, I participated in two readathons during October. One of them is the Spookathon which runs from October 15th until 21st.
October is The Time for The Spooky Books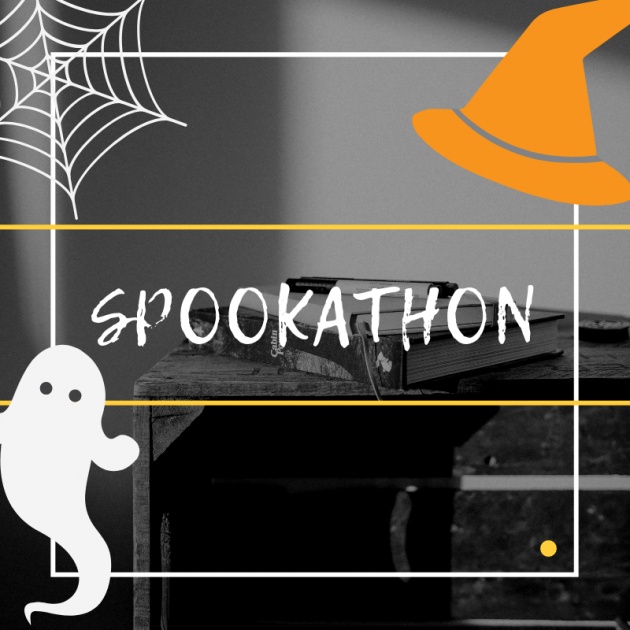 Image Credit: haraka
If we talk about October, Halloween is one of the things that people often associate with. It's no different in the book community. Since it's October, most of the readathons are using Halloween as its theme. Either it's to read horror book or read the books about spooky and scary things such as ghosts, vampires, monsters and so on - well, you named it.
Personally, I don't celebrate Halloween nor I am a big fan of a horror story. However, a book about witches is always one of my favorite as well as mystery.
Among of all readathons which took place during October, the Spookathon was my first choice. There are two main reasons why I decided to participate in the Spookathon.
1. The date of this readathon
When I was searching for a readathon during October, it was already in the 2nd week of October - 12th October to be exact. Due to that, I only checked the readathon scheduled after the 12th of October.
Luckily, the Spookathon started from 15th until the 21st of October. So, the Spookathon is the earliest readathon that I can participate.
2. One of the challenges will help me to hit one of my 2018 Reading Goal
Beside to finished 50 books this year, my other reading challenge for 2018 is to complete five series that I already started. One of the series is Miss Peregrine's Home for Peculiar Children Series by Ranson Riggs.
When I watched the announcement video for the Spookathon and heard one of the challenges, I realize that Ransom Riggs's series will fit for it.
Video Credit:
BooksandLala
via
YouTube
Lala's Announcement for 2018 Spookathon
Since I have personal struggles to finished this series, I hope this readathon can finally force me to put my hand on the series.
The Spookathon: A Little Excuse to Read Your Spooky Books
This readathon is annual readathon created by Books and Lala, Paige's Pages and Bookerly. It started in the 2016 and usually took place on the 3rd week of October.
Video Credit:
BooksandLala
via
YouTube
As the name suggests, the Spookathon is a Halloween theme readathon. It's all about having a spooky and thrilling reading experience.
Just like any kind of readathon, the Spookathon also have several challenges for the book that we need to read. Typically, the challenges related to all the spooky things and Halloween vibe.
For the 2018 Spookathon, it has five challenges. The challenges can be crossover meaning that one book can count for more than one challenges if it meets the prompt.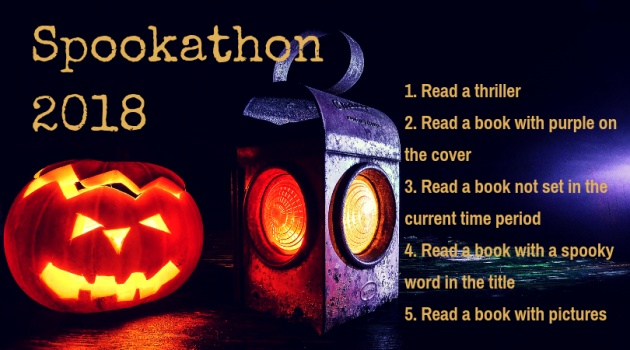 Image Credit: haraka
The Challenges for 2018 Spookathon
Along with those 5 challenges, this year Spookathon also have group book. The group book is Toil & Trouble: 15 Tales of Women & Witchcraft.
Originally, this group book could help you to complete one of the challenge which is to read a book with purple on the cover. However, this book actually meets all of the challenges except the first challenges which is read a thiller book.

Image Credit: Ami Rishner via acourtofcrownsandquills
Toil & Trouble is an anthology featuring 15 witchy stories
Books That I Prepared for 2018 Spookathon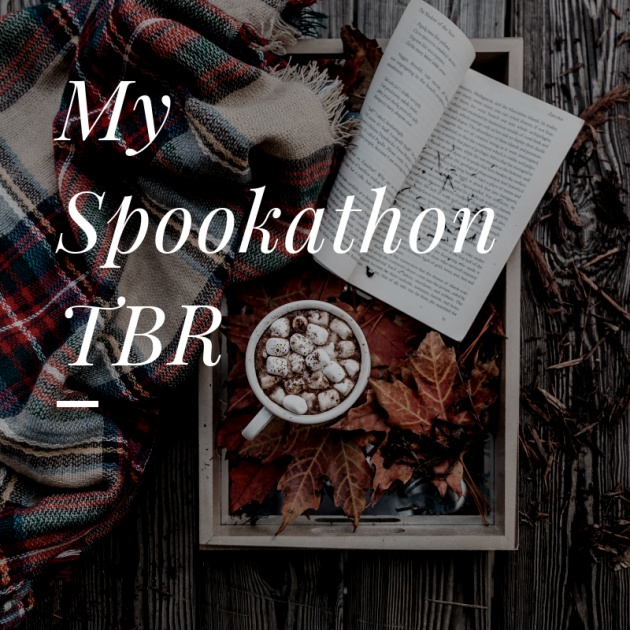 Image Credit: haraka
I prepared one book for each challenge. However, I didn't aim to complete all these five books throughout this readathon.
The reason because my main goal with this readathon is to read at least two books in one week and one of them is the sequel of Miss Peregrine's Home for Peculiar Children.

Image Credit: Rae via thriftybibliophile.com
To be honest, I don't have a large collection of thriller books. So for this challenge, I did a little research to find a book that fits this prompt. I checked Goodreads to find some thriller books that recommended by people.
After reading the synopsis of several books, I ended up with two options. The first one is Sawkill Girls by Claire Legrand and the second one is Sadie by Courtney Summers.
Both of these books are the Young Adult book released in 2018. Since these books are the new release, I don't have the physical book with me. However, I found the audiobook for both is available on Scribd. I tried listening to one chapter of each book and my final choice was Sadie by Courtney Summers.

Image Credit: Joy via joyousreads.net
For the second challenge, I found a little obstacle because most of my collection is a fantasy book and it usually comes in a black or red color for the cover.
I almost consider purchasing one book - And I Darken by Kiersten White because it has purple petals on the cover. Then I realize that I have one book titled The Girl at Midnight and the color of the cover is completely purple!
3. A book not set in the current time period: Wolf by Wolf by Ryan Graudin

Image Credit: Rawls via rawlse.wordpress.com
The first time I read this challenges, a book that was set in the past immediately comes to my mind. It means historical fiction will be the perfect one for this challenge.
I only have two books with historical fiction genre - The Inventor's Secret by Andrea Cremer and Wolf by Wolf by Ryan Graudin. After considering which one was spookier, my final choice goes to Wolf by Wolf.

Image Credit: Jieo Lobrio via thepennedlatte.wordpress.com
Another challenging prompt. I literally look up to my bookshelf for hours and read every single title. The only book that I found might be fit for this is A Reaper at the Gates by Sabaa Tahir. However, it's the third and final book and I don't even read the first book yet!
So, I am a little bit cheating for this one by picked A Darker Shade of Magic by V.E. Schwab. Although, I don't find dark as a spooky word for me but lots of people afraid of the dark right?

Image Credit: www.thesassologist.com
This one is the easiest one. As I mentioned earlier, the main reason I participated in this readathon because one of the challenges was in accordance with the book I had planned to read. The book that I have chosen for this challenge is Hollow City by Ransom Riggs.
My Spookathon Result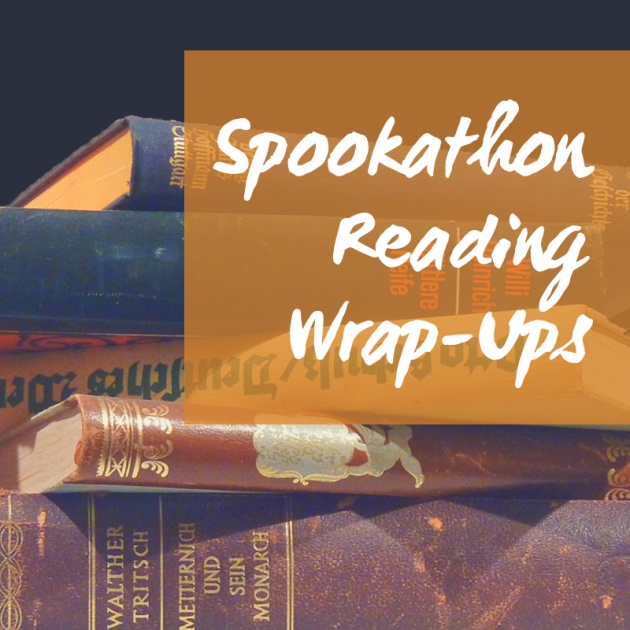 Image Credit: haraka
The first book I completed was Sadie by Courtney Summer. I strongly recommend reading this book in audiobook format because you will suck into the story without even realize it. Listening to the audiobook is just listening to a radio broadcast.
After Sadie, I continue with Hollow City by Ransom Riggs. Although my original plan is to complete the fifth challenge of this readathon, later I just noticed that technically this book also meet the other two prompts - a book not set in the current time period and spooky words.
In result, I successfully completed two books througout this readathon and complete four out of five challenges.
Although I did not succeed in completing the five books that I had prepared, I considered that this readathon was a success because:
I successfully completed two books in one week, where before I only completed two books in one month.
I finally succeeded in completing the Hollow City which I always failed to finish.
Sadie helped me to get closer to complete one of my 2018 reading goal - read 10 books which are published in 2018.
From this result, I will definitely participate in other readathon until the end of 2018.
See you in the next blog!