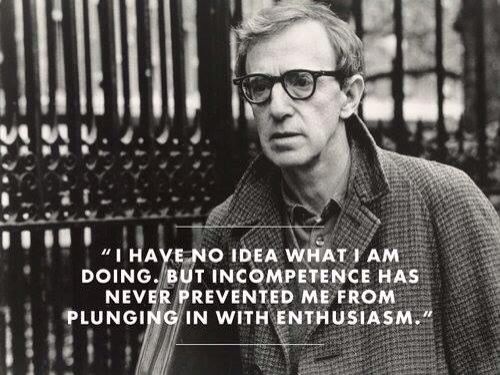 Can you separate art from the artist? For the past few weeks I've been struggling with this question. Of course, I am referring to Wood Allen. The resurfaced allegations have put me in a dilemma. I've read both sides of the story, the much discussed Daily Beast article and watched a 60 Minutes clip from 1992. Other than that, I really tried to avoid all the media buzz.
Second to Steve Martin, Woody Allen was the biggest influence on my writing in my college years – and has been ever since. Most people don't realize that he published some amazing books. I picked up Getting Even, Side Effects and Without Feathers randomly at the library in Salzburg ten years ago, unaware of how much impact his work would have on mine. Needless to mention that his movies have, too. But for the most part I think of Woody Allen as a writer, not a director.
Can you separate art from the artist? I've always been very judgmental and there are artists out there whose work I won't acknowldege for personal reasons. Honestly, I have a hard time separating the art from the person behind it. Then again, do we really know the artist behind the art? In Woody Allen's case, it's unlikely that the truth will ever come out. I've been browsing through Allen's literary work in the past few days and come to the conclusion that I can't not acknowledge this piece of art.
For now, I will continue to appreciate Woody Allen's impact, even more so as I'm trying to break away from traditional news reporting and lean towards more literary work in the future. Obviously, I'm not the only Allen admirer who deals with this question. TheNew York Times has a good round-up, I pretty much agree with The Federalist, andTime Magazine says it's ok to have a favorite Woody Allen movie.
I'll wrap this up with a quote by Allen from 2013:
What people who don't write don't understand is that they think you make up the line consciously — but you don't. It proceeds from your unconscious. So it's the same surprise to you when it emerges as it is to the audience when the comic says it. I don't think of the joke and then say it. I say it and then realize what I've said. And I laugh at it, because I'm hearing it for the first time myself.