One of GMA TV Series : Ismol Family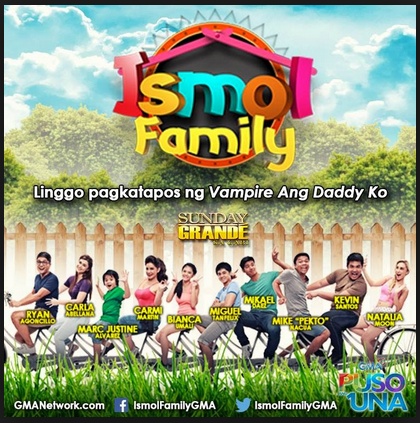 Image courtesy of GMA TV SHOW
Though technology is fast and ever-changing, one of the best inventions that humans has been created will never be out of the spot. Idiot box or more known as television is one of the main sources of entertainment in every household and without this staying at home is never be easy and very much boring.
Television is already considered as one great part of entertainment for many people, especially for Filipinos.Yes, Filipinos are very much fascinated in watching television shows especially when they can relate to a certain show. Noticing in every Filipino household, watching television is one of the best sources of entertainment and fun. I remember someone said, watching a certain television show helps her forget her problems for a while and in my case, it helps me to free myself from my stressful life.
Majority of Filipinos are into being addicted with watching different shows on television. All over the Philippines, one among the most widely chosen network to watch Filipino (Pinoy) shows is GMA 7, the kapuso channel. Where it provides its viewer numbers of unique and meaningful TV shows that make every Filipino be addicted to watching television and so, to make us proud being a Filipino as well because of those wonderful shows they have provided.
Now, a new television series in GMA7 is on air, and it probably can give a smile in our faces because this TV show is intended to show us the common walks of life of ordinary Filipino and it is suited to all ages. Come and lets have an insight about this show.
Ismol family as a comedy sitcom show.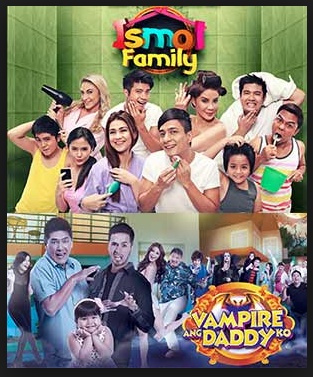 Image courtesy of GMA Network
Ismol family is a Filipino comedy-sitcom TV show in gma7. It is directed by one of the best directors in Philippine TV shows, namely Mr. Dominic Zapata along with his creative director Mr. Caesar Cosme. Ismol family is aired every Saturdays nights at 7pm after the show vampire ang daddy ko. This show is almost like a life situational comedy sitcom show because the story of Ismol family ( Ismol is their family name) portrays the common walks of life of a common Filipino family.
Cast of Ismol Family
Main cast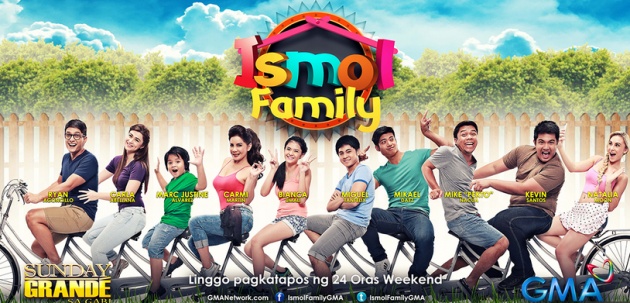 Ryan Agoncillo as Jingo Ismol, the loving father in their family.
Carla Abellana as Majay Laqui-Ismol, the loving mother to her sons and who is a very supportive wife to his husband.
Marc Justine Alvarez as PJ Laqui Ismol (The Ismol and Teribol) is their first son.
Carmi Martin as Apolonia "Mama Apple" Laqui, the mother-in-law of Jingo
Kevin Santos as Lance ,Mama A's Boy Toy
Bianca Umali as Yumi Laqui , Jingo's Trending nice
Miguel Tanfelix as Tan-Tan, Yumi's suitor
Mikael Daez as Bernie , Jingo's Bestfriend who is acting like a gay.
Pekto as Bobong Laqui , the father of Yumi
Boobay as Lora , the one who is selling bread on their bakery and the name of that bakery is The Bekiry.
Extended cast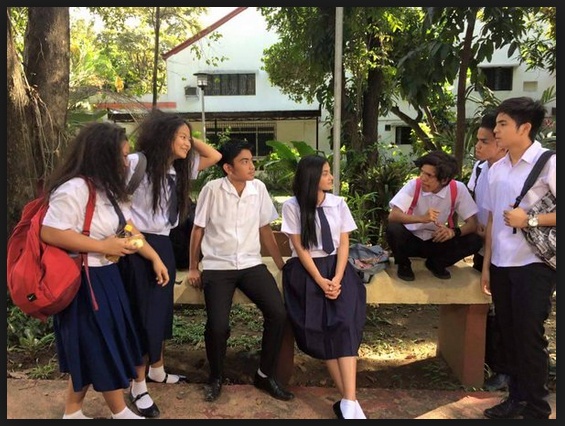 Image courtesy of GMA Network
Since the story of this TV show was been extended, they added new casts who added more happiness to their show. These extended casts are suitable to their roles and absolutely make this show more fun.
Boobay as Lora (2015–present)
Dello as Dello (2015–present)
James Teng as Nathan (2016–present)
Bernadette Bansil as Dianne (2014–present)
Pollana Villamor Tangco as Jackie (2014–present), the half sister of Yumi
Alvin Ronquillo as Yakkie (2014–present)
Ashley Mendoza as Krippy (2014–present)
Former cast
Natalia Moon as Natalia (2014–2015)
Sky Teotico as Amboy (2015–2016)
Guest cast
Joey Marquez as Papa Q , the father of Majai
Frances Ignacio as Mylene
Jennylyn Mercado as Tetet
Chanda Romero as Mama China
Beverly Salviejo as Dra. Pauline
Valerie Concepcion as Marie
Rodjun Cruz as The Scammer
Lindsay De Vera as Vinnie
1:43 as Themselves
Justin de Leon as Homer
Pedro Fernandez as Anton
Pinky Marquez as The Recruiter
Renz Valerio as Luigi
Ken Alfonso as Majay's Suitor
Nanette Inventor as Mommy Chabeng
Gardo Versoza as Ernie
Marian Rivera as Angge
Lovi Poe as Hoy
Gladys Reyes as Aling Tess
JC Tiuseco as Mandy
JM Reyes as Jimmy
Jade Lopez as Paula
Donita Rose as Marie
Glydel Mercado as Mildred
Roi Vinzon as Bernie's Father
Tom Rodriguez as Mac-Mac
Andoy Ranay as Ramsey
Solenn Heussaff as Venus
Aicelle Santos as Bebang
Tessie Tomas as Holly
Maey Bautista as Doris
Junior New System as Themselves
Vaness del Moral as Arianne
Takako Saito as Allyson
Ate Gay as Ate Nae Nae
Chariz Solomon as Lala Ytera [A]
Betong Sumaya as Antonietta [A]
Chlaui Malayao as Irish
Dingdong Dantes as Matty
Paolo Contis as Dr. Emman Lalait
Kenneth Medrano as Benjamin
Kyle Ocampo as BB (Batang Babae)
Kevin Sagra as Aldred [B]
Sheena Halili as Nene
Diego Llorico as Dyosa
Ervic Vijandre as Xandro
Kyle Vergara as Edward
Ayra Mariano as Anna's Friend
Kim Rodriguez as Anna
Boy 2 Quizon as Rod
Joseph Ison as Jerry
Valeen Montenegro as Susa
Nonong Andres as Don Anselyo
Divine Grace Aucina as Lullaby
Ritz Azul as Masaya
and also they guest the cast of Pepito Manaloto
THE STORY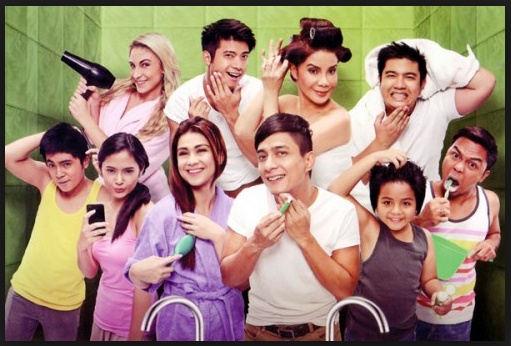 Image courtesy of http://entertainment.tempo.com.ph/tag/ismol-family/
In the first season of this Ismol Family TV show, The wife of Jingo which is Majay rendeedr her service as a female welder on abroad. Because the wife is on the other country, Jingo, the father in their family is the one who is doing some house chores, since he is the one responsible to their household, he needs to take care as well to his only son namely, PJ who used to be a small but terrible mischief little boy who sometimes bring us laughter because of the things that he does and says. Aside from their funny living, the character of yumi and nathan add more spice to this show.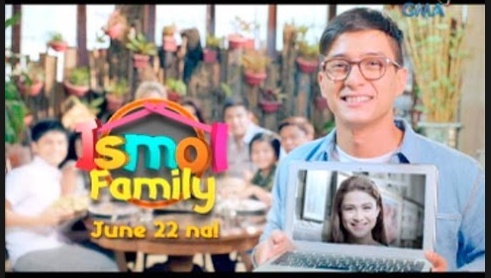 Image courtesy of GMA Network
There is also another love story between the house helper Natalia and for her love Bernie, who is playing the role of a gay with a sexy man's body. Natalia is a helper who is sexy and always showing her love to Bernie but since she portrayed the role of sexy, but strong woman, and Bernie is a gay or bisexual their love story became so funny. They got married but unfortunately their marriage certificate is not licensed so Bernie is very happy because in the first place, he doesn't want Natalia because what he likes is also a man.
In its second season, Majay came home and fulfill her obligations as a wife and a mother to her son, PJ. And because she is now at home, they decided to have a baby, but what makes it funny is that, Majay gave birth to not only one but triplets babies. And because their family is getting bigger, they extended their source of income, at first they have only the BIKE SHOP and now, they added a bakery. The guest cast and the original cast make this as a funny show and their own way by their own portray characters.
Video courtesy of https://www.youtube.com/watch?v=bAAZnKwnjVQ
The story of their family is somehow common in a Filipinos household. Jingo who is the father also encountered different situation between him and his mother-in-law. They encountered awkwardness and sometimes jinggo got trouble because he needs to be used to it, a life with his family and her over acting mother-in-law. Mama A (mommy apple) the mother-in-law of Jingo is an over acting old lady who makes the story more funny, her actions and deeds that affect the daily life of small family are what makes sense to every episode. There is also another love story that makes teenagers relate to the show, the love story of Ethan and Yumi.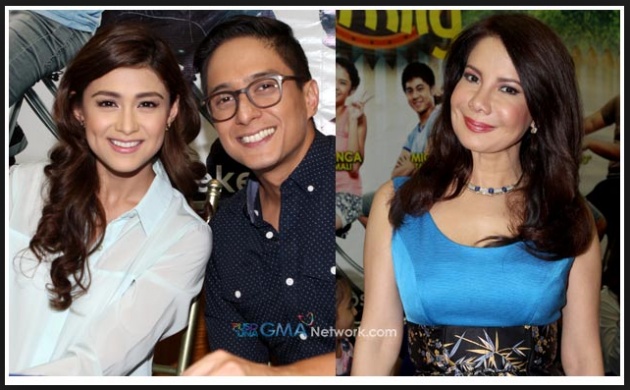 Image courtesy of GMA Network
THE LOVE STORY OF NATHAN AND YUMI
Video courtesy of GMA Network
The love story of these two young lovers adds the fun to this show. On the first season, their love story is not yet clear and on just in courting stage, but then, the way they act is what made us see that Yumi has an eye to Ethan.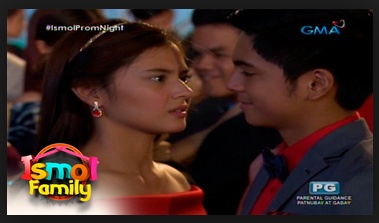 Image courtesy of GMA Network
In the second season, this love story along with their jologs and funny friends make the love story up and down, plus in addition, another good looking man who makes Ethan jealous is Nathan that causes a love triangle. Nathan looks so cool by his role, but there is one thing that makes his awesome down, it is when someone messes his hair. I remember one episode when the jolog friends of Ethan and yumi stepped on to his new shoes, but he never get mad but when someone touches his hair and it got messy, he became panic and like cruel, that's how Nathan reacts on this show.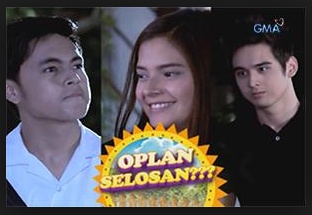 Image courtesy GMA Network
The love story of this young love team adds spice to this show, but what makes this show funnier is that, the friends of Yumi and Ethan, who sometimes mislead Ethan on what to do to get a point for Yumi. Their friends, even just the appearance of this group of friends can easily make you laugh because as you can see they like neglected by their parents (only to the show).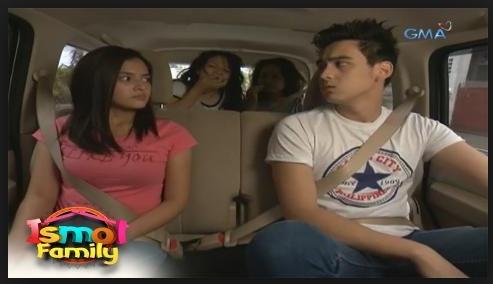 Image courtesy of http://videos.showtime.com.ph/topvideos.html?c=ismol-family&page=2
Soon, they found out that one of their jologs friends, namely Jakkie is yumi's half-sister and because of this twist, the role of Jakkie became more funny because their sisterhood is like beauty and the beast.
Watch this show too guys and let's laughed together.
Thanks for reading!
SHAIERA ^___^