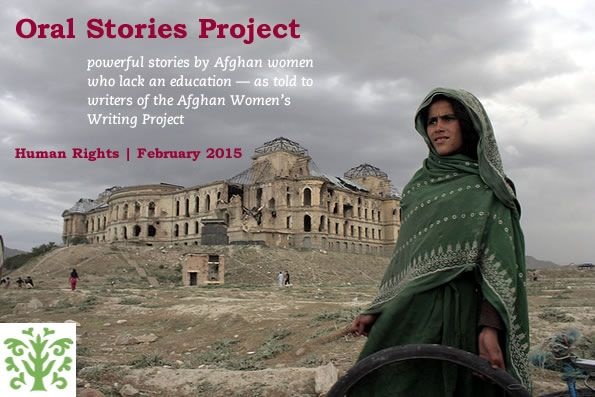 Despite fragile gains made in the last decade in the area of women's rights, women in many parts of Afghanistan are still unaware they have any rights.
This week, AWWP brings you the eighth in our series of Oral Stories from illiterate women, this time focussing on human rights and the ongoing efforts to raise the profile of women's rights since the establishment a decade ago of the Independent Human Rights Commission in Afghanistan.
To produce these stories, AWWP writers in five provinces went into the streets to ask mostly non-literate women to tell their story about human rights in their village or city. The writers transcribed the stories and translated them into English.
A sampling of what they heard:
In "A Brother Kills, His Sisters Pay the Price," Bibi Gul speaks about how in her village near Jalalabad, when a man killed another man, the killer's family gave the dead man's family two of the killer's sisters as compensation. "So in this case, it is not the murderer who was punished for the crime, but it was his two sisters who were deprived of their rights."
In "A Woman's Life Is So Violent," Goolsboshra, 35, a widow whose husband was murdered, tells how rights are administered where she lives in the province of Kandahar. "In our village for our human rights we have clergies, elders, and wise persons like the village chief. We heard from the radio there is the Human Rights Commission. But our men do not tell us about this."
In "Raise Your Voice," Aziza, 30, of Bamiyan province, expresses doubts about the Human Rights Commission. "Generally, we want organizations to help the violated women. But that organization doesn't have a good and respectable reputation in society. Most of the people referred there only wind up facing more problems."
In "No Rights for the Orphans," Shaaperia explains the dilemma that illiterate women face. "I want to fight and take my rights, but I need someone to guide me. We are not educated. Other countries support and guide women. We want our country to be like that."
The stories have been edited for length and clarity. To read more, click on the links below. (We have published five pieces on Monday, February 16; the remainder will follow in coming days.)