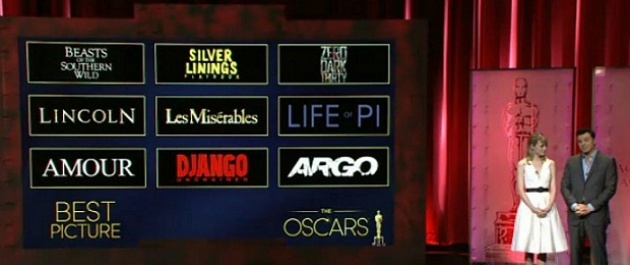 Regardless of what the Academy eventually chooses for Best Picture, Director, and Actor over the coming months, some will be shouting "again?" when the winner's name is announced.
Out of all the nominees, nearly none of the leaders in major categories are new to the Oscar derby. Previous winners like Robert DeNiro, Sally Field, Denzel Washington, Joaquin Phoenix, Helen Hunt and Philip Seymour Hoffman could all add to their totals on Oscar night. And those are only a few names; the entire Supporting Actor category is made up of former winners!
With the exception of Amour and Beasts of the Southern Wild, the majority of the nominated films also have winners behind them. Kathryn Bigelow (Zero Dark Thirty) won Best Director three years ago for Hurt Locker, Steven Spielberg (Lincoln) is a two-time winner for Saving Private Ryan and Schindler's List and Ang Lee (Life of Pi) also won a Best Director Oscar previously for Brokeback Mountain.
Given Spielberg's pedigree and the subject of his film it's easy to assume Lincoln could be sitting pretty at the end of February 24th, but momentum has been lacking thus far. Should Lincoln not win no one will feel too bad for not awarding it top prize given Daniel Day-Lewis is almost guaranteed a third win for his universally loved performance and Tony Kushner's adapted screenplay is also sure to be lavished with praise.
Zero Dark Thirty was the current favorite with a string of wins from the NYFCC, National Board of Review and a long list of critics groups, but the issue of whether the film supports torture has also downgraded it from contender to also-ran. Will Academy voters be hesitant to vote for another "dark, gritty, Middle-East film" so soon?
Despite Bigelow winning so recently, if any film is going to suffer from "too-soon-backlash" it's Les Miserables. Tom Hooper, swept up prospective voters in a mass tide of goodwill in 2011 for The King's Speech, yet Hooper beating David Fincher two years ago may keep Les Mis from taking best in show.
Many thought Ben Affleck's snub would hurt Argo's chances, yet the film is proving to be an alternative to Lincoln, Zero Dark Thirty and Les Mis. Sweeps for best director and film at the Critic's Choice and Golden Globes could be signaling a future win for Mr.'s Clooney and Affleck. Argo took the SAG ensemble and PGA award for Best Film, an award which has synced up with Oscar for the last five years. Then again those awards aren't always in lock-step with Oscar so maybe the tide will fall behind another film before then.
Even smaller categories like Original Screenplay are being influenced by former victors. Quentin Tarantino's Django Unchained will likely alienate most of the elderly-based Academy, but he should be considered a favorite given his works (Pulp Fiction, Inglourious Basterds). Mark Boal has received a lot of credit for thoroughly researching ZD30 and he won for Hurt Locker, yet this race feels like it may go to non-winners Wes Anderson or Michael Haneke.
For all of the talk about slighting repeat winners in favor of rewarding newcomers to the season, really, the only newbies to the circuit were unusual choices: Bradley Cooper (Silver Linings Playbook), Emmanuelle Riva (Amour), and Quvenzhané Wallis (Beasts of the Southern Wild). Cooper, Riva and Wallis are all first-time nominees, but all three of them are trailing the leaders in their respective categories.
Still, perhaps this year's race could lead to a new batch of winners like it did last year with The Artist. Silver Linings Playbook and David O. Russell, or another smaller film could shock us all come Oscar night. Though the favored odds are on betting on those who will have won for a second or third time.
While I'm more than enthused for talented veterans returning to the stage come awards time, let us hope for a Marion Cotillard come-out-of-nowhere-surprise like when she took home Best Actress for La Vie en Rose. We could all do with some excitement and maybe with so many previous winners cancelling each other out, we may just get it.
Watch more videos at my WebTV channel.