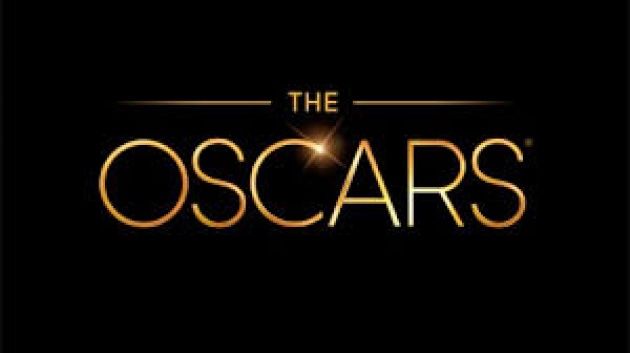 Last Sunday night was one of the biggest nights of the year for the film entertainment industry: The Oscars. Everyone went with their own predictions, but as it now seems to be a trend, social media once again predicted most of the winners.
Brandwatch launched a study before the Oscars which revealed some social media favorites such as Daniel Day-Lewis for Best Actor, Jennifer Lawrence for Best Actress and Life of Pi for Cinematography, which all turned out to be the actual winners.
What happened on social media during the show? First, Oscar's mentions on social media platforms were 3 times more important than last year. Twitter seems to have predicted the winners more accurately. Some of the most popular hashtags during the nights were winners #Argo, #JenniferLawrence, and #Adele. Seth MacFarlane's jokes led the tweets but not always in a positive way. According to Twitter, there were 71,600 tweets during Jennifer Lawrence's win for Best Actress, but it's fair to assume that a lot of them were more about her fall... Adele's performance generated 82,300 tweets per minute during her song. But they were both beaten by First Lady Michelle Obama whose Best Picture announcement generated 85,300 tweets.
On Facebook, if we look at the number of pages' Likes and mentions, Les Miserables and Django Unchained were the most popular and talked about among Facebook users. For the most memorable moments of the night, Facebook joined Twitter's trends with most mentions being about Seth McFarlane, Jennifer Lawrence and Adele's performance of Skyfall.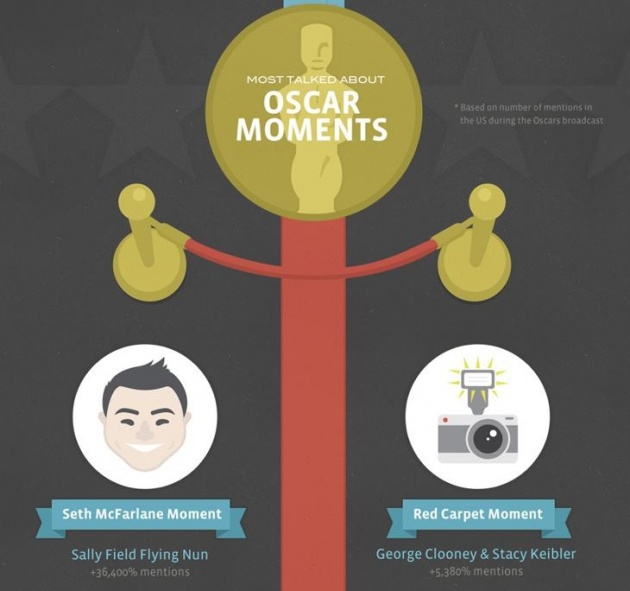 © Facebook Oscars 2013 Trends Infographic.
And now, the full winners' list:
Picture: Argo
Actor: Daniel Day-Lewis, Lincoln
Actress: Jennifer Lawrence, Silver Linings Playbook
Supporting Actor: Christoph Waltz, Django Unchained
Supporting Actress: Anne Hathaway, Les Miserables
Directing: Ang Lee, Life of Pi
Foreign Language Film: Amour
Adapted Screenplay: Chris Terrio, Argo
Original Screenplay: Quentin Tarantino, Django Unchained
Animated Feature Film: Brave
Production Design: Lincoln
Cinematography: Life of Pi
Sound Mixing: Les Miserables
Sound Editing (tie): Skyfall, Zero Dark Thirty
Original Score: Life of Pi, Mychael Danna.
Original Song: "Skyfall" from Skyfall, Adele Adkins and Paul Epworth.
Costume: Anna Karenina.
Documentary Feature: Searching for Sugar Man.
Documentary (short subject): Inocente
Film Editing: Argo
Makeup and Hairstyling: Les Miserables
Animated Short Film: Paperman
Live Action Short Film: Curfew
Visual Effects: Life of Pi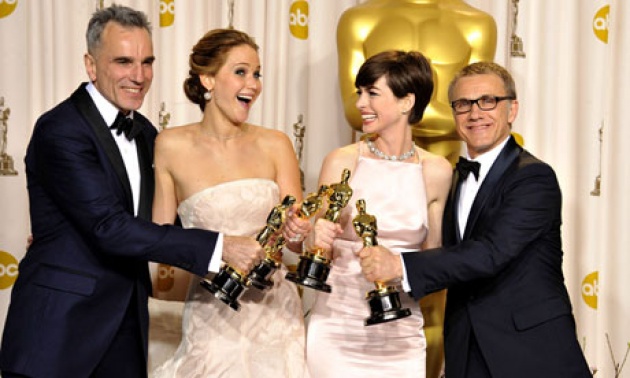 Daniel Day-Lewis, Jennifer Lawrence, Anne Hathaway and Christoph Waltz.