Hello everyone! I made a blog entry about my own province, Bohol few days ago and thought it would also be a great idea to dedicate another blog for my husband's blessed town, Oslob.
This idea came right after Hillary had sent her reviews about the blog I submitted. I don't think I have ever made a blog about the amazing places to visit in Oslob, instead I only had posted blogs solely for those specific tourist spots.
So today, let me share to you the places you can go to or visit to when in Oslob.
♦ OSLOB MUNICIPALITY ♦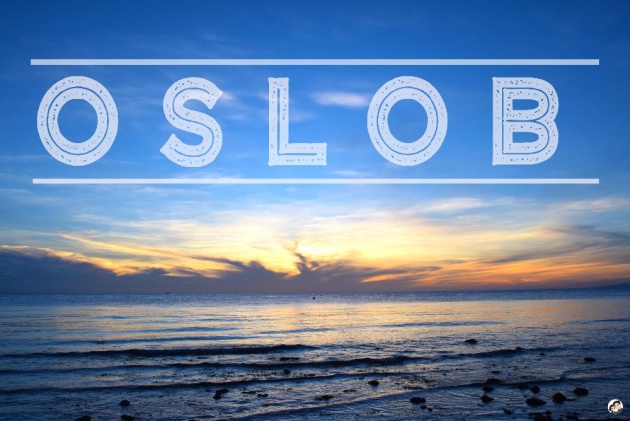 Image credits: Jean Beltran-Figues via bitLanders.com
Composed of 21 barangays or sections, Oslob was a simple town before its tourism exploded. It is a huge town compared to the others in the Cebu province. Currently, its town mayor is Jose C. Tumulak Jr. and Vice Mayor Ronald Guaren. The town is approximately 3 hours away from Cebu City minus the traffic, so if Cebu City is experiencing heavy traffic, expect it to go as four to five hours.
I have been to Oslob as early as 2008 when my husband who was still my boyfriend at that time brought me to show me how their town looked like. I was excited at the same time a bit nervous on my first time in town. I was also a bit shocked with how the buses run as the roads going to the southern Cebu province isn't all straight. There were lots of curves here and there that I felt like the bus is about to hit them. That was during my first time though, now that we have been traveling back and forth, I somehow managed to get used to it.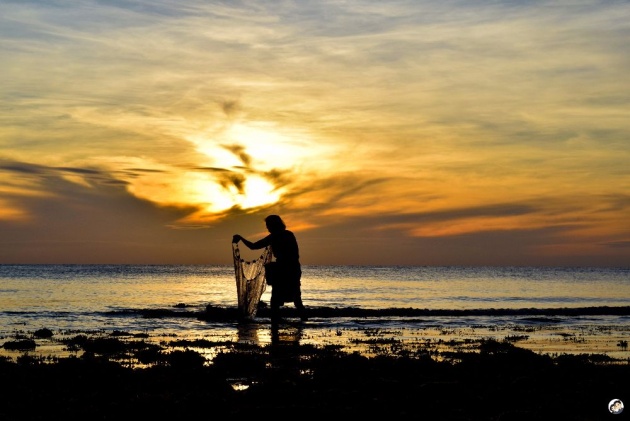 A local in Oslob starts her day with fishing using nets. Image credits: Jean Beltran-Figues via bitLanders.com
They have their own strong accent and I most of the time can't catch up with what they were talking about although they are talking in Bisaya because of their accent. I still can't understand some until now specially when they talk fast and their accent is just somehow overwhelming me. I however learned the accent after sometime which I do use when I am in Oslob.
♦ TOURIST SPOTS IN OSLOB ♦
When the tourism of the town hiked up on around 2011, it made me become more and more excited to come home because I know I can again experience the same tourist spots that this town offers. Below are the top places to visit when in Oslob. This might help you when you plan to check out this place.
WHALE SHARK WATCHING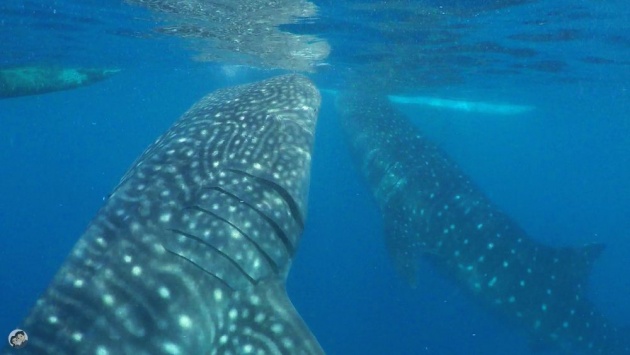 Image credits: Jean Beltran-Figues via bitLanders.com
I listed it on top of the rest because most of the tourists visiting Oslob is more likely after the whale shark activity. This is one of the best reason to visit Oslob as it offers a one of a kind experience. I had been always awed by the greatness of these wild creatures.
Although this activity has been controversial ever since it started, still there are tourists from all over the country and the world who would still prefer to visit and experience it.
I can't recall the number of times that I had swam with the whale sharks or locally referred as "Tuki" because local Oslobanons who are registered voters here only pays Php 50 instead of the normal rate which is at Php 500 for Filipinos and Php 800 for foreigners. This opportunity kept me coming back.
Image credits: Jean Beltran-Figues via bitLanders.com
I made several blogs about my Whale Shark experiences, check out some of them here:
The Gentle Giants of Oslob Cebu
Third Sequel Swimming with the Whale Sharks
Video credits: Jean Beltran-Figues via bitLanders.com
TUMALOG WATERFALLS
Swimming with the whale sharks would only last for a couple of minutes, in fact maximum of 30 minutes,. time starts right after reaching the area where the gentle giants are. Then the business would only run until 12 noon, no more whale sharks can be seen after that because of the sun's heat.
So, most tourists would go out for other location to further maximize their stay in town. One of the side trips would be Tumalog Waterfalls.
Image credits: Jean Beltran-Figues via bitLanders.com
I have been to the area three times I guess, the first time was on 2011, then I have been there 2015 and 2016. There were a lot of changes in the waterfalls since the first time I came here. I have here my first blog when the waterfalls isn't much visited yet, its bare beauty was obvious in this first experience, the water was still a bit stronger at that time that we had back water massage from the falling water, check it here:
This is also a perfect place to wash off those salt water from the body after the whale shark activity. However, I had some issues when I visited it the second time, the rates of the vehicles which can get you there have increased and they are taking advantage of the tourists too!
There were excavations made as well as landscaping on the waterfalls' base on our second visit. The base water is deeper this time but the water falling was a bit lesser. I still appreciate the landscaping they had done, there are few terraces now and that made the water flow enjoyable.
Image credits: Jean Beltran-Figues via bitLanders.com
This time, there are more people around us as well compared to the first time when we were the only ones enjoying the water. Nevertheless, its beauty is still obvious, the veil like water falls still amazes the tourists. Here's a story about the new Tumalog Waterfalls:
I learned from my sister in law who is working as a local government employee in Oslob that there's another waterfall in the distant barangay after Tumalog but the roads aren't fully developed yet.
SUMILON ISLAND
Video credits: Jean Beltran-Figues via bitLanders.com
Before the presence of Whale sharks and multitude number of tourists, the first ever tourist spot that had been known to Oslob was the Sumilon Island. It offers clear blue waters thus the resort in the island itself is referred as Sumilon Blue Waters. I have always dreamed of coming here but before, it was hard for me to pay for the private boat going to the island. But I was lucky my sister in law won a free trip to Sumilon few months ago. I wrote a story about it in this blog below: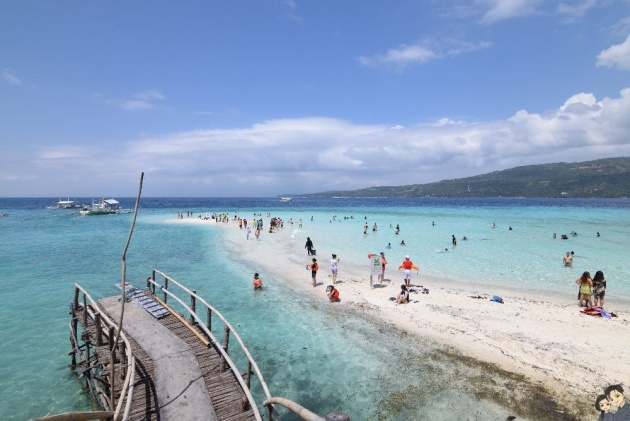 Image credits: Jean Beltran-Figues via bitLanders.com
But, I would still like to visit the island again because first, during the first time, we didn't bring food which starved us when we were there. When you are hungry, you tend not to really enjoy whatever is around you because your tummy keeps on bothering you so I hope to get back and bring lots of food which can make me happy I would also enjoy the location.
Second, the water was rough at that time. True we arrived when the water was a bit calmer but on our way back, there were strong waves that almost wet our camera gears.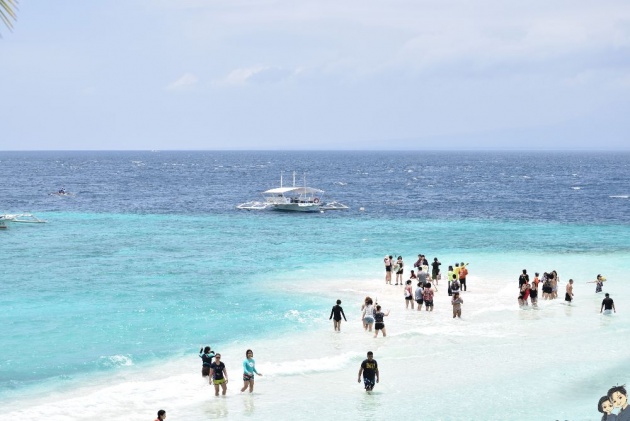 Image credits: Jean Beltran-Figues via bitLanders.com
The best time to go to the island is in the morning of course when the water is calm and the skies are bright. Unfortunately, when we went there, the boat which took us from the main island to Sumilon was late, we arrived almost ten in the morning. The sun was already a bit rash at that time although the skies were still fine and the weather as well, the waves were becoming harsh and rough so it wasn't that enjoyable compared to having calm with clear blue waters.
CUARTEL RUINS / BALUARTE / OSLOB MUSEUM
My family at the Oslob Cuartel. Photo credits: Jean Beltran-Figues via bitLanders.com
I had joined all three of these places together because they are just located next to each other. But the top of them is the Cuartel. This is an unfinished Spanish Cuartel of the town. There are lots of cuartels from all over the Philippines because of the Spanish Era which ran for more or less 300 years. The country was under their regime until other countries tried to dominate and bought us from the Spaniards.
When Americans arrived in the country, the Oslob Cuartel's construction was put on hold and was unfinished until now. But the more obvious thing is that this spot here has been very well known to travelers and other tourists in fact there are lots of pre-nuptial and wedding photography done here.
But these structures has been reconstructed due to the famines that had hit the town like typhoons and storms which had somehow damaged some parts of them. Now, some of its parts have been replaced with replica stones which somehow has the same form and color of the original stones used in building them to give the tourists and locals the feeling of the Spanish era.
My parents at the Oslob Museum. Photo credits: Jean Beltran-Figues via bitLanders.com
The Oslob Museum is also spotted right next to the Cuartel ruins. It is a building with interesting door designs. I have been there only once but was a bit disappointed that they don't allow photos to be taken here. In fact James was also surprised too when he learned that it is prohibited. Anyways, inside you'll see vintage artifacts, beds, kitchen items used by the locals from decades or even hundred of years ago.
It was still nice to be able to see these items but hopefully they can allow picture taking.
That's it guys. Hope you can also visit Cebu and somehow manage to get to Oslob in the near future.
xoxo,
Jean