In my last post, I asked you "How Do you Celebrate Christmas in Your Country?". Then I described how Christmas is commonly celebrated here in the Philippines. For this blog, I am going to share with you how we spent and celebrated Christmas in our own home... for the first time.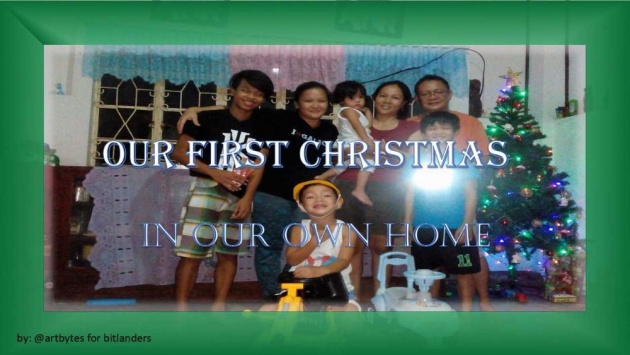 Image credit: @artbytes via bitlanders
Our First Christmas in our own Home
Ever since my wife got pregnant with our first son, we decided to stay with her parents for several reasons. Our house is relatively far from our workplaces. I only own a motorbike for transportation. For the baby's safety, we agreed to stay there. After our son was born, we decided to stay. Both of us are working and it is very difficult to find a trustworthy nanny these days. At least in their neighborhood, her relatives are more than happy to watch over the baby while we are working.
We have spent every Christmas Eve with my in-laws. There was a time that we wanted to spend the Christmas in our own home, but her mother always convinced my wife to spend the Christmas with them.
This year, we decided to spend Christmas eve in our own home for the first time. We invited my wife's sisters and parents. Only her youngest sibling agreed and she would bring her sons as well. Her husband is somewhere in Europe. In the middle of the sea actually.
Our First Christmas Tree
For the first time we, decorated the house with Christmas ornaments. There is quite an advantage actually. It was a few days before Christmas and the ornaments are on sale. We bought our first Christmas tree for half the original price. We also bought the ornaments with a fifty percent discount.
I also invited my brothers but they have already made plans of their own.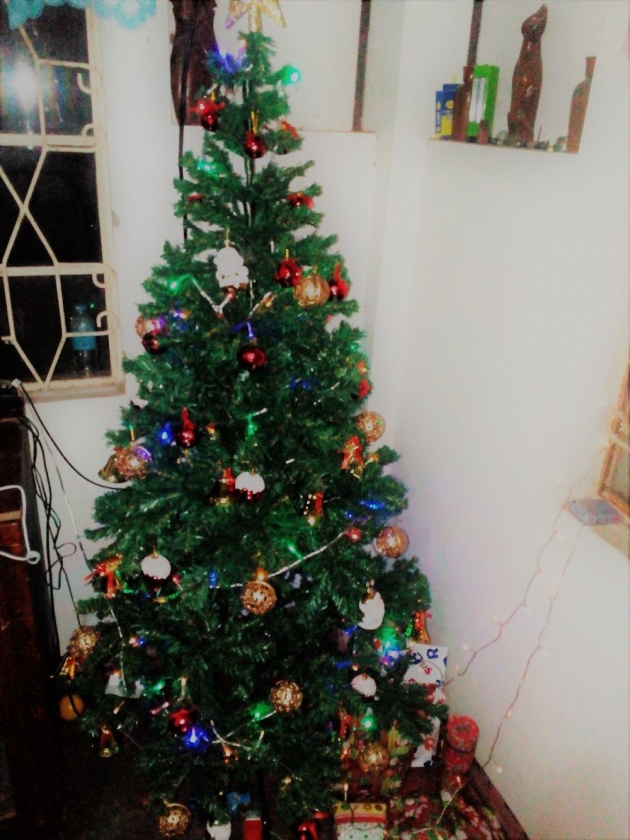 Our First Christmas Tree
Image Credit @artbytes via Bitlanders
Gifts
What is Christmas without the gifts? We bought our gifts for our two sons, my wife's sister, and her sons. And we bought gifts for each other also.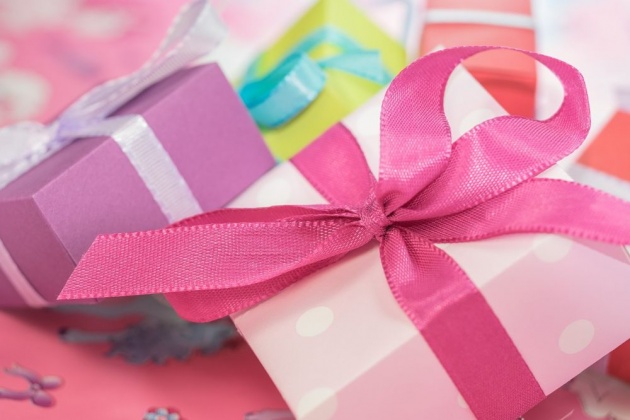 Image Credit: @blickpixel via Pixabay
For our eldest four-year-old son, we bought a toy excavator that he can ride on and manipulate the arm. For our youngest one, a plastic toy cart that he can ride on also. We hid the toys, especially from our four-year-old son.
Food.
Since there will only be a few of us who will be sharing the food for the Noche Buena, we did not prepare too much. We don't have the lechon or roasted pig, but we had two roasted chicken instead.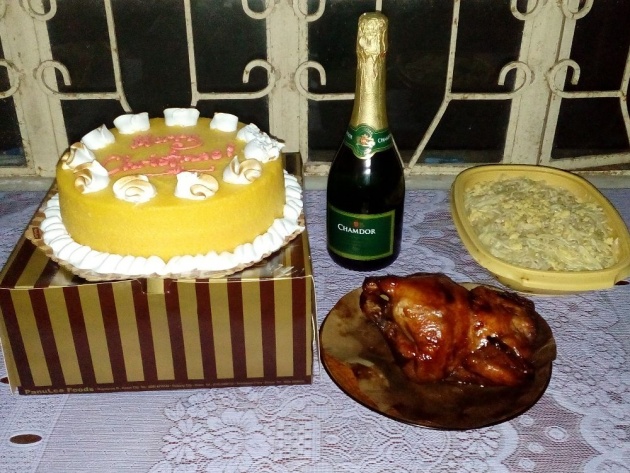 Our simple food preparation for the Nochebuena
Image Credit: @artbytes via bitLanders
No Alcohol.
I was the only adult male in the group. One of my wife's uncles dropped by for dinner but did not stay long. The only drink that we had was a bottle of Chamdor. A sparkling grape juice made in South Africa.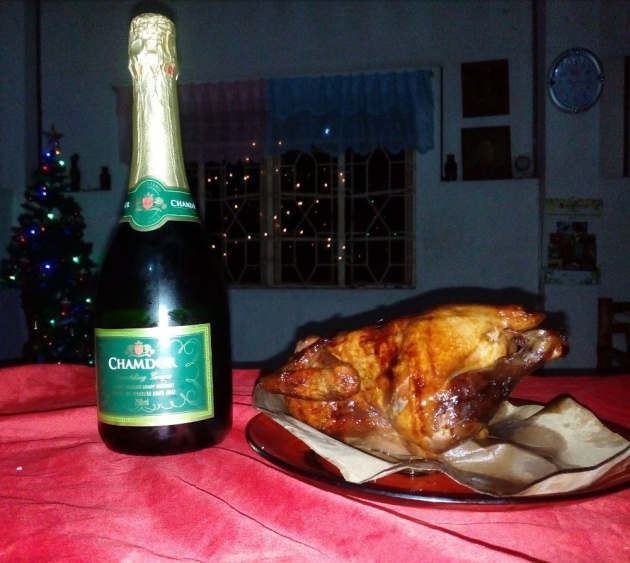 No alcohol for Christmas Eve.
Image Credit @artbytes via Bitlanders
Cousin's Birthday
When we were about to start our dinner, a couple of their cousins arrived. They were fetching us to attend their cousin's birthday celebration. Actually, it was already my wife's family on her mother side custom to attend their cousin's birthday celebration every 24th of December
It was almost the first time that my wife was not able to attend.
Movie Marathon
After dinner we back home. While waiting for midnight to come, they decided to watch several movies on YouTube. I was planning to show them some Christmas movies but they had something else in mind. They first watched a Filipino horror movie then Haley Berry's Kidnapped.
Setting up the Gifts Under the Christmas Tree
While they are watching movies, the little fell asleep. I took the time to set up the gifts under the Christmas tree.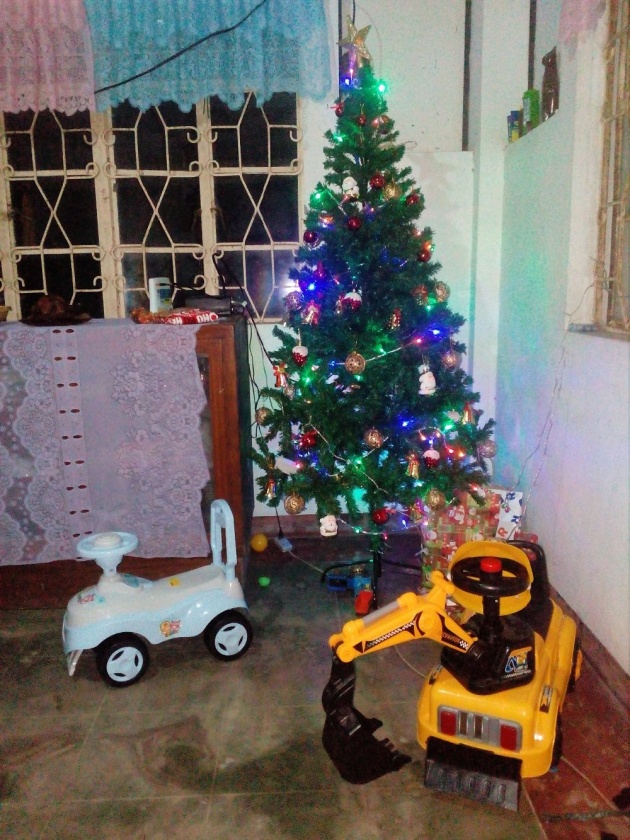 The gifts under the Christmas tree.
Image Credit @artbytes via Bitlanders
Noche Buena
Midnight came and we woke up the kids. We proceeded to eat our Noche Buena and giving of gifts. It was a very simple celebration. What was important was we were together and the kids were happy with what they received.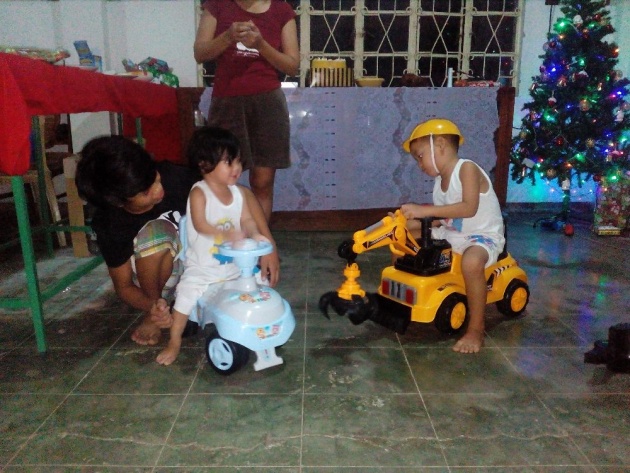 The boys and their new toys
Image Credit @artbytes via Bitlanders
Video Credit:
@artbytes
via
Bitlanders
Before going back to bed we had some photos taken. Then we went back to bed. But the kids, still filled with energy stayed up a little bit more and played with their toys.
I stayed up as long as I can watching Macauley Culkin's Home Alone. But I fell asleep also in the middle of the movie.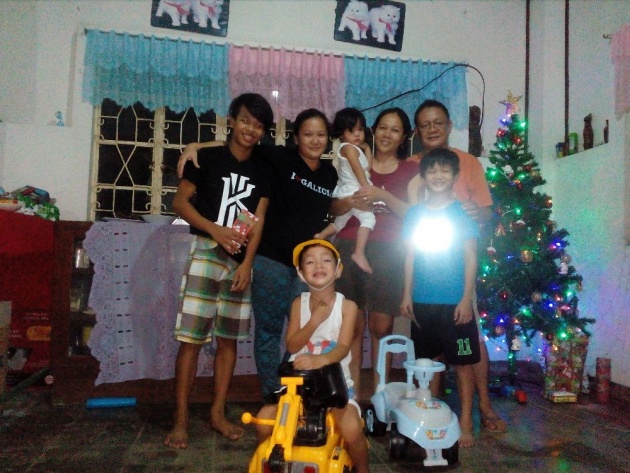 Family Pic
Image Credit @artbytes via Bitlanders
Christmas Day!
The next day, we went to my parents-in-law's house to greet them. In the afternoon we heard mass and went to the mall. There was a small amusement setup at the parking lot of the mall. They had a Ferris wheel and an Octopus ride and other stuff. What attracted our son is the giant slide. He said he wants to try it.
After having some snacks at Jolibee, we went to see the slide. The entrance fee is only twenty (Philippine) Pesos for 10 minutes. The length of the slide is about 16 feet, inclined at maybe 45 degrees. I know it's going to look a lot higher once you are on top of the slide. The bottom is a tight safety net covered with balls. I know it's very safe. So I let my kid it. There are a number of other kids enjoying the facility too.
He went up on to the top of the slide. He hesitated a bit when got to the top. Then he slid down. I can see the joy in his face after reached the bottom of the slide. He froze, perhaps in disbelief that he actually did it. Then he spent the rest of the time playing with the balls.
Daring the huge slide
Video Credit @artbytes via Bitlanders

That's how we made our simple Celebration of Christmas. It was simple. Yet, what is important for us was, we celebrated Christmas as a family and we celebrated it joyfully.
Merry Christmas Bitlanders!