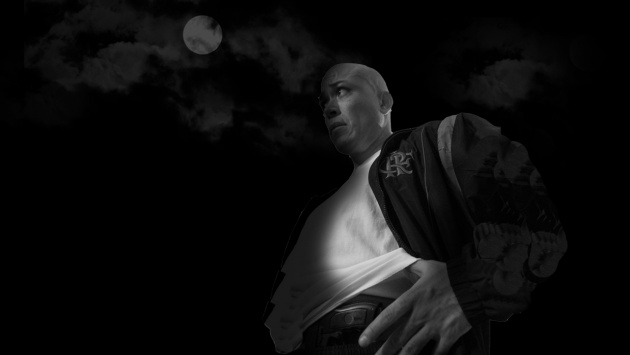 Still from Alex Nakone's Ouroboros
Early this week, Alex Nakone premiered his latest short film, the visually captivating Ouroboros on Film Annex. With its Sin City-esque style, mysterious characters, and philosophical story, Ouroboros tells the tale of how karma affects two underworld figures.
I interviewed Writer/Director, Alex Nakone about the film. You can watch Ouroboros on Nakone's Web TV.
When were you first introduced to the concept of Ouroboros and why did you want to make a movie about it?
I was interested in making an experimental film where the beginning and end of the film were the same. The Worm Ouroboros, a heroic fantasy novel by Eric Rücker Eddison, first published in 1922, also achieved a similar result. It so happens that the Ouroboros is a symbol represented in jewellery, particularly rings, and I found it intriguing that The Worm Ouroboros was published prior to Tolkien's The Lord of the Rings by some 32 years and in fact Tolkien praised this book and based his famous trilogy on a ring.
So, I set out to achieve a short film itself becoming a cycle. The film begins in reverse motion, then reaches a point where a decision or choice is made, as in this case between two gangsters on a cliff's edge exchanging some money, then proceeds in forward motion to the same point where the film began in reverse. This underlying simplistic concept, however, underwent much development and the "cycle" was broken in the final film. It became a way to build a story around the main character "Frank Shaunessy", played by Dan Hynes, who was being ripped off in a deal. Frank is a hardened "old world" gangster linked to the Mafia with both Scottish and Italian descent. The reverse sequence was used quickly to set up Frank's brutal past and emphasize the danger to the younger Latino gangster, Emilio Sanchez played by Raphael Felix, as he attempts to short change Frank. When the film reaches forward motion, we become aware that Frank is immersed in a supernatural experience which leads to his epiphany. Frank is confronted by a vision of his blonde Geordie sweetheart, Bonnie, who speaks about the Ouroboros and Frank's 'cycle of violence'. The concept of the Ouroboros now starts representing the pattern of behaviour and choices that the characters were making in their lives.
Can you talk about your choice of color and style? Why you started out with black and white and shifted to color later?
I wanted to explore "black and white" with a splash of colour (most often red) a color treatment famously used by Robert Rodriguez in Frank Miller's Sin City to enhance the storytelling, making a distinction between what was real in the story, which was in black and white and that which was imaginary, in color or in reverse motion. I felt that adding the scene in colour where Frank reminisces about his lover Bonnie Adams, building on that Sin City color treatment.
Technically it was very difficult to achieve and I spent hours preparing an elaborate storyboard (see attached plates) from photos taken of the actors and locations.
Both Fiona De Caux (the producer) and myself also carefully cast the actors to enhance the "visual nature" of this film with two distinctly contrasting looking gangsters, one an older gangster style mafia looking figure (Dan Hynes) and one a Latino gangster (Raphael Felix, lead singer of the Aussie Hip Hop band terra firma"). Additionally, Dan had a very dark complexion and I wanted to contrast this with an actress who was almost snow white blonde (Fiona Delaine). These color choices also carried through in the production design, the choice of locations, costume and makeup departments.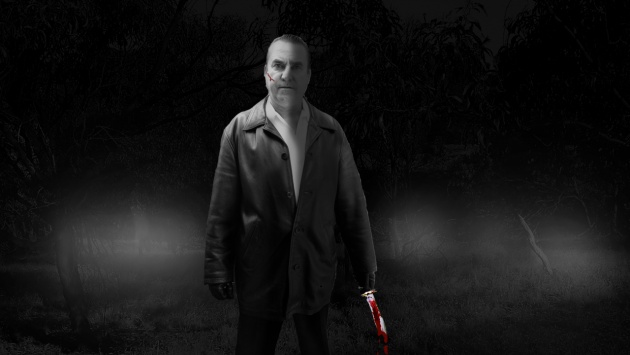 What made you want to use a narrator in the film who repeatedly explains the concept of the Ouroboros to Frank and the viewer? Was getting across the meaning of this symbol to the audience the most important factor in the film?
The narrator is Bonnie Adams played by Fiona Delaine. Frank is vexed by hearing her voice in his mind, questioning his almost automated response to kill his opponent. This automation or viscous cycle is represented by the Ouroboros ring.
There is no doubt that exploring this symbol was paramount for me in making this film. It was also the notion of breaking Frank's cycle of violence in his microcosm, which I hoped would reflect the macrocosm of the cycle of war and violence in the world.
I also wanted to explore the "antihero" theme which is becoming popular in modern TV series such as Breaking Bad, Boardwalk Empire and The Sapranos. In the scenario set up, I was trying to make the audience fear our protagonist (Frank), to be concerned for the Latino gangster, Emilio Sanchez, but the tables would quickly turn so finally the audience begins to sympathize with Frank, but ultimately question, "Does Frank deserve our sympathy?"
Who/what were some of the inspirations behind this project? The "reverse" conversation in the beginning reminded me of the dream scene with Laura Palmer in David Lynch's Twin Peaks. Any inspiration there at all?
I have mentioned some of my influences including Frank Miller's "Sin City', and the TV series Breaking Bad, Boardwalk Empire and The Sapranos. I suppose the question is why are contemporary audiences so fascinated by anti-heroes? Whatever the answer, I think the "anti-hero" protagonist opens up a myriad of creative opportunities.
I hope to make films that not only tell relevant stories, but to explore the film medium as a moving visual artwork. I look to filmmakers like David Lynch who achieve this and yes, I loved the total "creepiness" in that reverse sequence in Twin Peaks. It created a very disturbing atmosphere which I thought would work perfectly on the edge of the cliff in Ouroboros.
How did you get the necessary funds to make this film?
The producer of the film Fiona De Caux worked tirelessly in getting local business sponsors for this project that provided products. Just to thank them again; Sentanta South Australian wines, Tiltili wines of Langhorn Creek, Pikes wines, PGH bricks and pavers, Coopers Brewery, Nippy's orange Juice, Domino's Pizza, Foodland South Australia, Aroma Fresh Coffee, and Eastside Automotive, Adelaide South Australia.
The film still cost about $AU 12-14,000 to make. My production company Alex Nakone Films provided this money. I would also like to thank Film Annex as my earnings on this fabulous platform went into this budget, so I thought it only fitting that the internet premier be on Film Annex.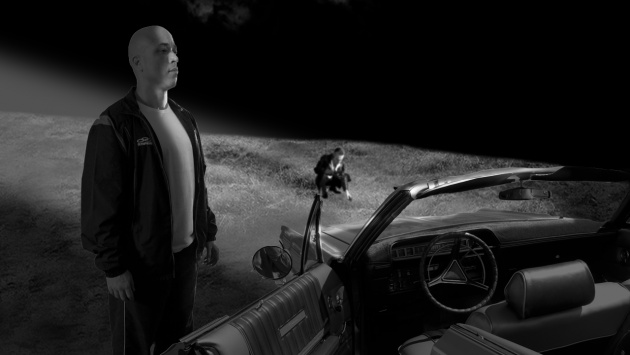 Lastly, what are your expectations from this film? Are you sending out to festivals? Will there be a feature based on it?
My hope is all of the above. The film is currently being distributed to International Film festivals, by an organization in Melbourne, Australia called Circuit Breaker Films, but I thought it best to take my opportunity to release it to Film Annex online whilst I was in the list of "Eren's Picks". Short film distribution clearly needs to involve the internet and not just be limited to festivals.
I have written the script outline for a feature length version of this film, filling in the back story as to how the two characters arrived at the meeting point on the cliff's edge. I have brought in a range of new characters and have explored all themes I talked about more completely, as well as bringing in the contemporary issues of the changing face of crime (in cyberspace). If the feature film got funding (to those who might be interested out there?) it would contrast old versus new criminality. I have very much been influenced by Misha Glenny who wrote Mcmafia: A Journey Through the Global Criminal Underworld and Darkmarket: How the Hackers Became the New Mafia . I think these titles tell it all. The vision for the feature length film is the two leading characters immersed in an action packed battle between new and old crime, done in a contemporary and aesthetically pleasing way.
Read more about:
The cast:
The crew: