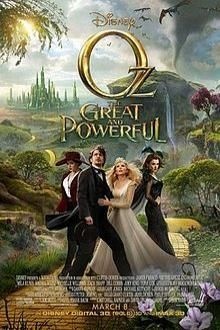 Movie Club finally returns to Oz with the upcoming movie, Oz The Great and Powerful.
Sam Raimi directs this long overdue prequel which stars James Franco, Mila Kunis, Rachel Weisz, Michelle Williams, Zach Braff, Bill Cobbs and Joey King.
The last time we ventured to Oz was in 1985 with the unofficial sequel 'Return to Oz' starring Fairuza Balk, which performed poorly, but has since gone on to become a cult classic.
This latest offering is a prequel, set before 'The Wizard of Oz', see's Oscar Diggs a small-time magician whisked away from Kansas to the Land of Oz. Upon arrival he takes this as a chance to seek fame and fortune, however the three witches do not believe he is the great wizard everyone in Oz is expecting. Oscar must use all the tricks in his book, and then some, to become the Great Wizard of Oz.
Interestingly, Warner Bors. owns the rights to the original movie 'The Wizard of Oz' which meant Walt Disney could not use any elements or character likenesses including the ruby slippers and the Wicked Witch's green skin.
It certainly has the hype surrounding it, but will the movie live up to its expectations?