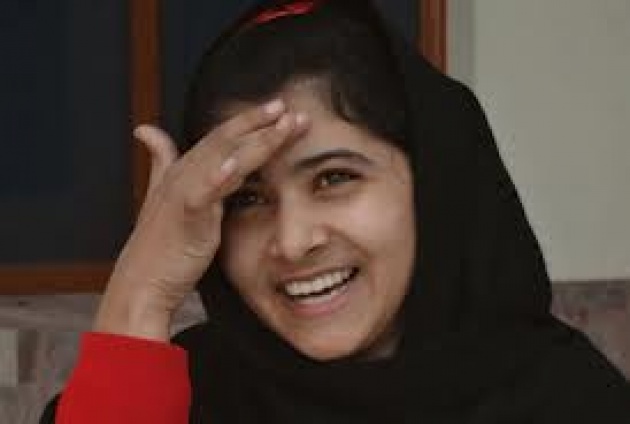 Malala Yousafzai's recovery is moving forward. After the Pakistani schoolgirl was shot by the Talibans last October, countless people from all over the world have shown their support. The radical group targeted her because she was advocating for women's education, which they aggressively forbid. The young activist was first operated in Pakistan, then proceeded her treatment in a British hospital. During her recovery, even the Pakistani president Asif Ali Zardari paid her a visit confirming his support.
Doctors at the Birmingham's Queen Elizabeth Hospital are currently planning her next surgery - due to happen today - to repair an area of her skull which is now only covered by skin. They report that "the first step toward full recovery will involve drilling into her skull and inserting a custom-made metal plate. When she was shot, the bullet hit her left eyebrow, and instead of penetrating her skull it travelled underneath the skin, the length of the side of her head and into her shoulder." It was a miracle that it didn't hit any vital areas, but since the shot damaged the structures of her left ear - leaving her completely deaf on that side - they say that "she will have to undergo a second surgery in which we will introduce an electronic device that will help her hearing again." A convalescence of at least 15 months is planned.
During the past few months, Malala has become the symbol of women's fight against repression and empowerment for their rights to receive an education. Pakistani and Afghan women sadly share similar civil rights limitations. In some rural areas of these countries this radical group still maintains control, and their interpretation of the Islamic Sharia law doesn't allow women to go to school. Schooling in Afghanistan is legally available to everybody, but in reality many young Afghan women are to scared to benefit from it, and don't leave their homes. Acid is commonly used to discourage or punish schoolgirls, with Taliban militants throwing it on the girls' faces to disfigure them for life. Some lose their sight and even their lives as a result. Drinking water is being polluted. Schools are being burned or bombed, especially the Afghanistan schools for girls. The war in Afghanistan is everything but over, with the Afghan education system being an additional victim of the effects of a conflict that never seems to end.
This is why Malala's actions are a living example of the courage and determination to stand up against injustices. And that's why tens of thousands of people have signed a petition calling for Malala to receive the Nobel Peace Prize.
Giacomo Cresti
Senior Editor Annex Press
Film Annex
http://www.filmannex.com/webtv/giacomo
follow me @giacomocresti76