Watching television has become a hobby for many of the people around us. Tv is also good source of News, Entertainment, Current affairs and Gossips of Celebrities. This journey is unstoppable if you once get started to watch tv. A lot of channels present many different stuffs. There are thousands of tv channels now. What do you want to watch is in your control.
Now talking about the Pakistani Media Channels. There is also a good number of channels. It starts with the name of Geo tv network, Ary tv netwwork, Hum Tv network and many others. All the channels are working day and night for their reputation and for TRP. Every channel has their own perspective and ideas.
The show i like the most among this race of Morning Shows is Good Morning Pakistan. This show is aired by ARY Digital network. The Host of this show is Nida Yasir. Nida Yasir is Multi-talented celebrity as well. She is hosting this entertaining show from long ago.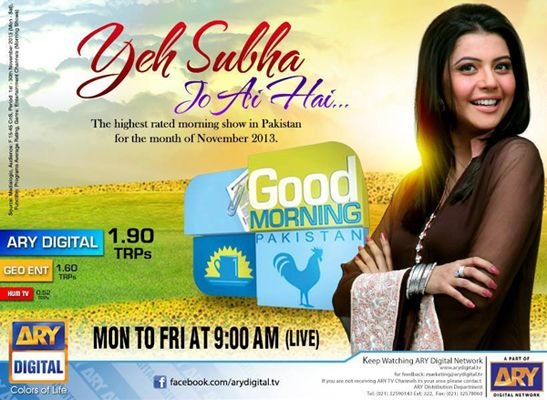 Image source Google.com
Good Morning Pakistan show includes many aspects of life like Cooking, Singing, Marriages, Beauty tips for woman, Tips for man, House Hold Tips, Children Nourishment, Career tips and a lot more. It is totally full of information with fun. This show presents solutions of enormous daily life problems. As they call Professionals from different aspects of life to the show. Viewers than have access to that Professional person to ask his/her problems.
I like this show because there is always something new in it. The director of this show is very attentive to audience and viewers, they response to the viewers choice. If some one who is bored, Just tune it to this show and he will be very happy to watch this show.
They Also provide tips and medical care tips through Professional Doctors as well. This show is more likely watched by the house hold women. They also focus more problems related to such women, who are house hold. This is one episode of Good Morning Pakistan which is about Beauty Tips.
I like the episode In which they had called a
Dermatologist
Dr. Shaista Wahidi. She gave many tips for
Skin
,
Hair
,
Nails
and
scarp
Problems. These solution actually help a lot of people around. Actually everyone can not reach such doctors from far away, so this is also a helpful step for most of the people suffering from allergies and other problems. I already added it to my blog that this is most liked Morning show by Women, so the main and mouth watering segment of this show is
Cooking
. I must add the episode that they had called
Chief
Maeda and Chief Rahat. They really gave a lot of tips about
cooking
, and cooked a delicious dish as well.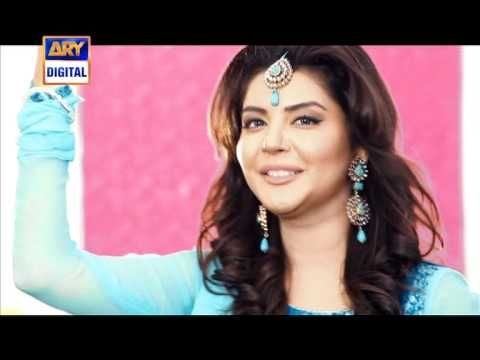 Good Morning Pakistan is a complete source of entertainment. We can enjoy it by watching songs, Beauty tips, Cooking, Dancing, Marriage Events. In other words this show can make your day. If you fond of having tips about any topic of life you should watch this show regularly so that you may not miss any good tip.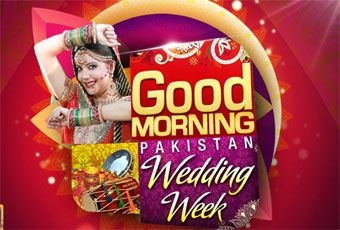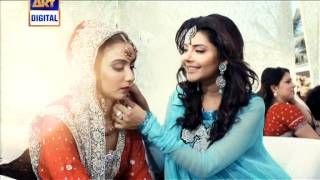 Good Morning Pakistan had also arranged the week for weddings,In this week all the arrangements were made by Good Morning Pakistan Team, They had selected the wedding wedding couple than Good Morning Pakistan Team played their role. They arranged every thing from Mangni, Mehindi, Shadi to Vidae.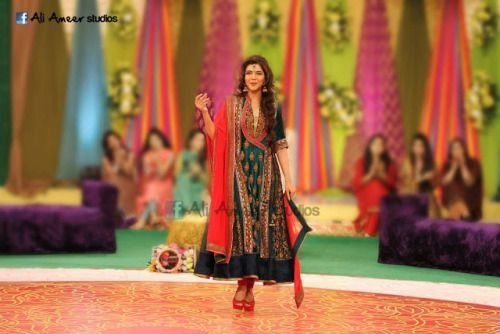 Image courtesy Ali Ameer Studios Facebook
Image courtesy google search
Video courtesy by Youtube.com
Content of this blog are completely mine except images and videos. So please do not copy it or plagiarize.
You can also check my other blogs as well.
http://www.bitlanders.com/blogs/best-trusted-sites-that-need-no-expertise-to-earn-online/3605006
http://www.bitlanders.com/blogs/a-detailed-journal-on-bitlanders-for-newbies/3574735
http://www.bitlanders.com/blogs/method-of-teaching-reading/3496417
http://www.bitlanders.com/blogs/my-visit-to-famous-places-in-sindh/3367221
http://www.bitlanders.com/blogs/teaching/3517617