French security sources say that surveillance video shows a possible ninth assailant during Friday's attacks in which 129 people died.
The video reportedly shows a third figure in the car carrying the group which attacked several bars and restaurants.
It is not clear if this ninth attacker is one of two suspected accomplices detained in Belgium or is on the run.
The so-called Islamic State (IS) group has said it carried out the attacks.
Follow the latest live updates
The attacks also left more than 400 people wounded, with 221 still in hospital, 57 of them in intensive care.
European countries are on high alert. On Tuesday evening, a football friendly between Germany and the Netherlands was cancelled shortly before kick-off and the stadium in Hanover evacuated after "concrete" information about a bomb threat, according to the city's police chief.
Part of Hannover railway station was also closed while a suspicious object was investigated.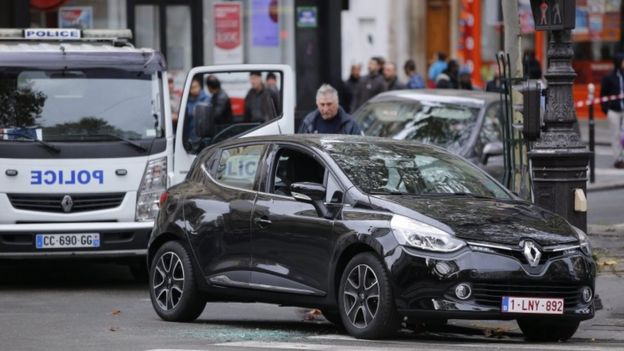 Earlier on Tuesday, police searched premises they believe were used by the attackers.
A car rented by Salah Abdeslam, the suspected eighth gunman who is now the subject of an international manhunt, is also being inspected.
The Belgian-registered black Renault Clio was found parked near Montmartre in northern Paris.
Investigators believe the car may have been used to bring the attackers to and from Belgium, from where French authorities say the attacks were organised.