Day two begins with me waking up to one still relatively sore foot after having sprained an ankle on the way back yesterday. No matter, I'll just take it a bit easier today. So I look at the day's schedule and see that there are three shows happening at the same location and decide that that is where I will drift today. The Palais de Tokyo. Where the Museum of Modern Art of the City of Paris is hosted. I enjoy passing by this location even on off days, to observe the art students who sit on the grand steps illustrating their surrounding on a big beautiful piece of paper while skateboarders whiz around them in a peaceful coexistence.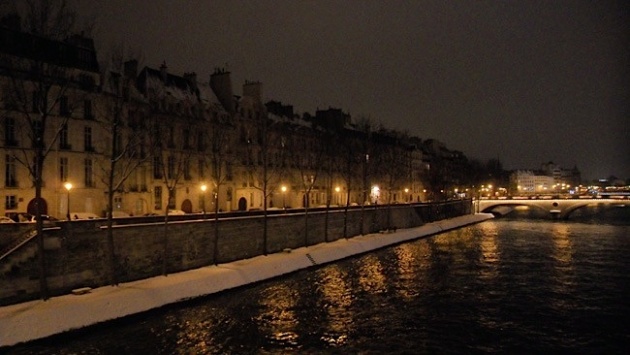 The first show is Juun J. The guests exit slow and unhurried in their movements. And contrary to that the boys come dashing out one after the other like in a game of assassin's creed. Or at least that was how it looked to me, unable to keep up with my foot. Somewhere in this mess was Nemanja Maksic, who a friend had gotten a picture of. He's got a good face. A real renaissance quality. Something I would not be left to miss, with the exits for Kris Van Assche soon to follow. Ben Allen, Baptiste Radufe who was just shot by Peter Lindbergh for the Bottega Veneta S/S 13 campaign, and polish newcomer Jacob Kulesza were among the few I could spot. Then I see a guy sitting on the back of a motorbike, with photographers going snap happy at him. Just as if it were out of the movie grease, he'd manage to get everyone to swoon. And it wasn't hard to see why.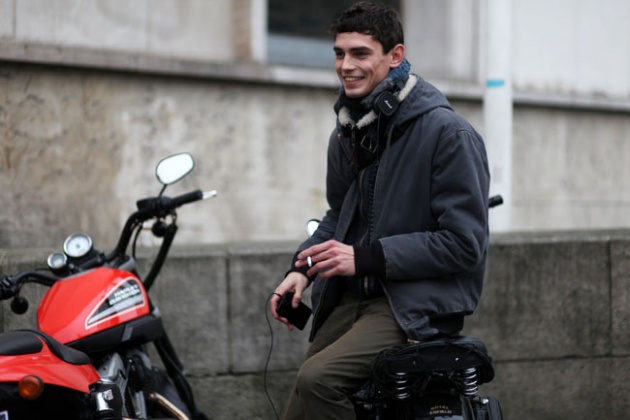 The bearer of one of the most genuinely infectious smiles I've yet to see, I was introduced to Arthur Gosse. Amazingly chiseled, holding much depth in his eyes, a face sculptured to fit almost any aesthetic I think. And one charming chap at that. He's got such a timeless beauty to him, as though he belonged in a classic movie. He looks sophisticated. Yet innocent. I guess there's just something about being plucked from obscurity that adds to one's nonchalance, which seems to be an endearing quality. And hailing from Lille this stunner has now earned the privilege to say that he opened a Prada show with a cast that consisted Willem Dafoe, Adrien Brody, and Gary Oldman. I think there might be something in the water in the north of France with so many amazing faces coming from the region recently, such as Marine Deleeuw and Manon Leloup along with dear Arthur.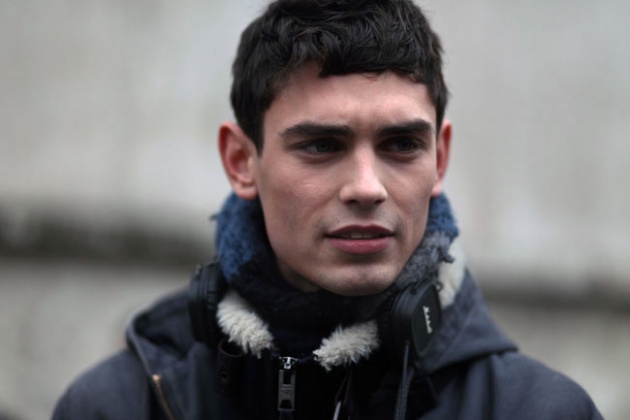 I've definitely taken note of this one. After happily obliging to the many photographers he pulled his colorful beanie over his head and was off in smiles, into the increasingly chilly parisian evening. I myself went back inside the Palais to have a seat, warm up and go through the pictures. John Galliano was to be the third show at the Palais but it wasn't until a couple of hours and seeing as I was happy enough with the days' pictures, I decide it would be best to head back, I've got a long week ahead of me. On my walk back some snow starts trickling form the sky, in some manner of magic. It is a breathtaking sight and I anticipate what this might lead up to tomorrow, perhaps an epic white winter day for creating white winter visuals? -NL
'FACES' a Fashion Film by Naqia Lee:
About Naqia:
With a fascination for seeing magic in faces, Naqia Lee has been out on an adventure to experience, in it's nature, the illustrious wonders that lie in this world and it's people. With an ever lasting love for photography and imagery, Naq set out to fuel her passion for uncomprehensible beauty three years ago at her first Fashion Week experience at Bryant Park in New York amidst traveling the globe. It's been an amazing love affair ever since. It was only recently though that she decided to start sharing her work, after some persuasion from friends she looked up to. "I didn't think people would be interested because they were just my simple musings but it seemed they were, and so I was happy to share." It is the simplistic approach to showing beauty in a human nature above the fashion sense of it all that set her first film 'Facing' apart. Abbey Lee Kershaw, Isabeli Fontana, Natasha Poly and many others star in this short which has has been described as beautiful and honest.