Parveen Shakir
Parveen Shakir, a famous and bestest urdu poetess in the world. She also joined the profession of teaching and once she also became the civil servant of the Government of Pakistan. 24th November 1952 was the date of her birth. She was born in Karachi the city of Sindh. She was a poet of "Khushbu".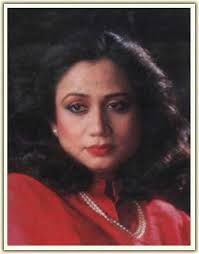 Many volumes of her poetry were published subsequently. All volumes were appreciated with great honour. Some of the volumes of her poetry are Sad-barg, Khud Kalami, Kaf-e-Aina, Gosha-e-Chashm, Inkar. Once she was awarded with Pakistan's highest honour. Her all volumes are collected in a poetry book named as Mah-e-Tamam(Full Moon).
Some of her poetry are as below:
"Wo tou khushbuu hai hawaon main bikhar jaye ga
Masla tou phool ka hai phool kidhar jaye ga"
"Darwaza jo khola tou nazar aye khary wo
Hairat hai mujhy aaj kidher bhool pry wo"
"Marny se bhi pehly mar gaye thy
Jeeny se kuch ese dar gaye thy"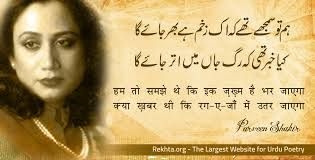 After getting too much honour and respect from the audience Parveen Shakir died on 26th of December 1994 in Islamabad. She was really a great poetess. We'll always remember her in our prayers.
" Mere pass itny sawal thy meri umar se na simat saky
Tere pass itny jaab thy teri ik nigah main aa gaye"