Intellectual property (IP) is as a driver of innovation and economic growth by country. Perceived in context of competitive advantage, the growing number of "patent wars" in courts around the world underlines the need for a rules-based international system aligned with today's economic and technological realities, according to Francis Gurry, (UN Photo on Right with UNSG Ban Ki-moon) Director General of WIPO (World Intellectual Property Organization). "The position of IP as a battleground for intense competition reinforces the need for a rules-based international system. Rules should provide an even playing field and should save us from the temptation to lapse into forms of technological protectionism or mercantilism."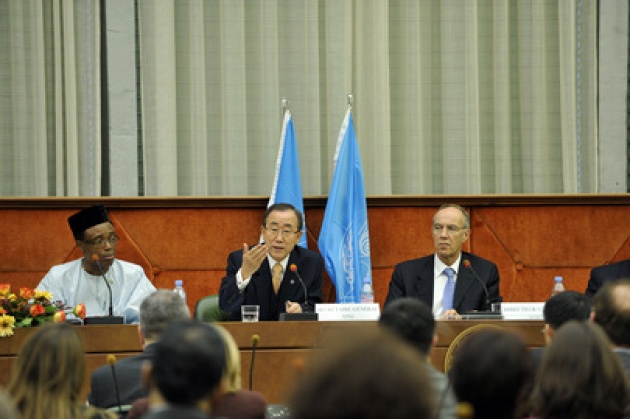 New Negotiations to Enhance Access:
Mr. Gurry's full statement and the WIPO Press Statement delivered for the start of this week's Assembly of WIPO Amber States is linked. Highlighted was the constructive spirit which led to the recent adoption of the Beijing Treaty on Audiovisual Performances in June 2012, and the expressed hope this would carry over in other ongoing talks. Director General Curry urged Member States to endorse the proposed road map for a new international instrument on improving access to published works for visually impaired and print-disabled. He also called for the conclusion of a new treaty on design law formalities: "this is not a substantive treaty, but a business facilitation treaty that simplifies formalities."
The Chairperson of the General Assembly is Serbia's Permanent Representative to the United Nations in Geneva, Ambassador Uglješa Zvekić. He highlighted the importance of WIPO's normative work which, he said, should express a balance among different legitimate needs and interests of its constituency. Mr. Zvekic urged the Organization to support the development of innovation policies and of capacity building in developing and least developed countries.
Innovation is Key-Link Between Education and Economic Growth:
Mr. Gurry noted the increasing demand for WIPO's services results from the growing consensus around the world that innovation is one of key sources of economic growth and success. He cited increasing levels of investment in research and development and the adoption of strategies by all the major economies to improve their innovation ecosystems. "While many parts of a successful innovation ecosystem, such as a good education system, lie beyond the competence of WIPO, IP is an essential part of such an innovation ecosystem. IP captures the economic value of innovation. It provides a secure environment for taking an idea through the complex journey to market commercialization." See Report: "Intellectual Property Outpaces Global Economy".
Ambassador Muhamed Sacirbey - FOLLOW mo @MuhamedSacirbey

Facebook-Become a Fan at "Diplomatically Incorrect"







Twitter – Follow us @DiplomaticallyX







See more at our Popular Video Blogs & Current News Event Articles