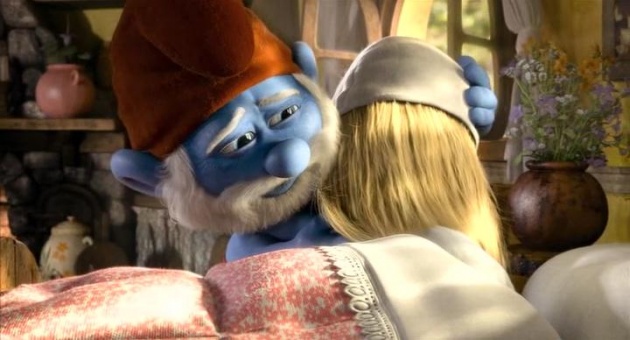 At some point, I'll have to watch ten movies that have some obvious cohesion, but for the time being, I'll watch I can which will inevitably end up as ten seemingly random movies. In my last blog, I mentioned I'd draw some correlation between "Smurfs 2" and Jules Dassin. How? you may ask. Well, upon giving it some thought, I noticed that there was a strong fatherly current flowing through each of the last ten movies I watched. All ten films present fatherly figures that are caring in their own way either about their own 'family' around them and/or the world at large.
Daredevil, 2003, Johnson 10:30PM Summer, 1966, Dassin Turbo, 2013, Soren Mud, 2012, Nichols Bloodlust!, 1961, Brooke Smurfs 2, 2013, Gosnell RIPD, 2013, Schwentke Battleship Potemkin, 1925, Eisenstein Leviathan, 2012, Castaing-Taylor, Paravel Jeremiah Johnson, 1972, Pollack
I would ascertain that each identified fatherly figure in every one of these ten aforementioned films cares about their own world order first, and perhaps the order of things outside of that realm second. "Daredevil" gives us a superhero character (Ben Affleck) whose boxer father was murdered for standing up for truth and honesty (or in his case, refusing to throw a fight). His murder inspires his son, who becomes blind due to some radioactive waste in his eyes but the other senses more than take up the slack, to seek revenge and to defend everyone around him from bad forces The big brother in "Turbo" (Paul Giamatti), is looking out for his younger brother and slug nation in general. "Smurfs 2" has three fatherly figures in it (Papa Smurf, Neil Patrick Harris and his step dad). These three films depict fatherly figures who are all coming from a good honest place of principal and love that we could all possibly swallow.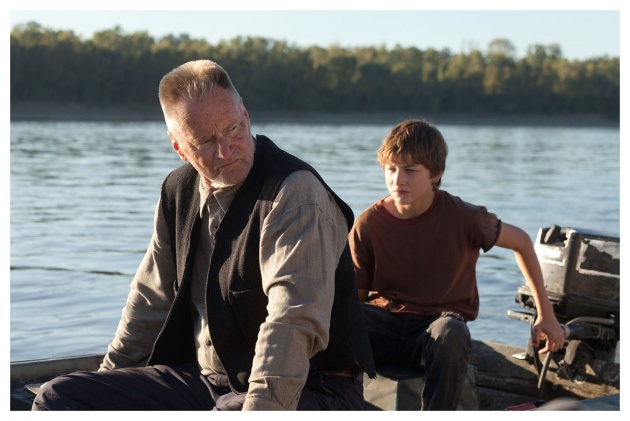 The other seven films have paternal sorts that have been, are now or maybe will be involved with some sketchy business. "10:30PM Summer" has Albert Finch playing a fatherly role to the other three characters in the film, all women: wife, lover, daughter. Finch's character is selfless at times (unless you can't overlook the lover on the family European vacation) as he plays navigator and soother in both physical and mental capacities. There is one guy we can hear above the rest in "Leviathan" who seems to be in charge and the sense I got watching this beautifully haunting and poetic documentary was that regardless of what these commercial fisherman are doing, they are a ragtag family at sea with one guy barking orders. In the film "Mud," (pictured above with Sam Shepard and Tye Sheridan) there are five paternal figures spanning the ethical spectrum with the title character (Matthew McConaughey), one boy's father, the other boy's uncle, Sam Shepard's character, and the father of the Texas gang out to kill Mud. "Jeremiah Johnson" has two main father figures in Jeremiah himself (Robert Redford) and his mentor Bear Claw (Will Geer) and at least two minor father figures in the French speaking Indian clan leader and the pioneer dad at the end. These are all characters whose fatherly purview is the family or folks that surround him. Even Dr. Balleau of "Bloodlust!" has his own care for his order of things and Robert Reed must counter that by leading his friend to safety. In "RIPD," Jeff Bridges is the father/mentor figure for Ryan Reynolds' character who despite some ethical missteps in the living world, was just trying to set up his future family with a nestegg.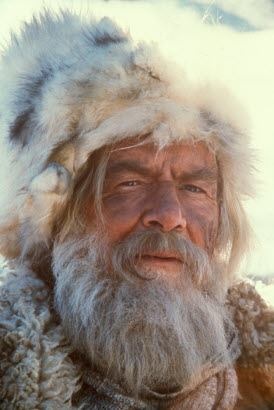 "Battleship Potemkin" stood out as the film without a real fatherly figure manifesting itself on screen like the others. The film instead imparts that it is the philosophy behind the revolutionary tactics that is the followers' paternal protection. As different as all these ten movies are, it fascinates me to no end that a common thread can be isolated and illuminated. The author of each film clearly sought to inject some paternal protection in their stories and I'd say they did a good job of making it subtle enough that it took comparing Jules Dassin's film to "Smurfs 2 to see that thread. Sometimes, when you stop and look at things, you can see everything that's going on!