In previous blog I have told you about how we successfully accomplished our 3rd day of our shoot. Now today I will tell you details about our Day 4 shoot of short film Payback, this was one of the most hectic day of our 5 day shoot schedule.
Day 4 was shot on Sunday that is just the immediate next day of Day3's shoot. We were shooting only on weekends just because we don't get time on our weekdays.
Day 4's shoot involved :
"Ankur" - the male lead character.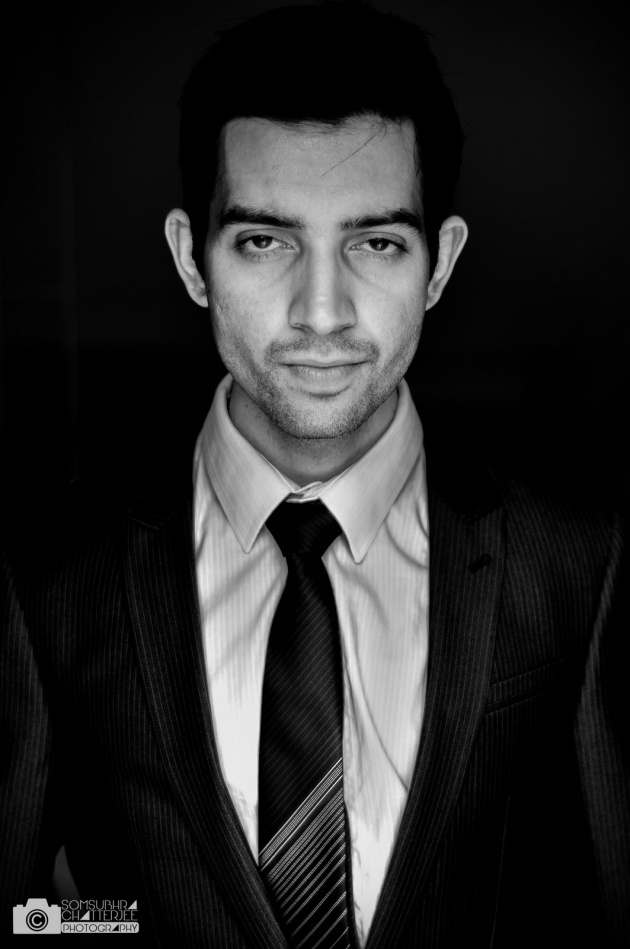 "Arindam" - friend of Ankur.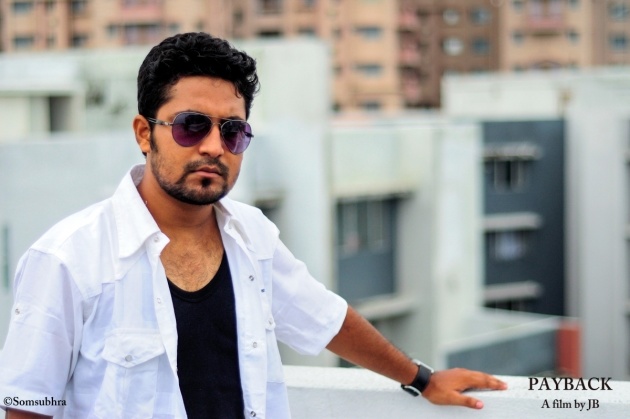 "Kamalika" - the female lead character.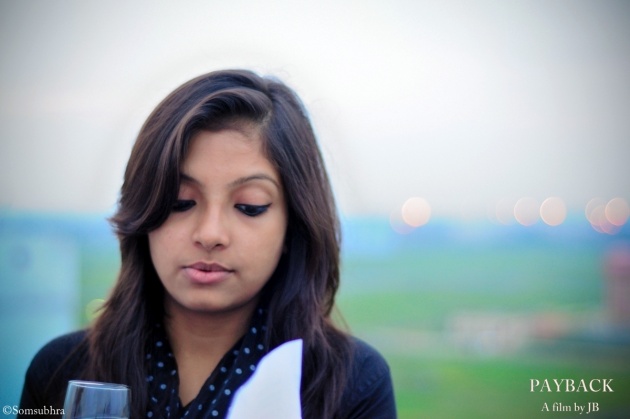 Day 4's shoot was primarily divided into 2 locations.
1st location was at "Kakinara" in my friend's house and 2nd location was at Rajarhat on the rooftop of a 20 storey high building.
On day 4, we planned to shoot mainly the dialogue portions of the film. Most of the shots that were planned for Day 4 had dialogue scenes. In some scenes the dialog pitch was high where we see Ankur shouting and crying in front of Arindam.
I didn't want the scenes to look shabby, so we worked on backdrop a little.
The 1st half of the shooting which were planned in my friend's house, were mainly indoor scenes and so the challenge was more to make the scenes look less shabby.
We started our shoot at around 10:00 AM sharp, the scenes mainly involved actors, Ankur and Arindam. Initially when the shoot started, it took little time for Arindam to match up with the mood and expression that the scene demands, moreover he had no previous rehearsals so the pressure was high on him, but after some retakes he gave some nice shots
Ankur as usual gave some wonderful expressions, specially the scene which demanded him to cry and shout on Arindam, he did it so well.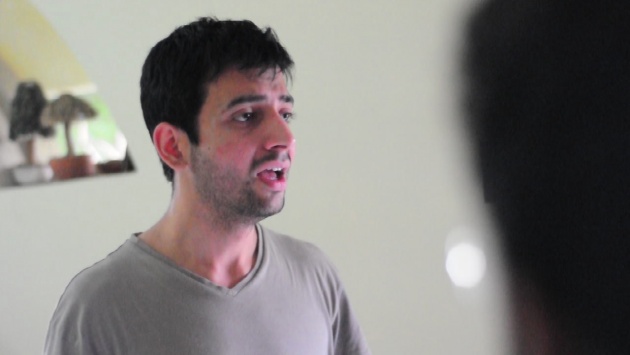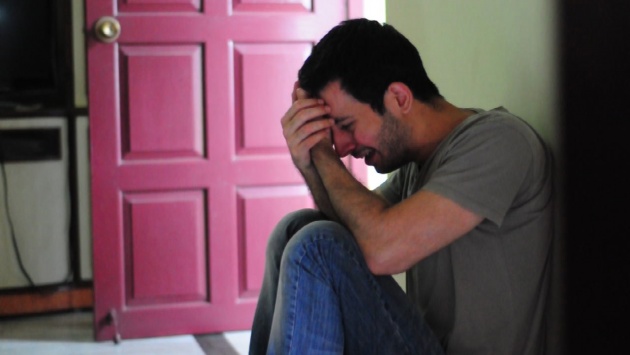 1st half of the shoot was completed by 1:00 PM, next we started planning for our 2nd half of the shoot. We had a quick lunch and then we all set for a one and a half hour journey to our next location.
By 3:30 PM we reached the location. The building in which we planned our shoot was newly built and it was 20 storey high. In the 2nd half of our shoot only Arindam and Kamalika was involved.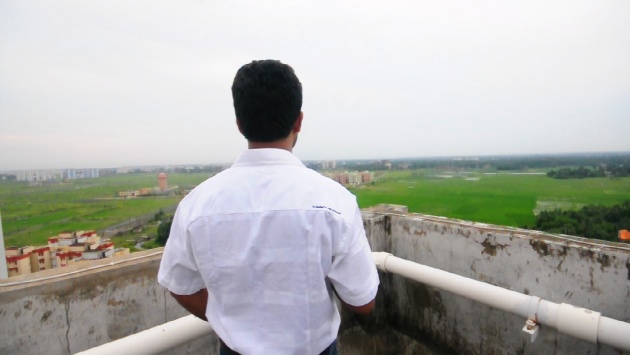 I wanted to shoot this scene just during sunset time, so time was very critical. As per our plan "Kamalika" was scheduled to arrive on location at around 4:00 PM but it was already 4:15 and she was blocked down in traffic somewhere far away from there. Tension started growing in everyone's mind because if we miss this day then again we have to wait for another week, moreover the time and energy that we all spent to arrive at this location will all go for vain. Time was running out and I was calling her constantly to get location updates, at last she arrived at around 4:50 PM. Sunset time was around 5:30 PM, so time was short and moreover when she arrived she told that she didn't get time to see the dialogues. So on our way to roof top which gave us10 minutes, I explained the shots to her, the expression and emotion that is required for the scenes and also the dialogues.
The shot started immediately as she reached the spot, quite a few people gathered at roof top to see the shoot. We had some intimate dialogues in that scene which generated a little uncomfortable feeling in the mind of actor and actress, I sensed it, made them feel comfortable then after some retakes both did well.
Some snapshots below :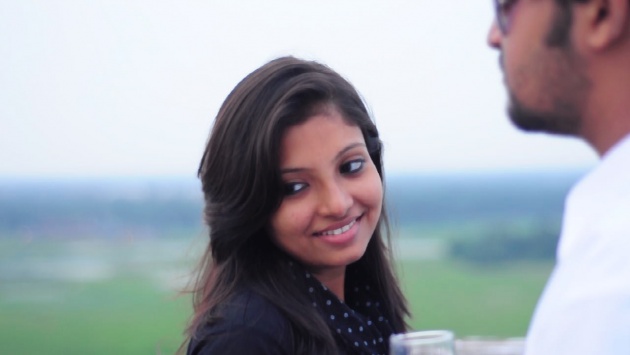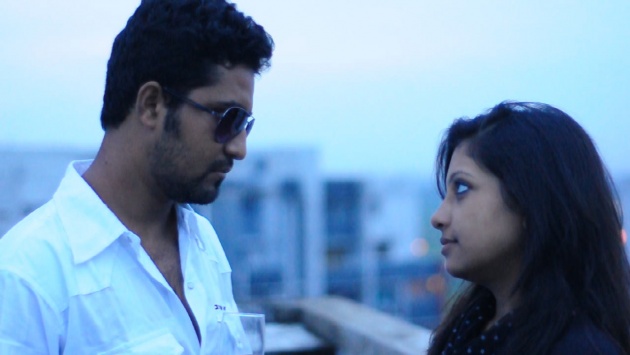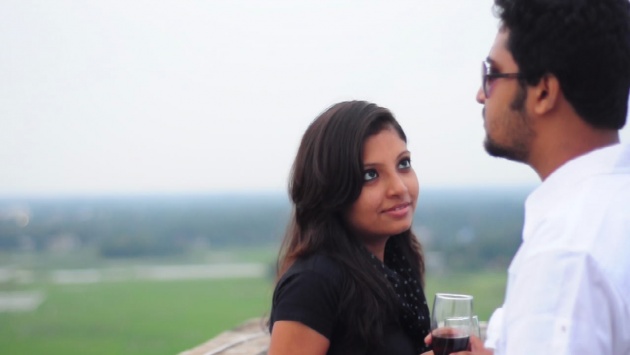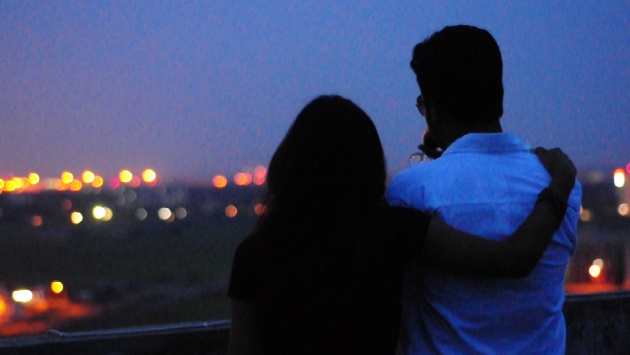 Most importantly the mood and environment which the scene demanded to have was well captured by my cinematographer, thanks to him. By 6:30 we concluded our day's shoot.
**Details of Day 5 will be published shortly.