It has been believed that war is not solution to any problem.History tells very few percentage of wars have ended up in victory of either side.Majority of war has ended via negotiated talks.Negotiation is one way war can be stopped.Same is happening in Afghanistan.
Country with long history of being in civil war has seen some hope that current peace process will end up in some fruitful results.Peace process is not just signing of a paper in fact it is involvement of people from different backgrounds and ending up with something meaningful.In past, peace process has failed because process was just about one or two people.Key stakeholders were ignored during process.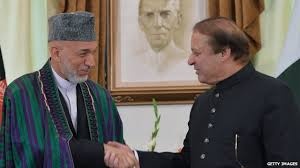 Afghan peace process started under leadership of peace negotiator,Former Afghan President Burhanuddin Rabbani but unluckily he was assassinated as a result of suicide attack.His attack derailed peace process in fact peace process has seen many ups and downs.
Those involved in peace process has learnt from past. This time peace process seems more meaningful with involvement of wide spectrum of armed and unarmed actors.This time the focus is involving neighbor countries that have indirect stake in Afghanistan.Pakistan and Iran role is critical in peace process.Pakistan released few of main Afghan Taliban prisoner to boost peace process.On demand of Afghan government, Mullah Abdul Ghani Baradar was released in september,2013.His role is critical in bringing all former Taliban commander in peace process.
Taliban have been allowed to open their office in gulf state of Qatar to carry on their political activities.Pakistan role has been seen vital because of their long historic ties with Taliban.They have been seen as success factor to this peace process and Government of Pakistan has promised of their support to the peace process.More than 30 Afghan taliban prisoners have been freed by Pakistan government.
People of Afghanistan want an end to this war.International community and other stakeholders must ensure Taliban are given their rights and war should be ended.People cannot afford civil war once again.