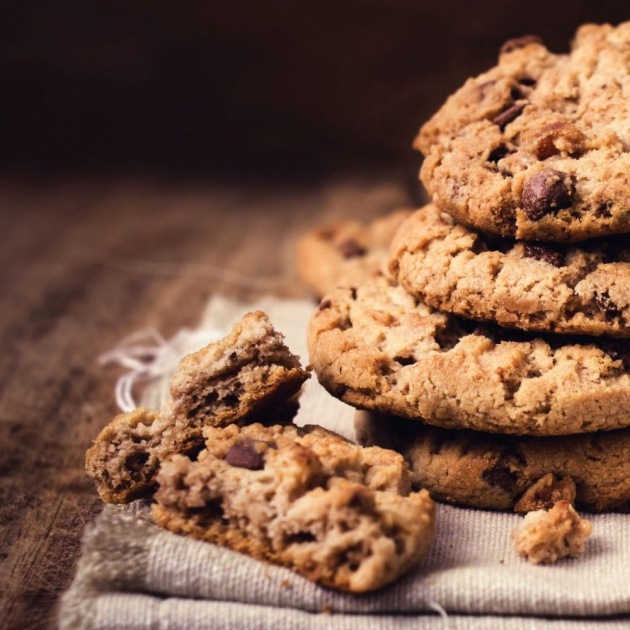 Watching TV is known to be the cheapest, easiest and the most popular entertainment for adults, children and golden-aged. TV or some downloaded movies or films in the cinema are always available and do not require much money, time or effort. Very often people are so short of time and experience constant striving, that they can't afford to watch a film just vegetating in front of the TV. They tend to combine activities just to get pleasure and execute to-do list at the same time. People's all time favorite at home is usually watching a film and having a bite. So hard to resist the temptation to pamper yourself with something delicious, easy to gulp down and something that will not require a messy tidy up afterwards. But when we are completely thrown into a movie we are least likely to notice what and how much we eat. That why the idea of preparing in advance seems quite reasonable. One of the most suitable snacks is cookie, which is loved by everyone and have a lot of variants. And if you manage to stop ordering takeaways or shop for store-bought food, you will create a real masterpiece that will suit your taste and health state.
If you are hooked on cookies, cakes, candies or in general have a sweet tooth, but at the same time you are in a constant striving for healthy, or at least, not that harmful snacks, try the Applesauce Cookies. They will do for any occasion any time, especially when you feel like warming up during autumn evenings. The apples perform at their best in this season, and it is time to use the farm to table approach. If you happen to be an enthusiastic gardener and have your own place to grow fruits and veggies, take this advantage and use fresh hand-picked apples, which are the ingredient for any meal, whether it is a simple salad, a complicated main course or a dessert, like in my case. The cookies are extremely delicious and healthy as we tend to use applesauce as a liquid base and less sugar. The cookies are just bursting with wonderful fresh apple flavor thanks to the homemade applesauce. Of course, many of you are inclined to save your effort and time and use the store-bought applesauce, but nothing would rival fresh self-made preservative-free one, which carries out all the aromas, flavors and your care. Applesauce Cookies are a huge hit with the children, and you may be sure, the cookies will not do any harm: less fat, sugar and calories – all these totally worth the effort to surprise your little ones.

The most tender Pinwheel Cookies look like beautiful decoration for a new year tree or like outstanding earrings for a particular occasion or even remind the children of a snail they have seen near the lake. In any case, no matter how to call these cookies and what they are associated with, they will definitely please the pickiest eater and delight the cook with the simple process which is a real piece of cake. The trick is a proper algorithm of cooling and freezing the dough at the right times. Vanilla and chocolate dough take turns to swirl, forming a contrast, bright circle. Enjoy them in front of the TV, take the leftovers to a cookie-exchange party, treat your friends, collect raves for the most extraordinary, extremely tender, and eye pleasing snack. Putting together chocolate and vanilla dough is much more tasty and beautiful than taking either one alone. So, simply split your dough in half, add chocolate to one half and vanilla – to the other, cool them down, then shape each part in rectangular and roll into a log. Refrigerate before slicing.

Peanut Butter Chocolate Chip Cookies go well with milk, that is why I always give them priority when choosing snack for a movie. Children go bonkers over it and it makes me feel quite comfortable as milk promotes their health and chocolate pleases their tongue. Peanut butter and chocolate are really match made in heaven. Sweet chocolate and creamy salty peanut butter form a marvelous combination that melts in the mouth, making everyone obsessed with it. Dipping warm freshly baked cookies with melting chocolate in cold milk really puts everything on hold, luring you away from everyday life and household duties. The recipe is foolproof, the ingredients are few in number and, perhaps, they are your fridge essentials.