Hey there! First of all, After a long months of resting and completing my education as a Senior High school student, I would like to introduce myself again, I'm NellShaOza, a former active bitLander user and a former leaderboard achiever. The word former is now the past, To this day forward, I'm back with more stories to share and ideas to published.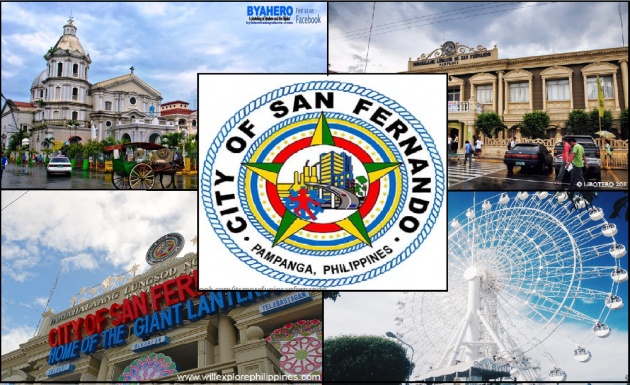 Image Source: Byahero Facebook Page/ willexplorephilippines.com/ libotero.com
For my Comeback blog, I would like to express my patriotism towards my Hometown, sharing it's core to other filipinos and races around the world and appreciating the benefits of being a Fernandino Term used if you were born in San Fernando, Pampanga or you moved,lived there and registered as a San Fernando civilian for a long time. I thought of this meaningful blog as a sign of looking back where I came from and nourishing it's fruitful effort to make the living for us, Fernandino, safe and sound.
"Fernandino First!"

Fernandino ing mumuna, Fernandino ing manimuna!
Deeply rooted in our heritage, we commit to create and embrace a future where governance is socially inclusive, transparent and accountable, where citizens enjoy the fruits of their labor and peacefully live in harmony with the environment. We hold to these our core values patriotic and democratic, civic minded and socially responsible, committed to a culture of excellence, discipline and integrity, environment-friendly and proud of our heritage, fair and just.
The City of San Fernando, Pampanga is a 1st class city and capital of the province of Pampanga, Philippines. It is specifically located in the biggest Island of the Philippines, In Central Luzon, Region III. Also, North Manila Capital of The Philippines is only 66 kilometers far from the city.
The fun and exciting traditions of City of San Fernando Pampanga captured the heart of the locals and foreigner tourist all over the Philippines and the world, thus, gaining the title as the "Christmas Capital of the Philippines" for they annually holds the most awaited event of Fernandinos which is the "Giant Lantern Festival" This Festival is automatically considered as an eye captivating experience for many people, the natural talent in Parol Making that the Fernandinos had is exposed and joyfully supported by Filipinos.
The Giant Lantern Festival and talented fernandinos making the legendary lantern.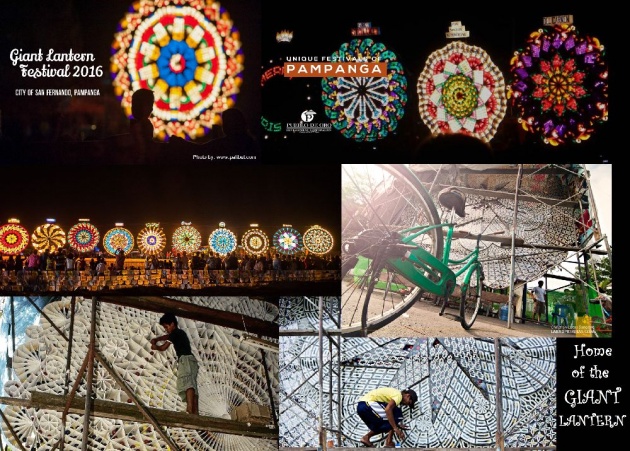 Image Credit goes to Inquirer.net/ pinoyadventurista.com/ rappler.com/ lakadpilipinas.com
According to the official website of San Fernando, The City of San Fernando registered a total population of 285,912 based on the census made by National Statistics Office (NSO) in May 2010. This was up by 64,055 as compared to the 221,857 figure recorded in the May 2000 Census of Population and Housing (CPH) of the NSO. The census also indicated a growth rate of 2.21 percent in the past five (10) years. The high growth rate in population is accounted for not only by the natural increase in population but also due to in-migration on the account of the City's central location in the region. - cityofsanfernando.gov.ph
Thousands of Fernandino and Local/foreign tourist witnessed the Giant Lantern Festival 2017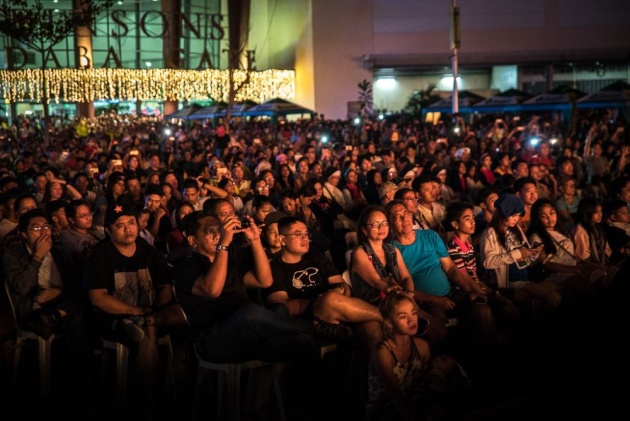 Image Source: article about Giant Lantern Festival at rappler.com
City of San Fernando Pampanga is currently governized by Mayor Edwin David Santiago which has his own 12 point agenda for the city, this includes the following. For the city's Employment, Environment, Effective Health Programs, Education, Ensuring Peace and Order, E-Governance, Establishing Long-Term Food Security, Effective Services for Senior Citizens, Empowerment of Citizenry, Ethical, Competent and Committed Fernandinos, Economic Development and Enrichment of Tourism and Culture.
Entreprenuership is widely known to Fernandino, this gave a way to the Local Government of San Fernando to prioritize its highly requested subject, thus, awarding the city as the 2014 Most Business Friendly LGU Local Government Award. The evidence of such award inclined Entrepreneur to invest and Business people to nourish their business here in the city of san fernando. The event gave a positive result until into this year 2018.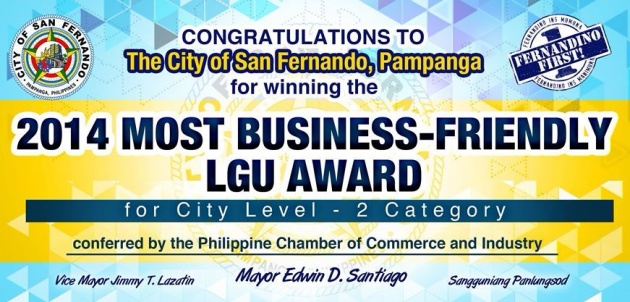 Image Source: cityofsanfernando.gov.ph
City of San Fernando, Pampanga. Reference Manuals for City Investment Promotion office for Fernandino Entrepreneur.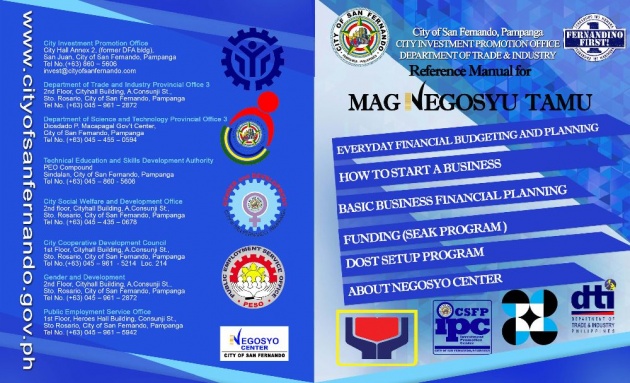 Image Source: cityofsanfernando.gov.ph
JOB OPPORTUNITY
One of the benefits in living here in San Fernando, Pampanga is the unlimited Job opportunity the City were and will be giving. As what Mayor Edwin says in his Agenda, Sapat na pangkabuhayan sa mga Fernandino tungo sa maunlad na pamumuhay. this means that, The way for a progressive and prosperous living is a sufficient and enough labor and job for Fernandino People. Therefore, as of April 11, 2018, the City of San Fernando is in need of the following:
The official list for Job openings in San Fernando Pampanga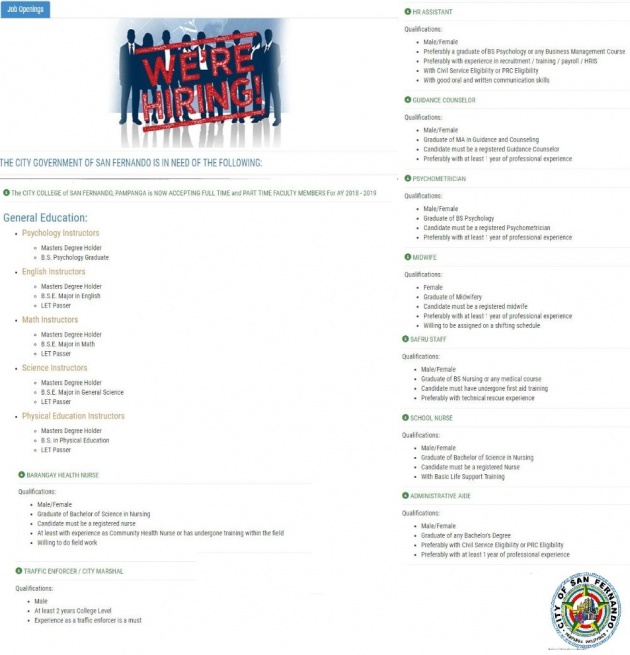 Image Source: cityofsanfernando.gov.ph
The Agenda also nourished the Department of Labor and Employment or the DOLE's own program. The program is the Special Program for Employment of Students (SPES). Some of my acquiantances in School and even here in our neighborhood were personally a product of San Fernando's Job offering, this includes the SPES. Students from 16 and above is qualified to join the program.
Government officers will conduct a several test and interviews on the student before the official entering of the candidate to the specific job the LGUs propose. The Summer job experience includes different kind of assignments in the City hall, Census activities and even Fast food Service crew.
Video Source: SDG Studios by Aristeo Tengco
EFFORT TOWARDS EDUCATION
One of the things that the people of nearby town envies in San Fernando is its active implementation of scholarship programs. I am personally a San Fernando, Pampanga scholarship beneficiary, therefore, I would like to emphasize this program. I am proud to be a Fernandino because of its agenda for students. As a student who studies and want to achieve the best education, San Fernando scholarship program gave us reason to appreciate our studies and to continue our education into its fullest extent.
Last Nov 21, 2017, Over a thousand of Senior High School students were granted a subsidy worth Php 3,000 ( 60 dollars ). The applicants from the 2017 subsidy program would continuously receive same amount of subsidy for the next school year. Of course, the subsidy and scholarship is exclusive for Fernandino Student only.
The first batch of beneficiaries under the High School Subsidy Program of the City Government of San Fernando received their financial assistance over the weekend.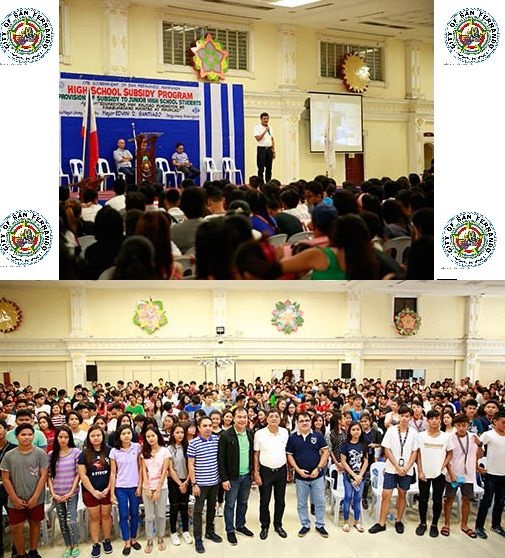 Image source: cityofsanfernando.gov.ph
I am greatful to be part of the program and became one of the lucky student to had the chance to received the subsidy. I used it with some school expenses and save it in the bank for future purposes.
One of the things I would also like to mention is the City of San Fernando's own college school. Yep, you heard it right, City of San Fernando also has a school for students living in San fernando who's family doesn't have the ability to afford college tuition fees and expenses. When you become a City College Scholar or also known as here in San Fernando as the Iskolar ng Bayan, you will pay nothing for your education, with the free tuition fees, free miscellenous and free 2 sets of uniform.
The Scholarship is applicable for all students in San Fernando Pampanga with the mark of 85-88 and above. If you are a student and a certified fernandino, visit the nearest barangay hall in your place. City College has been the partner of Fernandino Student since 2009 in achieving their dream.
City College building at the back of Heroes Hall Gen. Hizon Extension, corner Consunji Street, San Fernando, Pampanga
Image Source: cityofsanfernando.gov.ph
"Our dream is to have a City College with educational foundations as strong as that of UP and Ateneo," - Mayor Santiago added as he restates his message during last week's celebration of the founding anniversary of CCSFP.
Video Source: SDG Studios by Aristeo Tengco
The City of San Fernando can be consider as one of the province that aims to have an economy like what they have in Metro Manila, Establishment is on the rise, business is innovating, Universities and Institutions are becoming prestigious, Job and opporunities is everywhere and Government Unit is now more visible to the public view.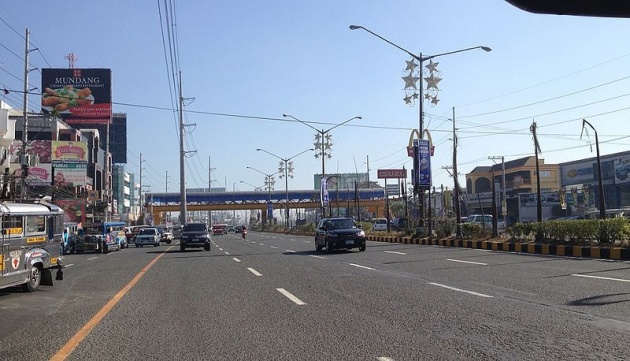 Image Source: commons.wikimedia.org
As a Fernandino, I am glad to be part of the rising economy that San Fernando is becoming. This blog might not elaborate all the benefits and perks, however, it did highlight some essential benefit especially to us, student. The next part of this blog would tackle about the Fun and exciting places that must visit in San fernando. Thank you and Stay Tune bitLandia!
truly yours,
NellShaOza ღ
❧ Accountany and Business Management 2017-2018 ❣
Soon to be a Bachelor of Science in Accountancy Student ❧