My Opinion:
It is just maybe a dog but it is still has a life that has to be respected. I am really sad about this news I just read over the internet. The groomer may not have wanted what had just happened but I know there's a flaw somewhere. This news was published by 9news 2 days ago, Feb 21, 2105.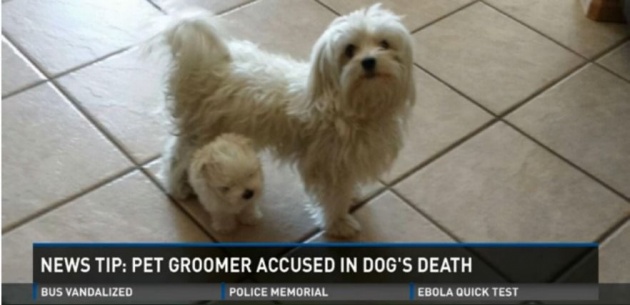 THORNTON - A dog grooming business in Thornton could be in jeopardy of having its license suspended. The Colorado Department of Agriculture is investigating the shop after a dog died of asphyxiation.
The dog's name was Honey. She was a Maltese and belonged to Jose Martinez. Nine weeks ago, Martinez says Honey gave birth for the first time to three puppies. After nursing them for more than two months, he and his family thought it was time to get her cleaned up, so he says he dropped Honey off at Spawlash Grooming.
"My kids and my wife were like, 'she needs a mommy makeover,'" Martinez said.
Hours after Martinez dropped Honey off, he got a call saying she was dead. He says the dog had a leash on and fell over the side of the grooming table. After taking Honey's body to a local vet, he says her death was caused by asphyxiation.
"The vet is saying that she probably was asphyxiated, that she probably was choked. She thinks someone else tied her up, been distracted and my dog paid the price for that," Martinez said.
Thornton police say they didn't find anything criminal, but Steve Bornmann with the Department of Agriculture says they've launched their own investigation.
"The groomer, for whatever reason, did not pay close attention to the pet. The department is still considering what action we will be taking against the facility in the future," Bornmann said.
That's a process Bornmann says could take up to a month.
Martinez says the business offered to pay for a new dog and for Honey's cremation, but he says there's nothing they can do to take away that feeling of sadness and to replace his family member. He's lost.
9NEWS tried repeatedly to get in touch with the owner of Spawlash. The owner responded with a message that read, in part:
Normal grooming procedures for all groom shops is to tether the animal to the table while the animal is on the table. The procedure is regulated by the Dept. of Argiculture and tethering is intended to protect the animal and help provide control of the animal during the grooming process. New clients are given a waiver regarding tethering of their pet while being groomed.
Honey was very stressed in the groom process because she came in heavily matted. Honey was never left unattended on the table nor was the groomer distracted. Honey did not fall off the table but jerked away from the groomer and jumped off the other side of the table trying to get away due to the stress of the matt removal.
Within seconds the groomer, with 24 years experience, got Honey back on the table and seeing Honey was limp and had defecated began doing CPR and mouth-to-mouth resuscitation which continued for about 10 minutes.