Do you want to have the best time of your life? If so, let's have some more fun with Philippine festivals!
Well hello there buddies! And we are here again to discuss some things that are worth talking for. And yes, if you've looked at the title, you are correct. It's about Philippine festivals (Round 2) ! I've already blogged about this but i thought that seven festivals alone in my previous blog aren't enough. ( Click here to view my previous blog on Philippine festivals! ) I would like to show my readers MORE festivals. I believe they are fun and they make me proud to become a Pinoy (Filipino slang for the word 'Filipino', now you know!:)).
Anyway, I already told you before that Philippines has numerous festivals. Like EVERY month, it is impossible not to see even one of them (That is if you are serious in touring the whole country, EVERY MONTH). So yes, I did more research and came up with some more! I can't wait to show you what I found. :)
Okey, here we go. In a count of 1, 2, 3.....
Ladies and gentlemen, presenting to you PHILIPPINE FESTIVALS 2 : LET'S HAVE SOME MORE!
*Introduction video:
Video courtesy of Choosephils (youtube.com)
The video that you just saw is a shadow play by El Gamma Penumbra, a Filipino shadow play group. It shows the natural beauty of the Philippines.
Did you feel the energy and enthusiasm after watching the video? I hope you did. Well then, let's start! :)
BANGUS FESTIVAL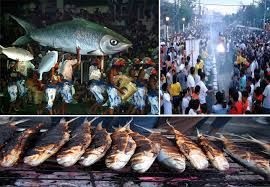 Photo courtesy of Asensopangasinan.com
Date: April 1- May 1, 2016
Location: Pangasinan province
The Bangus festival aims to promote the Bangus industry of the city. This festival has been a result of various cultural fusions. But hey, the outcome is just as stupendous as ever! Food vendors lining at the streets and street dancing makes the travel worth the while. Culinary artists may watch a cooking contest showing visitors the various ways to cook Bangus.
*Bangus Festival Street Dancing Competition
Video courtesy of Macky Rice (youtube.com)
But what is Bangus?
"Bangus" means Milkfish in English.
Now, going back to the the topic...
What more could it be when you have all of these things in Dagupan? And yes, the venue is in Dagupan. Need to say more or less? Well at Bangus festival, you'll want to say more! Now, set the date and prepare for this upcoming event!
MAGAYON FESTIVAL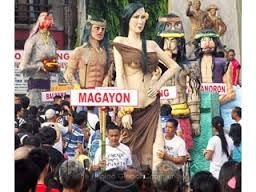 Photo courtesy of Philstar.com
Date: April 10-29, 2016
Location: Albay province
Magayon Festival takes along with it a beautiful love story. How could anyone forget the love story of Daragang Magayon? Many people in Albay believe that the death of this woman led to the formation of a volcano. At present, this volcano is now known as Mayon Volcano and so, a derivation of the annual Magayon festival.
*Mayon Volcano in Albay.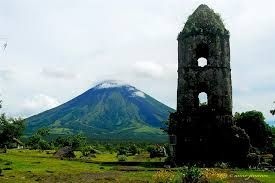 Photo courtesy of Famouswonders.com
*Who is Daragang Magayon? Find out in this movie!
Video courtesy of Donald Sallan (youtube.com)
During celebration, the locals showcase their rich culture by holding varied cultural events. For the sport buffs and entrepreneurs, here is the good news: For sport buffs, there'll be some sport events. For entrepreneurs, they can venture in trade fairs. And to top it all, the locals themselves will be re-enacting Daragang Magayon's love story through a play!
*Magayon Festival 2012
Video courtesy of Dumbar Morales (youtube.com)
Magayon festival is more than just a legend. with friends and family, there is always something to take part at. It is always a surprise at Magayon festival!
PASALAMAT FESTIVAL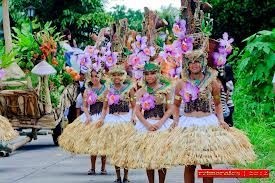 Photo courtesy of Cocodollbum.wordpress.com
Date: January 2017
Location: Zamboanga del Sur (South Zamboanga)
Pasalamat festival is a form of gratitude for having an abundant harvest.
Before, the celebration is done to give honor to the god of agriculture. The natives would go to Kanlaon Mountain to perform some rituals where they would offer something as a way of gratitude for all the blessings the people acquire.
*Pasalamat Festival 2016
Video courtesy of Vincent Makiputin (youtube.com)
The place is filled with traditional regala and locals wearing intricately designed costumes. Furthermore, local traders sell goods or merchandises throughout the whole city. This is another chance to buy some souvenirs exclusively made from the country. Pasalamat festival: another reason for some marvelous exploration.
PAHIYAS FESTIVAL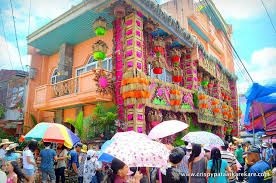 Photo courtesy of Crispypataatkarekare.com
Date: May 15, 2016
Location: Quezon province
San Isidro Labrador, the patron saint of Filipino farmers, is the reason for having the Pahiyas festival.
San Isidro Labrador was a farm worker whose heart always had a space for the poor and animals. Rumors say that in his time, he had performed miracles such as raising the dead back to life and resupplying completely consumed food and stew. His being kind at heart was never put out of the people's mind. Thus, the appearance of Pahiyas.
Currently, it is one of the lively festivities in the country. While enjoying flavorful culinary cuisine, expect the houses be decorated with rice wafers, flowers, and fruits!
*Watch this US Documentary TV show on Pahiyas Festival.
-- Part 1--
-- Part 2--
-- Part 3 --
All videos in courtesy of Betaxfer1 (youtube.com)
Everyone treasures all the memories in this occasion. It is special and provides a better understanding of Filipino culture. It is indeed another happening to look forward to!
SARANGANI BAY FESTIVAL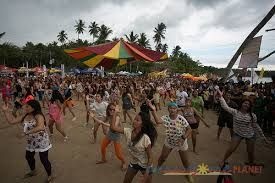 Photo courtesy of Ourawesomeplanet.com
Date: May 15-16, 2016
Location: Sarangani Province
Believe it or not, but a beach festival also exists in the country. Introducing to you the Sarangani Bay Festival or Sarbay festival for the nickname.
*Sarangani Bay Festival 2015
Video courtesy of AeroCam M edia (youtube.com)
Every May in its third week, the festival comes in. You can see lots of tourists. The things you can do are boat racing (with the locals), skimboarding (for an unforgettable experience), beach volleyball, and a lot more.
At night, you can drink under the moonlight while watching a concert. Isn't it chilling to hear at?
*Kamikazee, a famous Filipino band, performs at Sarangani Bay Festival 2014.
Video courtesy of Mindanaoan Irene (youtube.com)
You've finally got a reason to spend time at Sarangani. Come and visit Sarbay Fest this May 15th!
SANDUGO FESTIVAL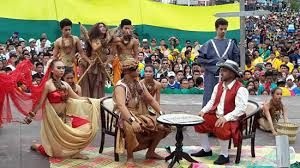 Photo courtesy of Aboutmyrecovery.com
Date: July 13, 2016
Location: Bohol province
Its inspiration is the leader named Datu Sikatuna (Datu means 'king' in English) who made a blood compact (or Sanduguan in Filipino) with Miguel Lopez de Legazpi who is a Spanish explorer, as a form of treaty alliance. Also, there were stories in the past that the next leaders did the same thing by cutting their arms and then drinking the blood after. It was from these occurrences that gave birth to Sandugo Festival. We can arrive to the conclusion that Sandugo symbolizes a good relationship.
*A scene from the blood compact reenactment at Sandugo Festival 2006.
Video courtesy of Rafeboogs (youtube.com)
In March is when the festival happens but not for street dancing competition since it happens in the month of July. This is to coincide with the activities of the same month. Not only street dancing can we see but also cockfighting competitions, sport tournaments, and fireworks display.
*A scene from Sandugo Festival 2014.
Video courtesy of Sandugo Festival 2014 Bohol (youtube.com)
It is good to know that such festival began from a mere friendship. Thanks to all the past Boholano leaders especially to Datu Sikatuna, visitors can now plan what to do when they want to visit Bohol accompanied with friends and family!
IBALONG FESTIVAL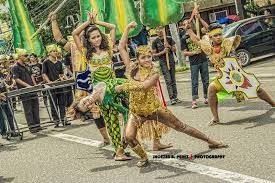 Photo courtesy of Byaheroph.blogspot.com
Date: August 3-9, 2016
Location: Albay province
The tenacity of the people in Legazpi City in Albay is what brings them together to unite as one. No wonder, the city has stood firm against all trials, including typhoons that destroyed the city. And even if they keep on coming up to now, the people don't lose to show resilience, hence tenacity, hence Ibalong!
*Ibalong Festival Street Presentation 2015
Video courtesy of Dumbar Morales (youtube.com)
Like other festivals in the Philippines, Ibalong also holds street dancing BUT with a twist. Its backdrop is the Mayon Volcano, being termed as a "perfect cone" because of its near symmetrical cone shape. To add to the excitement, there are street carnivals, fireworks display, musical show, presence of Bicolano food, and the rest!
What more can you ask for? Ibalong festival is something distinct and a new kind of fun!
*Did you like what you read? If you did, then please leave your comments down below so that I would know what you think. :) Also, I might be posting more stuffs about the Philippines so if you are interested, please keep posted for more updates only here at vanity's blog. Have a great day mate! :)