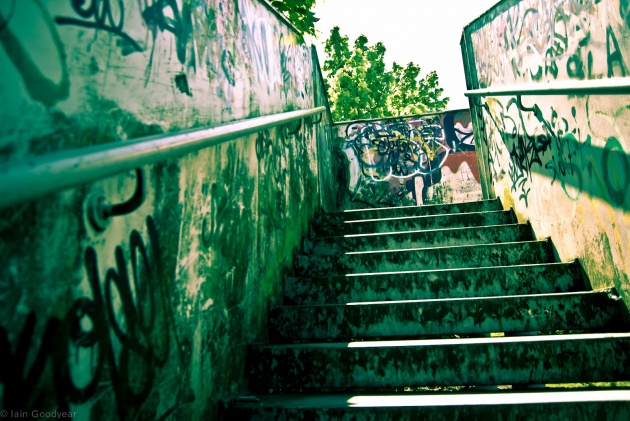 In June of 2012 I was visiting my best friend David Corbett, who at the time was living in a bit of a rundown area of Mansfield, a large town close to Nottingham in the UK. While we were talking about this and that I mentioned to David that I really wanted to photograph graffiti, as I had the year previous documented the amazing street art produced for Manchester's Euro Cultured festival. David looked very thoughtful for a moment after I explained this interest in documenting graffiti and then told me that there was an area nearby that might be of interest to me. He was being a bit vague and cryptic when I asked why this particular area might be of interest. All David would say is that I would understand when we got there.
So off we went camera kit in tow. After a short distance we ventured off the main road and down a path way that ran alongside a railway line. As we walked I saw off to the left of our path some detailed and quite intricate looking graffiti on the side of what looked like an industrial building. After taking some shots I asked David if this was what he wanted me to see. 'No' he said and pointed ahead of us. In the distance I could see a bridge that formed an elevated crossing across the railway tracks. At this point as we approached the steps to the bridge I was thinking why on earth would a railway bridge be of interest to me? As I turned to David, about to ask this very question, he turned to me and said something along the lines of 'up there, it gives me the fear every time I cross it'. I'm a little hazy on David's exact words but that was more or less what he said.
As we reached the foot of the bridge steps, I swiftly realised what David meant. Despite the blazing hot sunshine of the day, there was a dark and unwelcoming feeling in the air that I immediately picked up on as I placed my feet on the steps. As I hope my images show, the bridge was more or less covered in graffiti. In direct contrast to the street art of Euro Cultured (which was designed with nothing but love for the art form) this graffiti felt a little sick, more of a perversion fueled by desperation, anger and poverty. This bridge felt like a place where bad things had once happened. Across the bridge and past the railway tracks we came to a path that lead us past what were obviously abandoned apartment buildings. As I took a shot of the building, many windows smashed and boarded up, I had a bizarre moment where I felt like I was in a place plagued by something diseased. It reminded me in a strange way of the settings of The Walking Dead.
Thank you for taking the time to read this blog. I hope you enjoy my images. To read more of my blogs please click HERE.
If you are new to Film Annex and want to upload your films or blogs to this great platform click HERE to begin. Subscribe to my Film Annex profile page and notify me of your content uploads via Twitter @iaingoodyear. By doing this I can help to spread your content to other Film Annex users via my social media platforms.
To receive future updates about my photography and moving image work please subscribe to www.filmannex.com/iaingoodyear.