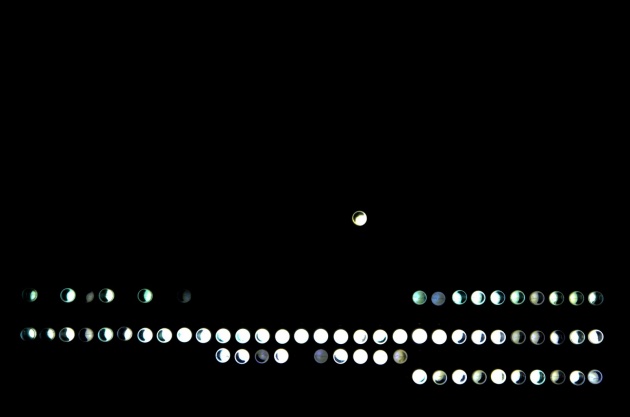 This particular series is much more in the fine art area of my photography practice. These shots were taken during a visit to The National Media Museum in Bradford in the UK in April 2011. As I was looking around the various spaces and exhibitions, I came across a permanent exhibition of older and more contemporary studio broadcasting spaces & equipment. In this exhibition, there was what I can only describe as a giant cylindrical light made up of hundreds of very small light bulbs. The light seemed to be moving from top to bottom in various sequences of movement. So I took a handful of close up shots and moved on, paying it no more mind as I looked through the rest of the exhibition.
After returning home from this visit, I uploaded the images (which I had not really properly checked when I shot them) to my computer and to my surprise was drawn to the images of the light source I have described above. I'm still not sure to this day how, but I had managed to capture pin sharp snapshots of the tiny light source bulbs firing which had created an altogether more abstract series of images. Those of you who are familiar with my blogs will know I have a very keen interest in abstract experimental photography and now I look back, I guess these shots played an influential part in developing my interest in photographing artificial light sources. I think what I like most about these images is that they are very much open to interpretation and due to their abstract appearance, might mean different things to different people.
Thank you for taking the time to read this blog. I hope you enjoy my images. To read more of my blogs please click HERE. If you are currently viewing this (or any of my other blogs) through the newly designed Film Annex website, I would also be very grateful if you could show support for my work by clicking the BUZZ button at the top right of your screen.
If you are new to Film Annex and want to upload your films or blogs to this great platform click HERE to begin. Subscribe to my Film Annex profile page and notify me of your content uploads via Twitter @iaingoodyear. By doing this I can help to spread your content to other Film Annex users via my social media platforms.
To receive future updates about my photography and moving image work please subscribe to www.filmannex.com/iaingoodyear.