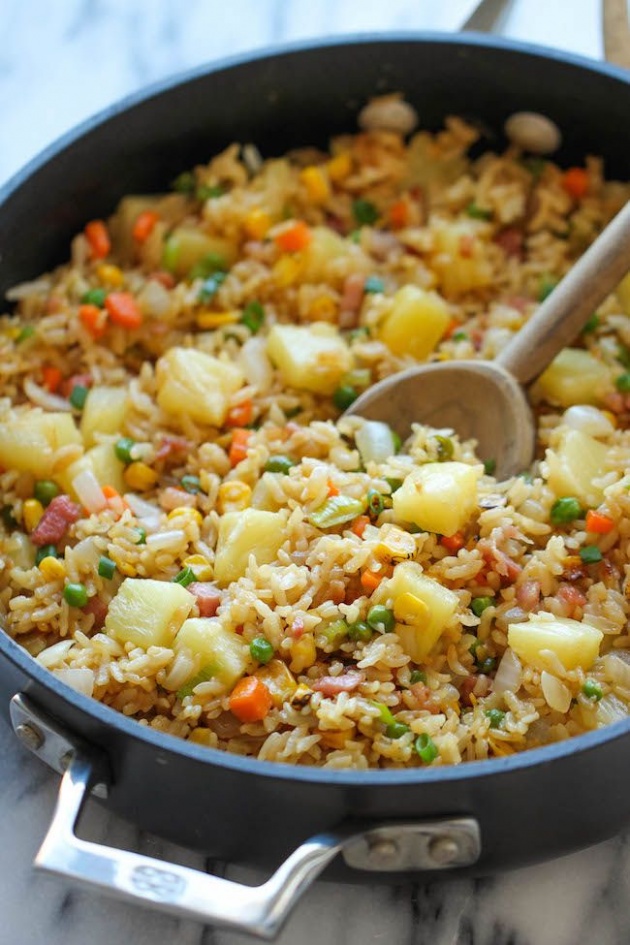 I am such a sucker for pineapple fried rice. It's my absolute favorite of all fried rices, and there's quite a bit of variations out there. But every time I order take-out or order pineapple fried rice from a restaurant, the pineapple chunks are always so huge! It's my biggest pet peeve, so I just had to make a homemade version to share with you all.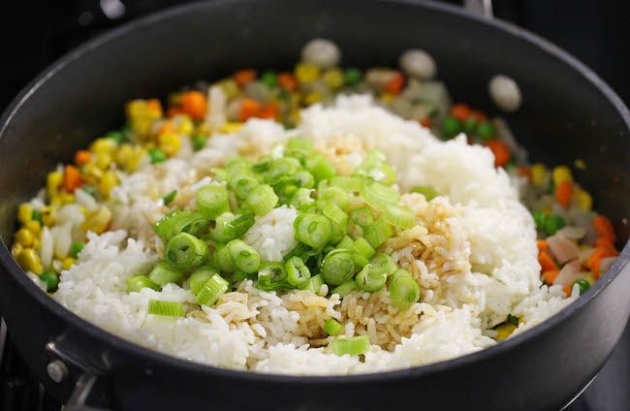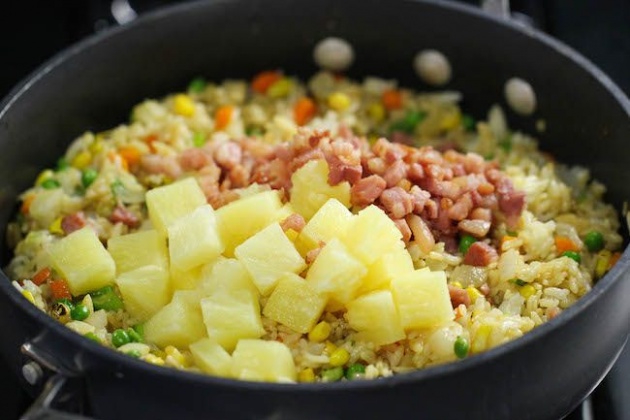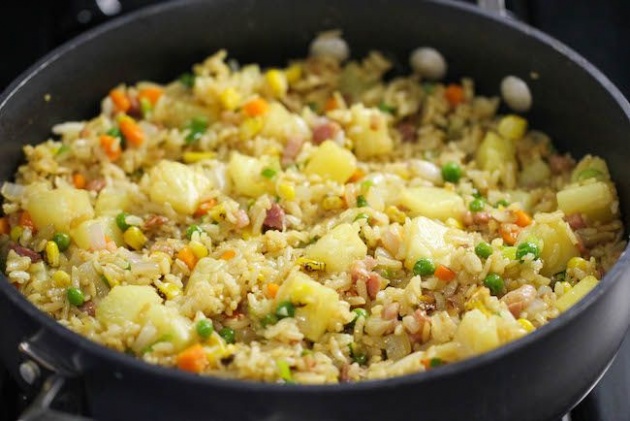 Now this is a version that is conveniently loaded with bite-sized pineapple chunks, just bursting with all of their their juicy sweetness. It's also super easy to whip up and it can easily be a clean-out-the-fridge meal with all those lingering veggies.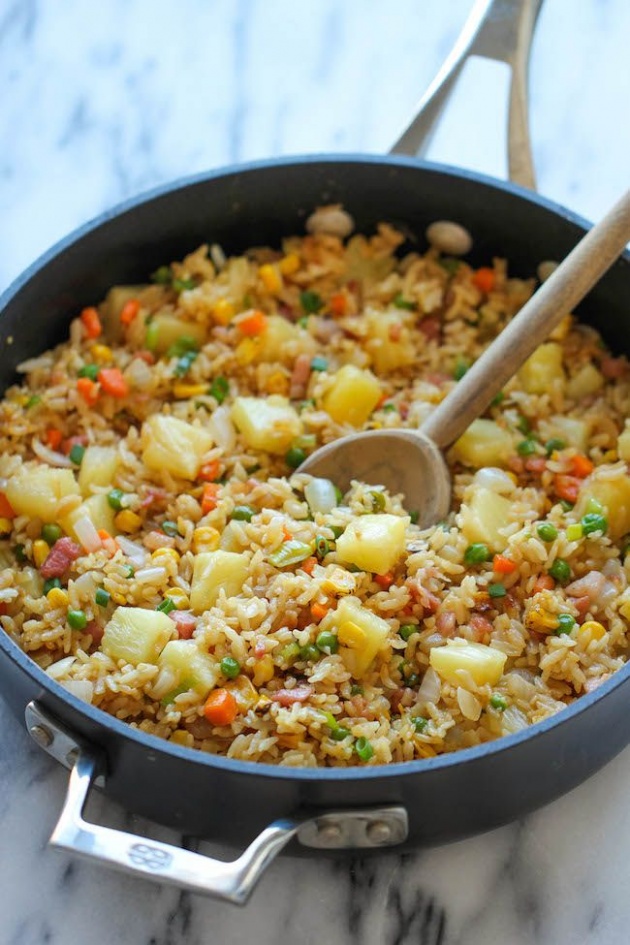 And feel free to use your favorite kind of protein – ham, chicken, or shrimp, or you can even keep it vegetarian with just the pineapple. Either way, once you drizzle on that Sriracha goodness, you'll have the best combination of sweet and spicy flavors. Plus, this makes for awesome leftovers the next day!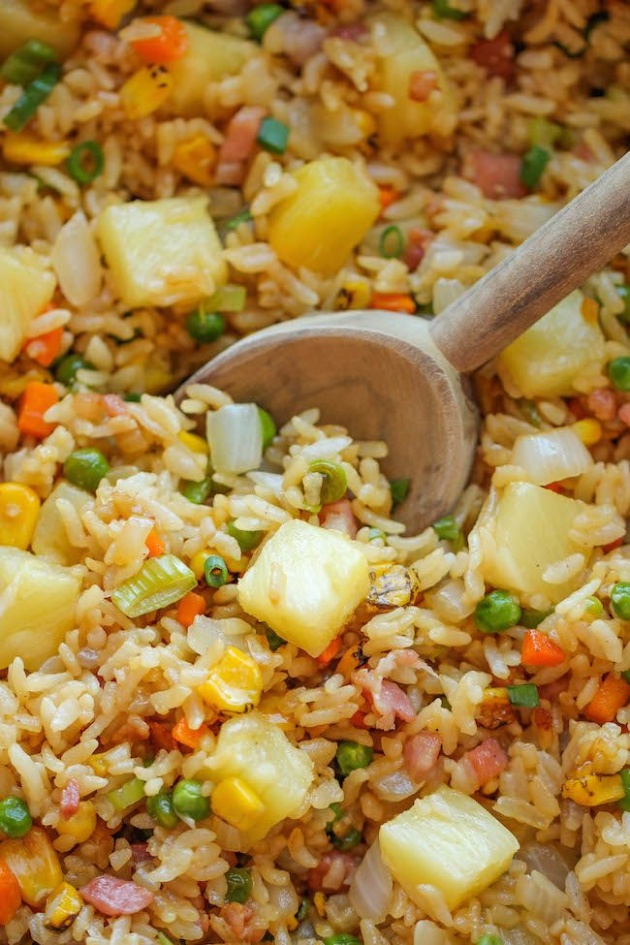 PINEAPPLE FRIED RICE
Prep Time10 minutes
Cook Time20 minutes
Total Time30 minutes
Yield4 servings
A quick and easy weeknight meal that's so much cheaper, tastier and healthier than take-out!
INGREDIENTS
3 tablespoons soy sauce
1 tablespoons sesame oil
1/2 teaspoon ginger powder
1/2 teaspoon white pepper
2 tablespoons olive oil
2 cloves garlic, minced
1 onion, diced
2 carrots, peeled and grated
1/2 cup frozen corn
1/2 cup frozen peas
3 cups cooked brown rice
2 cups diced pineapple, canned or fresh
1/2 cup diced ham
2 green onions, sliced
INSTRUCTIONS
In a small bowl, whisk together soy sauce, sesame oil, ginger powder and white pepper; set aside.
Heat olive oil in a large skillet or wok over medium high heat. Add garlic and onion to the skillet, and cook, stirring often, until onions have become translucent, about 3-4 minutes. Stir in carrots, corn and peas, and cook, stirring constantly, until vegetables are tender, about 3-4 minutes.
Stir in rice, pineapple, ham, green onions and soy sauce mixture. Cook, stirring constantly, until heated through, about 2 minutes.
Serve immediately.