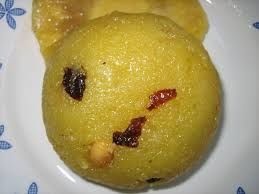 INGREDIENTS (measuring cup used, 1 cup = 250 ml)
½ cup unroasted rava/sooji/cream of wheat, 120 grams
½ cup sugar or add as required
1.5 cups water
4 tbsp ghee
12 to 15 cashews/kaju
1 tbsp raisins
¼ tsp cardamom powder or 2 to 3 cardamoms crushed in a mortar-pestle
¾ cup chopped pineapple, 3 to 4 pineapple slices cut in ½ inch cubes
1 to 2 tbsp chopped pineapple for garnish (optional)
1 to 2 drops of natural food color (optional) or 10 to 12 strands of saffron (optional)
1 to 2 drops of pineapple essence (optional)
INSTRUCTIONS
first chop the pineapple in small cubes and keep aside. keep aside.
in a pan or sauce pan, take the ¾ cup chopped pineapple, 1.5 cup water and ½ cup sugar.
add one or two drops of the natural yellow color extract. you can also add about 10 to 12 strands of saffron to get a yellow color. you can also add pineapple essence for a dominant pineapple flavor.
stir well and keep this pan on the stove top and bring to a boil. while simmering, do stir so that the sugar dissolves.
meanwhile, in another pan or kadai take 4 tbsp ghee and heat it.
then add 12 to 15 cashews.
stir and add rava/sooji. stir very well. then add ¼ tsp cardamom powder and stir.
stir & saute the rava till the cashews turn a light golden and you see ghee releasing from the sides. takes about 4 to 5 minutes on a low flame. keep on stirring, so the rava does not get browned.
by this time, the pineapple + water mixture would also begin to boil.
pour the pineapple mixture to the pan with the roasted sooji.
stir quickly and briskly so that lumps are not formed.
simmer on a low flame and allow the sooji to absorb the water.
add raisins. stir well.
in just about 4 minutes, the rava will soften up and the pineapple kesari is done. you should not see any creamish specks on the kesari. this means that the rava has not cooked properly.
serve pineapple kesari hot as it is or garnished with some pineapple cubes.
NOTES
1. the recipe can be doubled.
2. you can also use tinned pineapple slices. but while using tinned pineapple slices, no need to boil them in water. just add them directly