Not all those who wander are lost."--J.R.R. Tolkien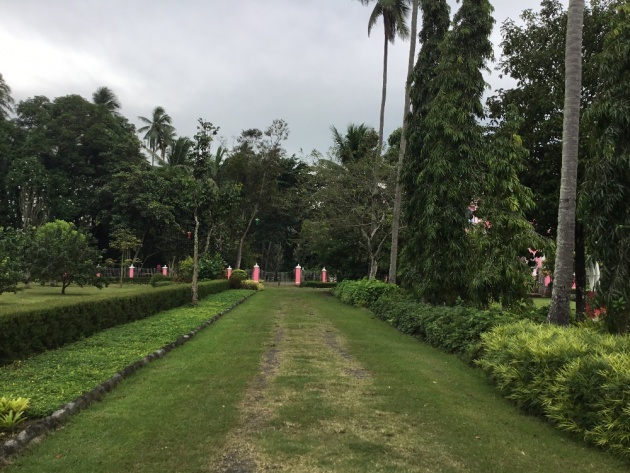 *Image is credited to Rain Tajon via www.bitlanders.com
We wanted to do the same again. We wanted another place to go.
Last year, we have decided to spent our weekends as a part of our year-end bonding moment in a different way. Instead of a simple picnic, we, my colleagues and I wanted to travel together with few LGU employees. And we went to few places in Bataan, in Central Luzon of the Philippines.
In the Province of Bataan, we visited the historical Mt. Samat, the famous Las Casas Filipinas de Acuzar and another historical place, Corregidor Island(the place is actually with Cavite). The travel was a great experience despite being stranded in an open sea. All in all, we have fun and at the same time, we learned more about ourselves, and our colleagues too.
With what we have experienced last year, we have decided to go to another place, and with my colleagues pretty not-so-great experience, we have to go to a place where there is not boat involved or get into an island again. This year, it is definitely no to riding a boat, more of pilgrimage and checking more of our cultures. And the place to visit are Villa Escudero in Tiaong, Quezon; Marian Orchard in Balete, Batangas; Padre Pio Shrine in Sto. Tomas, Batangas and visit Sky Ranch in Tagaytay City.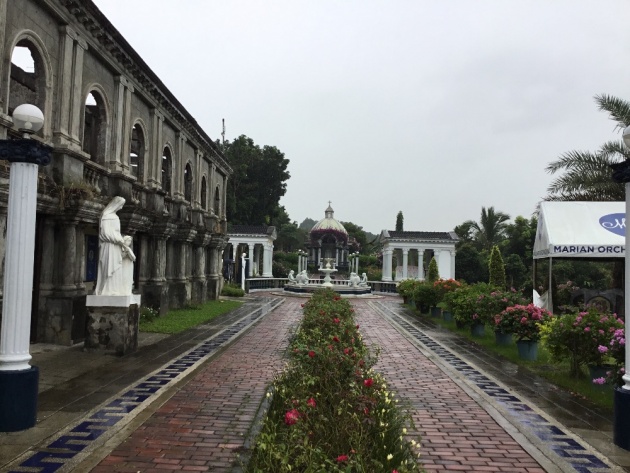 A part of the Marian Orchard
Image is credited to Rain Tajon via www.bitlanders.com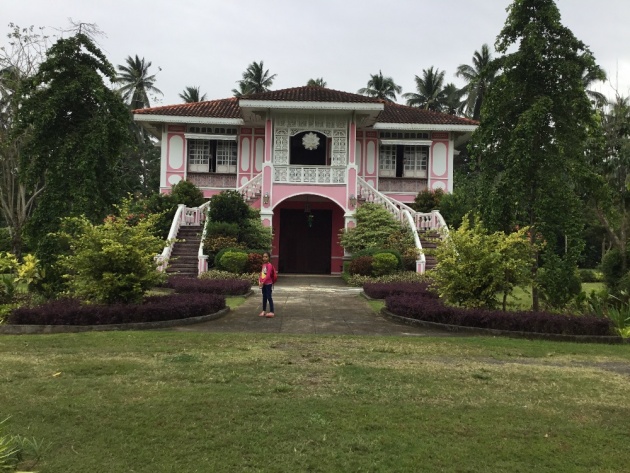 One of the house in Villa Escudero
*image is credited to Rain Tajon via www.bitlanders.com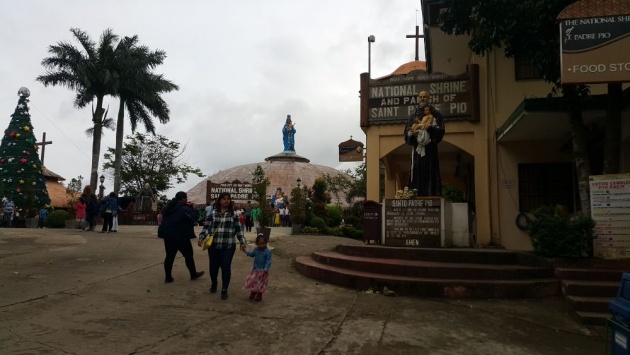 Padre Pio Shrine
*Image is credited to Rain Tajon via www.bitlanders.com
But before we go there, me, being the planner/organizer has to think and consider a lot of things. It is harder than my colleagues would have thought. It is easy to go there, but checking everything to be perfect is hard.
Bamboo rafting in Villa Escudero
*Video is credited to Rain Tajon via www.bitlanders.com
The Planning Stage.
When we have our monthly meeting last September, I have open up the idea of another place to visit. Some of my colleagues have suggested where it is best to go and where it is not. Then I asked them who wanted to travel again this year, and seeing 20 out of 36 members of the association sounds like "promising", there will be more people coming with us this year. But only 15 of us traveled together.
After identifying the place, we have set the date, since our bonuses come to the second week of December, we decided to be the same dates like last year. Some of us are excited, some of us are still having second thoughts since the date is not okay for them and I truly understand where they are coming from. But they told me that they will really think about it because they wanted to come.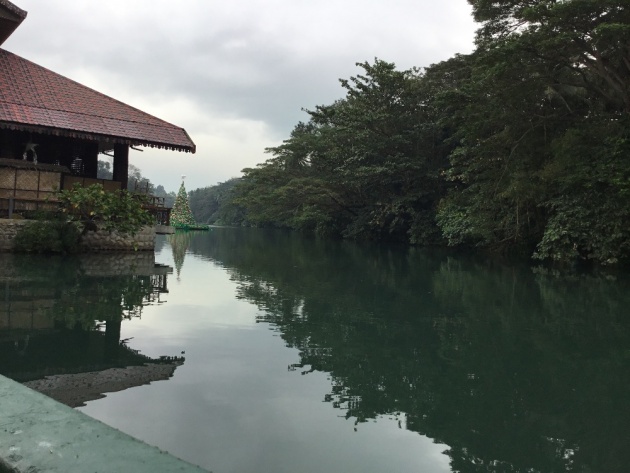 *Image is credited to Rain Tajon via www.bitlanders.com
On money and places.
The fact that we will be receiving our bonuses, some are really hesitant in spending their money, for they have families and many things to pay, as they have said. So I took their thoughts, on where to go without spending that much amount. So, I have to check the places' sites and blogs just to be sure.
When I see Villa Escudero's rate for the day tour, I know, right there and then, more will be saying no and will not be coming. The day tour's fee is Php1,600.00 or around $32.00, it sounded like too expensive for them. Well, it is for me too, but I have told them that the day tour includes a lunch buffet in a waterfalls and also we will be going there on peak season, hence the amount is that much.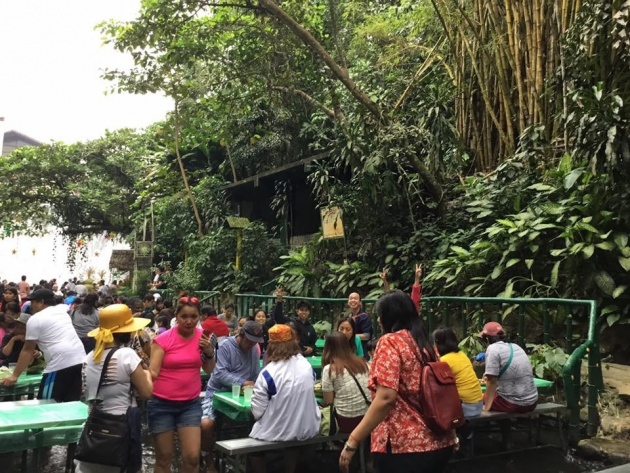 Our lunch buffet at the Labasin waterfalls in Villa Escudero
*Image is credited to Rain Tajon via www.bitlanders.com
While Villa Escudero sounds like ripping off our wallet, the other places that we will be visiting don't cost that much. The Marian Orchard is just Php50.00 or less than a dollar and the Padre Pio Shrine, it is FREE! The Sky Ranch is Php100.00 or around $2.00 for the entrance alone, you have the option to take the rides or not.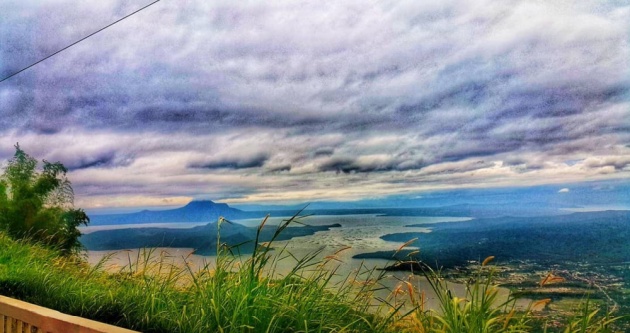 A view from Sky Ranch
*image is credited to Rain Tajon via www.bitlanders.com
Another thing that I considered was the place to stay for a night. It should be much better than the place we have stayed last year and still won't cost that much since we only need a place to sleep for one night, a transient to be exact, PRACTICALITY. And this part is the hardest. So many things to think about, the place to stay, how much we will be paying and the place should be somewhere near or in the middle of the places we will be visiting and it should really can accommodate more than 20 people. With the use of the internet, after checking reviews, maps and value for our money, I have found Zillion Pavillion in Lipa City, Batangas, less than an hour away from Villa Escudero and just 30 minutes away from Marian Orchard, JUST THE PERFECT PLACE. And not to mention, it is just few meters away from SM Lipa, that is a BIG BONUS for my colleagues who love to go to the mall and shop.
When it comes to money, being frugal is harder that I thought. But for me, this time is an exception, memories for me are priceless.The experience of going to those places are indeed priceless.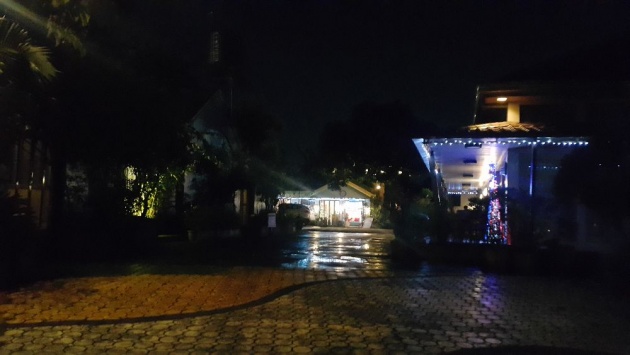 The Zillion Pavillion at night
*Image is credited to Rain Tajon via www.bitlanders.com
The Bus.
Last year, we rented a bus, a government owned bus. Since it was owned by another municipality, it didn't cost us that much. We just have to pay for the toll fee, the gas, food allowance for the drivers and hand them some amount for their service. With the great experience with their service, we think of askng them again this year. But.... When we went to the municipality to have the bus booked for the dates we will be going to travel, unfortunately, the bus is now fully booked, and it has been booked as early as October.
Hearing the "bad news", me and another close friend asked around among our friends if they knew bus owners that will be rented and its availability and how much would it cost us. I have called a friend then recommended one, and after talking to the bus owner, I have learned that it will cost us Php45,000.00. The amount includes the gas, the toll fee and the drivers' fee, we will be providing for their food. Then I got a call from my friend, telling me that she found bus, the "package deal" is Php 44,000.00 and we won't be paying anything for their food too, much better deal.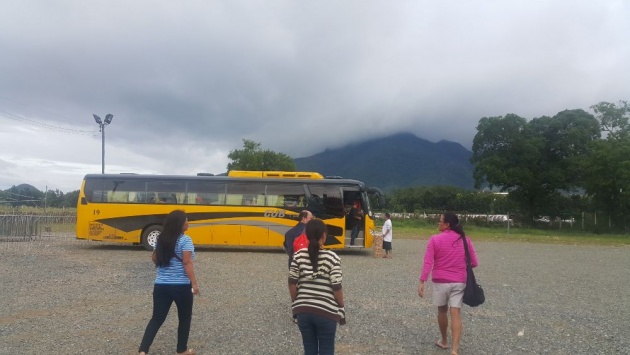 The bus that we rented
*Image is credited to Rain Tajon via www.bitlanders.com
And my second trip with my colleagues and few LGU employees is now set.
The whole trip was worth every endless searching through the internet and also worth our money. To be asked to organize and plan the whole thing is a big responsibility to thin of many things to consider and re-consider, it is hard to have everything ironed out even before the day we will take the trip, but then again, it is all worth it. If I will be asked again, I will take the responsibility, it is during this part that I have learned so much about myself, patience, dealing with people and understanding the concerns of many and at the same time, being flexible with making plans.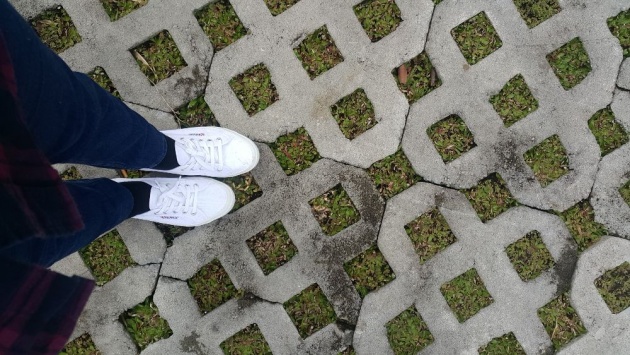 *Image is credited to Rain Tajon via www.bitlanders.com
Travel makes one modest. You see what a tiny place you occupy in the world."--Gustave Flaubert
*Video is credited to Rain Tajon via www.bitlanders.com
***************************
Thank you so much for reading. I will be writing each places next!