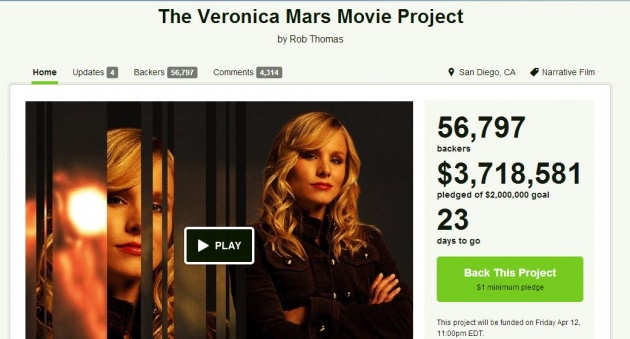 Veronica Mars has some seriously devoted fans.
Launched a week ago, a Kickstar fundraiser started by creator and executive producer of Veronica Mars, Rob Thomas (not to be confused with the lead singer of Matchbox Twenty), who was looking to gain $2 million for a Veronica Mars film.
Thomas wrote this in his fundraiser request:
"Almost since Veronica Mars went off the air, there's been talk of making a movie. In that span, I've taken different tactics in dealing with the question of whether it might happen. To be clear, I've always wanted to make a Veronica Mars movie. I love writing these characters and working with these actors. Kristen Bell has always wanted to make the movie."
And within 11 hours it reached it's goal thanks to the project going viral.
With more than 56,000 backers and almost $4 million of funding, there is no doubt Veronica Mars fans love this idea. Hooray for crowdfunding!
As to what the copyright holders of the show, Warner Bros, think about a piece of their enterprise being made without them, Rob Thomas had to say this about it:
"Of course, Warner Bros. still owns Veronica Mars and we would need their blessing and cooperation to pull this off. Kristen and I met with the Warner Bros. brass, and they agreed to allow us to take this shot. They were extremely cool about it, as a matter of fact. Their reaction was, if you can show there's enough fan interest to warrant a movie, we're on board."

Another win for the Veronica Mars fandom.
If you aren't quite sure how crowdfunding works, here is the scoop behind the popular fundraiser Kickstarter.
Anyone looking to gain funds for a project or cause can create an account and page for their project.
Once you've filled out the info for your project/cause, added a video and/or pictures to further explain your cause, and chosen the perks for the people who fund your cause, you have until your deadline to fund your entire cause or you will not receive any of the funds. Indiegogo, on the other hand, allows you to receive the funds as soon as someone gives money to your cause.
Either way, crowdfunding is a fantastic alternative to loans, and it's more about people who support your goal.
Here are some of the awesome perks available for those who help fund/pledge The Veronica Mars Movie Project.
If you pledge $350 or more: A cast member of your choice (excluding Kristen Bell) will record a 15 second, outgoing voice mail message for your phone.
If you pledge $10 or more: A PDF copy of the script and a behind-the-scenes scoop of the filmmaking process via email.
If you pledge $25 or more: An exclusive "Veronica Mars-The Move" t-shirt.
If you pledge $10,000 or more (claimed; for 1 person only): A speaking role in the film and every perk listed.
The fundraiser ends Friday April 12, 2013 at 11PM.
How much will you/did you pledge for The Veronica Mars Movie Project?
What movie(s) made from your favorite television series would you want to see next on Kickstarter?
I'm rooting for a Gilmore Girls movie.
Image Source: Forbes