I am a frustrated singer and even though I like listening to songs, it seems like music isn't just my thing. When I was still a little girl, my mother and I would always have our afternoon singing sessions over karaoke and that was the time when I was exposed to the songs of the 70s and other Filipino songs which are not really for my age and that I don't really understand much what the song meant but I still sing it anyway.

I was really glad that my mother had let me sing with her and that we could just stay at home singing our hearts out of all the VHS tapes that she has in the house. Then it came to a point where we already have CDs and we got more options to sing to.

As I was growing and starting to appreciate singers from both international and locally, I had been eyeing this specific young artist. I was referring to Sarah Geronimo.
The fact that we are of the same age makes me really look up into her way of singing and her attitude as an artist. She has been really funny and that she has her own way of changing her face when singing. My brother would always tease me about Sarah because she has a big earlobes and my brother would say that we are compatible because of that. But he also had appreciated how good this girl is when it comes to singing.
This was Sarah when she was still young, after she won the Star for a Night competition
This was a documentation of Sarah Geronimo's journey with Star for a Night
To Love You More is her winning piece for the Star for a Night

Both my brother and I had been following her in the defunct television singing contest, Star for a Night in 2003 which was hosted by Regine Velasquez. She won the said competition and started her own musical career that time. She is then being handled by Viva Records.

She was still a young girl who has a unique taste of fashion. She started releasing her albums. The first one was called Popstar: A Dream Come True. The title was because of the recent victory of the singing competition and that it paved her way to success considering that she had been denied and rejected a lot of times in other singing competitions and even acting auditions.

The first album had become the best-selling debut album of all time in the Philippines and it has even won two Awit Awards.
Here are some of her album photo covers:
She was into Pop songs that time until 2013. Because of that, she was named Popstar Princess of the Philippines. She has won a lot of hearts of the Philippine audience and that included me.
Check out some of her music videos for those album songs:
Official music video of Sarah Geronimo's carrier single, "Ikot-ikot", from her latest album "Expressions".
This is the Popstar Princess' heart-rending take on a Vehnee Saturno original on a music video directed by Paul Basinilio. "Sino Nga Ba Siya" was recognized as the Most Downloaded Song and Sarah Geronimo as the Most Downloaded Artist during the 25th Awit Awards held last November 27, 2012. "Sino Nga Ba Siya" is her "One Heart" album's carrier-single.
"How Could You Say You Love Me" from the album "Sweet Sixteen" released under Viva Records
Here is the latest hit video of Sarah Geronimo, "Star Life"!
Official music video for the song "Sa Iyo" as performed by Sarah Geronimo. The track is a cut from her platinum-certified, 2003 album "Popstar A Dream Come True" released by Viva Records. The song is a composition by Medwin Marfil of True Faith. The music video is under the direction of Avid Liongoren.
Official music video for the song "Ikaw" as performed by Sarah Geronimo. The song is a cut from Sarah's platinum certified album "Taking Flight" released under Viva Records. The song was written by Medwin Marfil of True Faith and the music video is directed by Avid Liongoren.
She has been present on ABS-CBN's shows like ASAP from 2004 until present and also starred in Bituing Walang Ningning. She also hosted her own self named show,
Sarah G. Live
!

And the best thing I guess which had happened to her career was when she ventured into acting and played the leading role of the famous film: A Very Special Love in 2008. It then became a hit and two more sequels followed: You Changed My Life in 2009 and It Takes A Man and A Woman in 2013. All of these films had been listed as highest grossing films in the Philipines.
The first movie with John Lloyd Cruz which was definitely a huge hit
Another huge hit was the second sequel
This was the third sequel, It Takes a Man and a Woman
Aside from hosting and acting, Sarah had also been into judging. Since 2013 until present, Sarah is the Judge and Coach for The Voice of the Philippines.

Her team had already won twice in the said competition. One during the The Voice Kids Season 1 where Lyka won the hearts of the Filipinos and the Popsters.
This was Team Sarah's Champion, Lyca Garanoid
The second win was during the The Voice of the Philippines Season 2 where Jason Dy won as well.
This video above was during the live shows where Coach Sarah and Jason Dy sang If I Ain't Got You by Alicia Keys
She is still one of the coaches of the said show and she has ben noted as one that is very sweet and humble in judging the contestants. She knows the feeling of being on stage as she had also gone the same experience when she joined the competition which she won as the champion.

The best thing about Sarah Geronimo I guess is her personality and respect to her family and friends specially to her parents. She has never been into a public relationship eversince she started singing because she is considering her parents' feelings but lately, she had been very vocal now about her relationship with an artist as well in the Philippines in the name of Matteo Guidicrlli.
The photo was taken when the two of them worked together for a concert outside of the country.
This one above was during Matteo's birthday party where he was surprised by Sarah. She sang his favorite song, Thinking Out Loud by Ed Sheeran

They are in the same business though but they are good at separating their personal life with work.

Her parents had also been fine with the guy and guess it has their permission. They had kept their relationship private until a time when Sarah had admitted the truth in the television. She had been seen with Matteo then and are really compatible with each other. She had even supported her boyfriend with the recent IronMan in Cebu.



From Pop, she had also switched to R&B and dance music. Her skills in dancing has really improved and she is one of the most awaited and looked forward to in the show ASAP every Sunday. Her fans, the popsters are always there to support her.

Ever since she had been in the sing and dance performance in ASAP, most viewers would look forward to her performance. She has her own segment in the said tv show and she has been giving her full performances, like 200% in every performances. Check her top viewed performances in the videos below:

These kinds of performances separate her from Filipino traditional singers who are just standing & belting their all to please the audience. She's the only singer in the Philippines who can still thank a bunch of people with full voice.
Aside from local activities, Sarah Geronimo has been chosen by Disney to re-interpret the theme song of its Princess franchise.
Watch Disney's The Glow by Sarah Geronimo. This is the full music video:
Since she has started singing and recording, she also had been conducting concerts, she had 11 concerts since 2004. All of her past concerts, all the tickets had been sold out. And her fans, the Popsters had been there for her all through out her journey and concerts.

Her past concerts: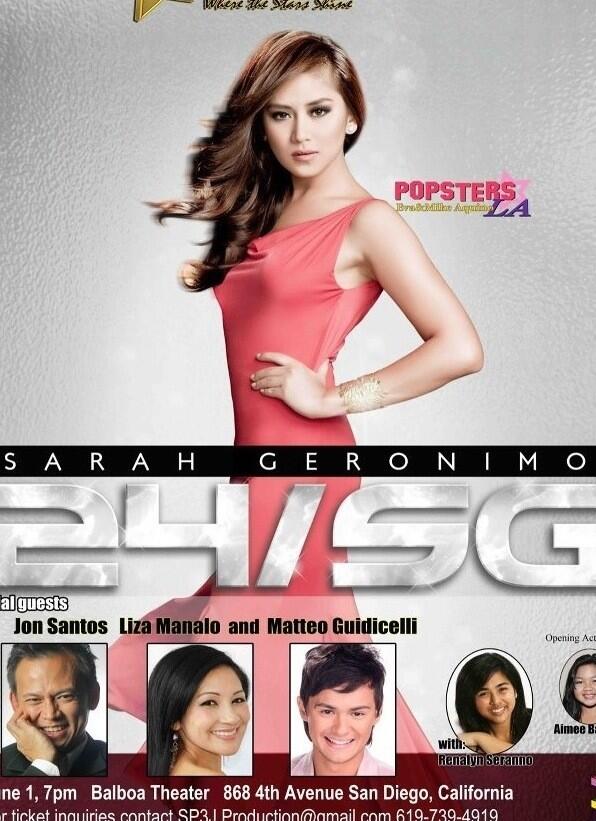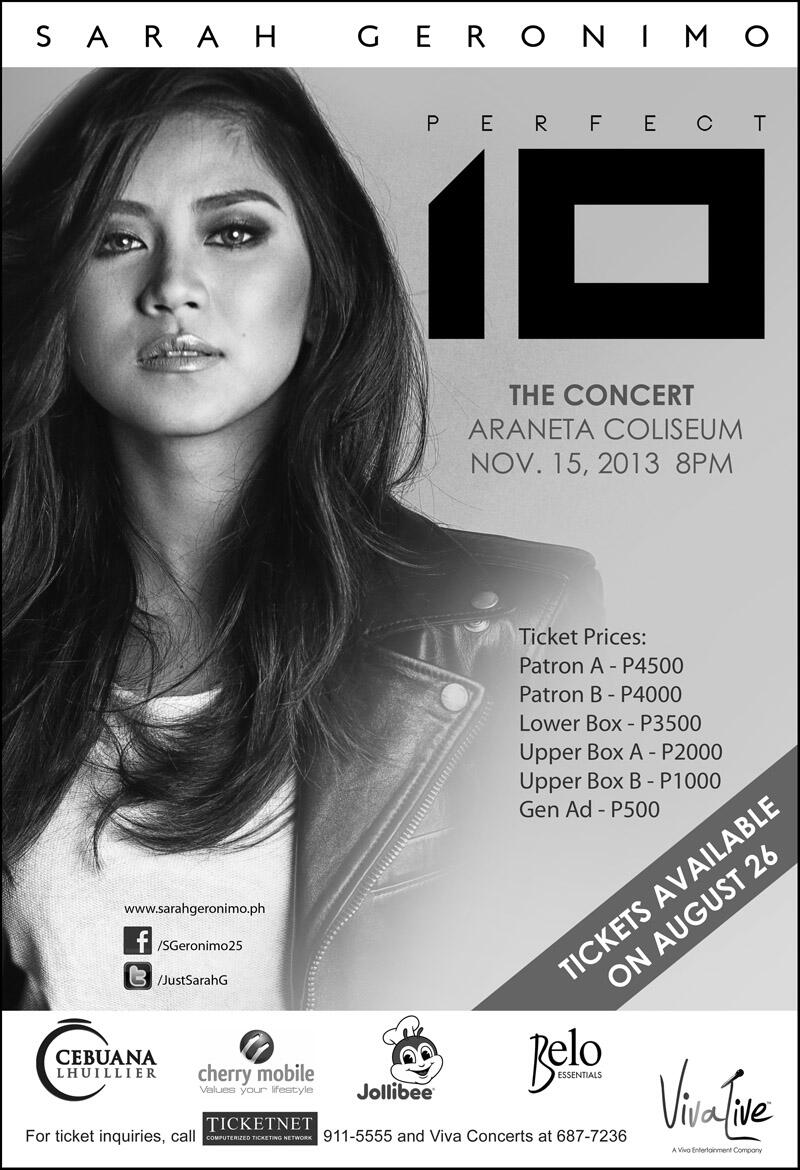 She'll have another concert by December of this year titled, Sarah Geronimo From The Top.



So far, she is still the number one Filipino artist for me. Here are some of her concert coverages.
Sarah Geronimo's 10th Year Anniversary Concert (Perfect 10):

Sarah Geronimo's record breaker concert:
Sarah Geronimo-The Next One Concert @ Araneta Coliseum.
She has also been nominated and had won several awards.
Aliw Awards - 6 wins and 6 nominations
Awit Awards - 9 wins and 26 nominations
Myx Music Awards - 23 wins and 40 nominations
Mnet Asian Music Awards - 1 wins and 1 nominations
Guillermo Mendoza Memorial Scholarship Foundation Box Office Entertainment (GMMSF) Awards - 15 wins
FAMAS Awards 1 wins and 4 nominations
PMPC Star Awards for Music 8 wins and 31 nominations
ASAP Pop Viewers' Choice Awards 44 wins and 56 nominations
Nickelodeon Philippines Kids' Choice Awards 1 wins and 2 nominations
MTV Europe Music Awards 1 wins and 3 nominations
International Song Contest: The Global Sound 1 wins and 2 nominations
World Music Awards 4 wins and 7 nominations
Check out some other personalities whom I have posted her: