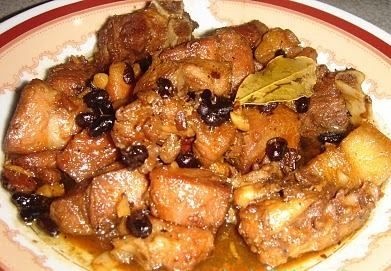 Pork Humba
Ingredients:
2 tbsp Brown Sugar
1 kg Pork Kasim (cut into chunks)
3 tbsp Cooking Oil
2 tbsp Tausi (without brine)
4 cloves Garlic (crushed)
2 tbsp + 2 tsp Soy Sauce
1 pc Laurel
1/2 tsp Peppercorn
3 pc Star Anise
1/2 cup Water
1/4 cup Del Monte Red Cane Vinegar
3 pouches (115 grams each) Pineapple Tidbits
1 pouch (115 grams) Original Style Tomato Sauce

Cooking Procedure:
In a casserole, cook sugar and pork in oil until sugar has caramelized.Add tausi and garlic and cook for few minutes or until meat is slightly brown.

Add vinegar, soy sauce, laurel, peppercorn star anise, and Tomato Sauce. Do not stir until it simmers.

Add water and pineapple syrup. Cover and Simmer for 1 hour or until meat is tender. Add Pineapple Tidbits. Simmer for 2 minutes.

Makes 8 servings!