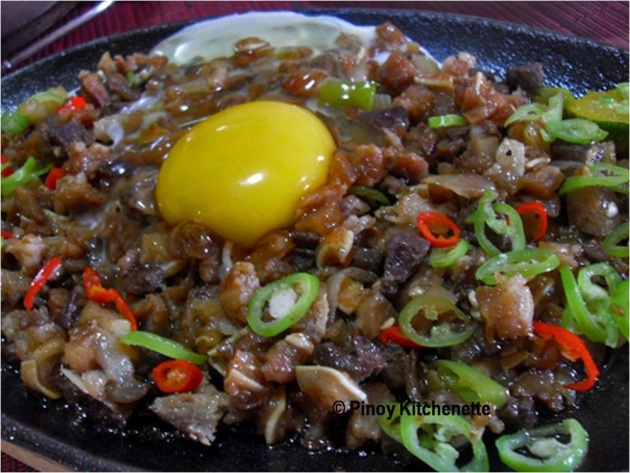 Sisig is a native Filipino dish made of pork's head usually including the nose and the ears (hehehe eeew!) mascara as what they call it and pork liver. In restaurants they serve it in a sizzling plate topped with egg. Sisig is a spicy dish that most Filipino love and you won't believe this is the most requested dish of my kids (without the red chili of course :) )
Below are the ingridients and procedures on how to make sisig ala aby hehehehe
INGREDIENTS:
1/2 kilo Pork belly or the neck part cooked in water and salt solution for about 15 minutes drain then grilled until done. chop finely. (substitute for the pigs ears and nose... i don't feel like eating those parts :P)
1/4 kilo pork liver cooked together with pork, grilled and chopped finely.
5 pcs green chili chopped finely (pansigang)
4-5 pcs red chili chopped finely(labuyo)
2 medium size white finely chopped onions
1/2 cup margarine
3 tsp calamansi / lemon extract
2 tsp fish sauce
salt and pepper to taste
1/4 cup mayonnaise
1 pc egg
PROCEDURE:
1. cook chopped pork and liver in a deep bottom pan over medium heat. stir for about 5 minutes.
2. add margarine, fish sauce, calamansi extract, pepper and a pinch of salt. stir continiously to prevent sisig from scorching
3. add onion, and chilies both red and green.
4. add mayonnaise, stir well until equally blended.
5. serve hot in a sizzling plate topped with raw egg.The heat from the sisig and the plate will eventually cook the egg. you can also just add the egg while the sisig is still in the pan if there is no sizzling plate available.
Enjoy your sisig ala aby with steamed rice!