Last night for the second time, I participated in the annual event for the Portfolios with Purpose. Its mission is to create an engaging competition for those in the financial community with a charitable cause to play for.


I interviewed Alex Duran who is the Portfolio Manager with Permian Investment Partners. PwP unites the general public with some of the world's most renowned investors in an effort to bring global awareness to impactful philanthropic causes.
During the event I met with interesting people. That is what I like the most about New York which if you go to any places there are always inspiring people to meet. We brought our friends Cate Megley of Melkonian Capital and Jackie McCaffrey who is a Wealth Management Specialist that works with the Melkonian Team.

We were able to introduce our friends to PwP and we look forward to working with them in the future.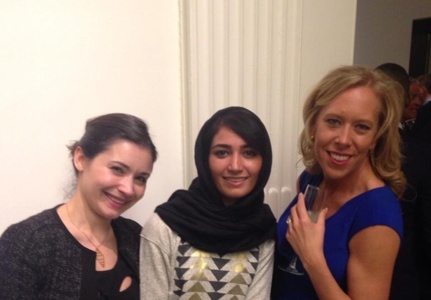 Cate Megley - Fereshteh Forough - Jackie McCaffrey
Fereshteh Forough - Film Annex Senior Editor
Please visit my personal page on Film Annex and subscribe. Please also visit Women's Annex and subscribe to it for updates, articles and videos.