Ingredients:
100 gm plain flour
50 gm cold butter cut into pieces
50 gm cheddar cheese finely grated
1 egg yolk beaten
A pinch of cayenne
Salt to taste
Preparation method: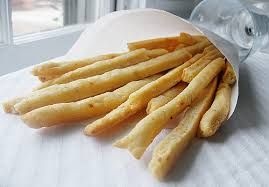 Sift the flour. Add seasoning and butter. Rub it with your fingertips until it resembles fine bread crumbs. Then mix in grated cheese and egg yolk. Preheat the oven to 200 C. mix together to make stiff dough, using cold water if required. Keep this dough in a refrigerator for at least 30 min. then roll out the dough thinly and cut into strips of about 5 inches long and ¼ inch wide. Place on a baking tray and bake for 10-15 min. in a preheated oven until golden brown. Remove from oven and cool on a wire rack. When completely cool, store in an air tight container.