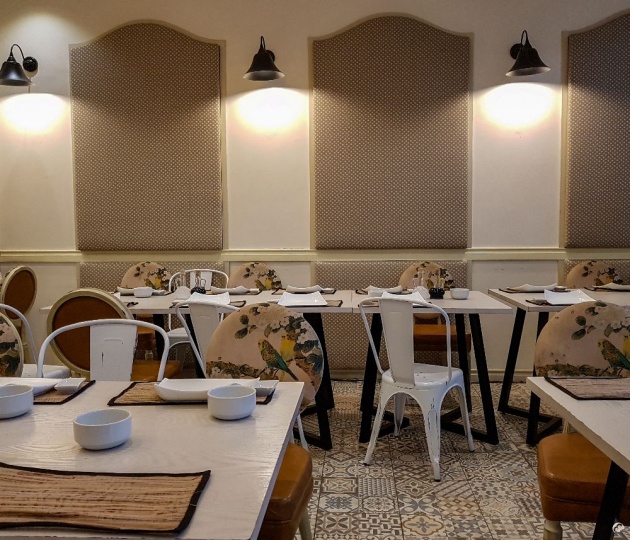 Image credits: Jean Beltran via bitLanders
Every Tuesday, my work schedule is to go to the office for our weekly Scrum Meeting with the entire team. It's also a special day because it was my first time to go to our new office, on the 14th floor of the same building though.
As the day went by, and our meeting was set, two of our teammates revealed that they were celebrating their first anniversary with the company and it deserves a celebration! They offered to treat us to Golden Cowrie! Let me share with you my own review of the Golden Cowrie restaurant, from the ambiance, to the food and to the staff plus a lot more. Read on!
First Anniversary with MCC
Video credits: James Figues via YouTube
It was a year ago on June when things got rough, I had been operated, I went on three months leave and the work at the office was already giving my two colleague teammates a hard time. Plus the other one had tendered his resignation as well!
Soon, our boss decided to hire two more members to help us out. Then came Ella and Rachel. They were friends since college because our boss wants that the newly hired employees would easily get used to each other, he decided to hire the two of them during their walk-in interview. And the rest was history.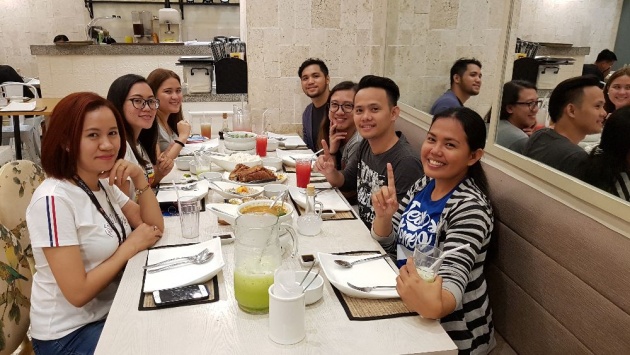 Image credits: Jean Beltran via bitLanders
I met them when I came back after the long maternity leave and now, it's already their anniversary! Time flew very fast that we didn't even realize that its 365 days past since that day. Thank goodness they had been hired on the third of July, which means, they'll be celebrating their future anniversaries with the company on each payday!
And so since it was payday and it's their anniversary, they offered to treat us dinner! It was decided that we go to Hukad!
Discounted Dinner at Golden Cowrie
Video credits: Our Awesome Planet via YouTube
Our company building is just next to Ayala Center and so we have no other place to go. The first option was Hukad, situated at Ayala Terraces. This is a restaurant which offers Filipino food! The restaurant's name means to serve in English.
As we arrived and asked for a table good for seven, the usher offered she'll give 10% discount if we would agree that we'll dine in at their sister branch, Golden Cowrie at Ayala Rooftop. It's just a few minutes walk away plus its still in the same building so we all agreed. Ten percent discount is still a good deal though.
Golden Cowrie Ambiance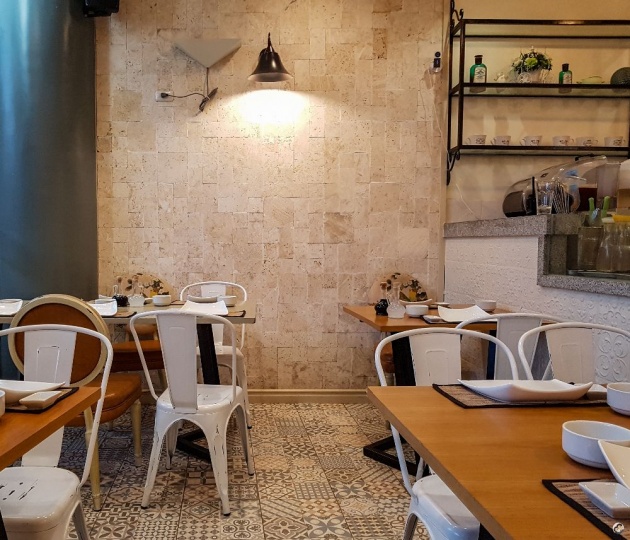 Image credits: Jean Beltran via bitLanders
It's cafe-like features made me feel like we were going to have coffee in here inside Golden Cowrie. The chairs had a comfortable backrest and set, the designs were really feminine, all tables were made of wood, the light set up was pretty, it illuminates the center part of the tale plus the air conditioning was just right, we were not feeling cold or warm at all even after eating.
Surprisingly, there were only two customers inside when we arrived, considering that it was already almost six in the evening, it was a mystery as to why there were only two customers inside, perhaps this has just opened recently and could be that some of their Hukad customers are not yet aware that they have another branch inside the mall.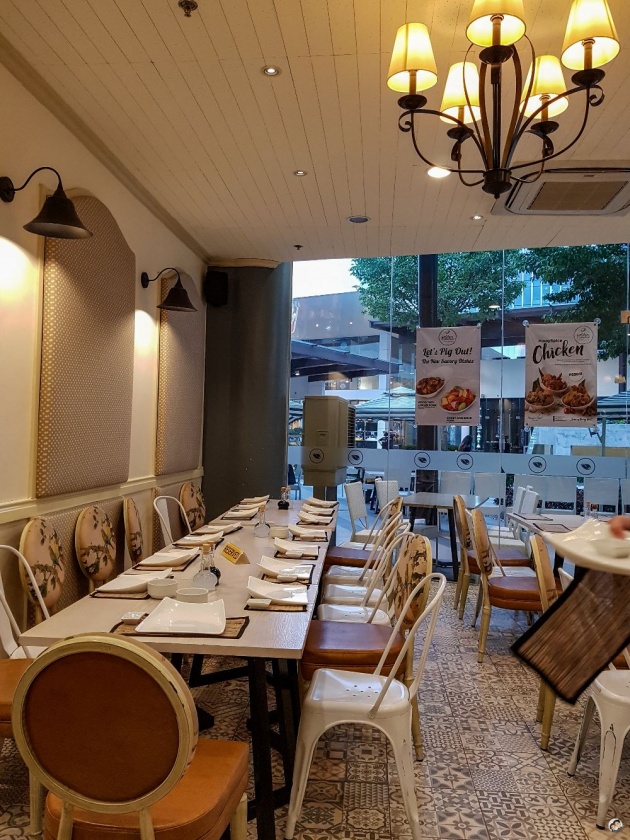 Image credits: Jean Beltran via bitLanders
So as we went in and were guided to our table, I took the chance to take some photos of the room using my mobile phone.
The room is smaller compared to their other branch but definitely, this is better designed. Its Mediterranean design can be quickly seen from the floor tile selection, the cushions on some chairs while metallic and bare wood on some alternately, even the long bench has that feel and the wall decor too!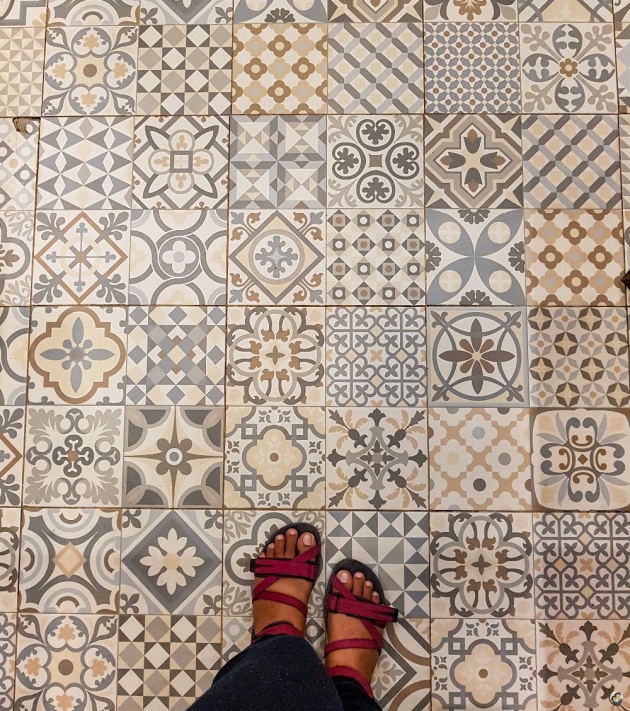 Image credits: Jean Beltran via bitLanders
A counter is also present at the left side of the restaurant where the cashier is situated. The kitchen lies behind it and an opening allows the cooked food to be taken from there and served to the customers. I also love their limestone rough wall! Oh, I almost missed mentioning that in addition to making the restaurant vibrant and bright were their chandeliers!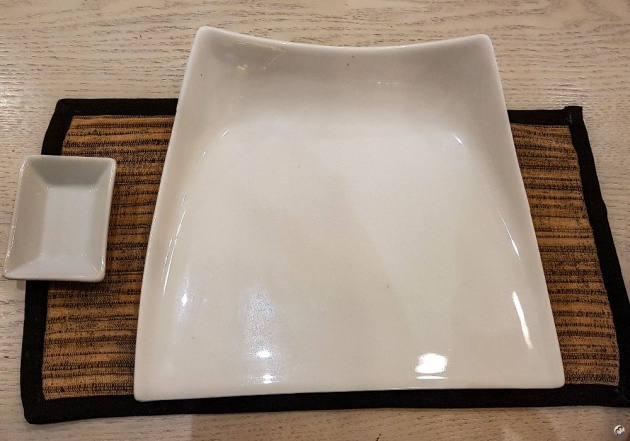 Image credits: Jean Beltran via bitLanders
We were seated at the corner where there were huge mirrors behind us, these mirrors give an illusion that the place is huge though it's not. And I won't forget that there's a native placemat too!
Food Options and Pricing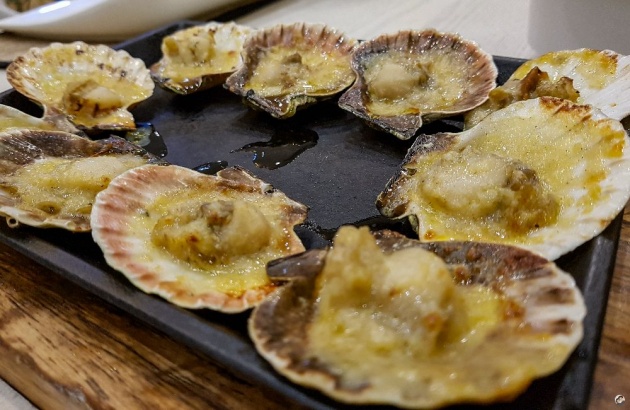 Image credits: Jean Beltran via bitLanders
"Hukad and Golden Cowrie offer a modern dining experience that is reminiscent of Filipino celebration where family and friends come together to share festive moments." - alwaysafeast.ph
Seeing their menu made me think of festive events in the country such as that seafood, pork and beef recipes as well as vegetable options too! Crispy Pata, of course, is one of their main dishes because Cebuanos or Filipinos are really into pork dishes.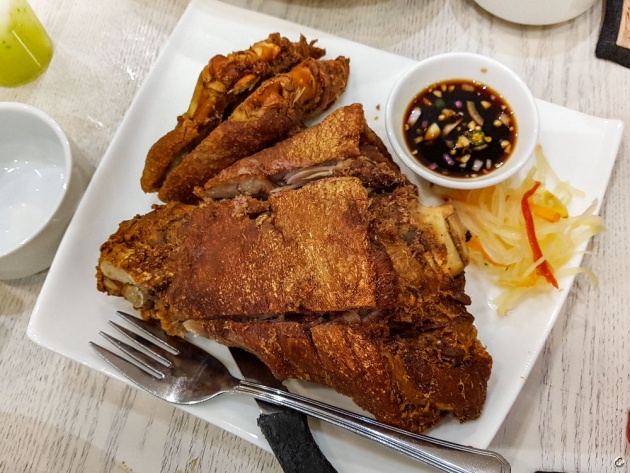 Image credits: Jean Beltran via bitLanders
The pricing though was just right for the serving and the dish. I didn't go into the pricing though because we were already focused for their festive bundle meals which were good for five persons per set. The drinks included too were awesomely tasty! It reminded me of my favorite drink from Radisson Blu but this was a mixture of cucumber and pineapple and one made of watermelon.
The set costs Php 1599 and Php 1399 and I totally believe this was good for every one of us. One thing to note is that rice was already unlimited! Also, the total bill cost has another 10% discount from Hukad!
Staff and Service
I don't know if it was because there were not many customers around that we had received the utmost care and service. From the time we arrived up until we were done eating, they were all very caring to the customers!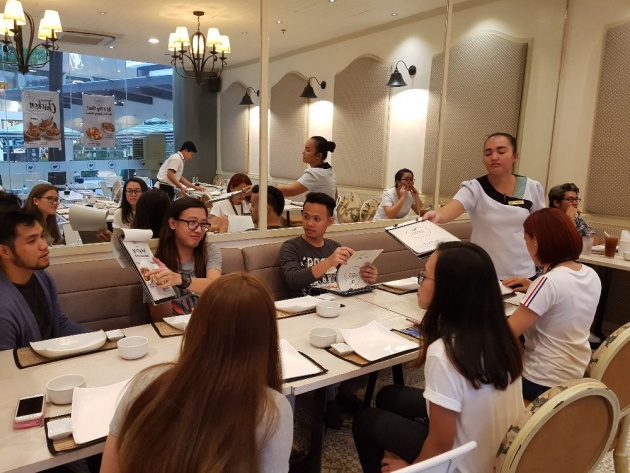 Image credits: Jean Beltran via bitLanders
From the entrance, we were greeted courteously, we were welcomed with a huge smile and showed us directly to a good spot for the seven of us. I asked one of the staff if it is okay to take photos and they said yes with a smile. Oh, how I wish all restaurant staffs would act the same.
Food waiting time was all good, it took I guess 15-20 minutes for our first food dish to arrive, the shrimp soup came in first as well as the rice and the chicken soup. Then the rest came afterward. Lastly, when we were done eating, one of the staffs asked how was the food and how was our dining experience! Of course, I was honest enough to tell them my favorites and that I had a great time because it was true!
And wait, there's more. As we were about to go after the staff asked our dining experience, she ended up with a smile a gift of an umbrella! It was a huge yellow umbrella with their restaurant name printed.
Overall Review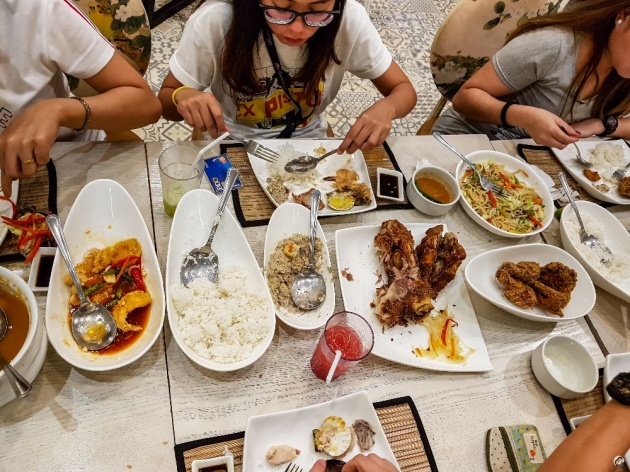 Image credits: Jean Beltran via bitLanders
I had no bad thing to say about this Filipino restaurant. In fact, I was super satisfied, I felt everything was perfect. From the ambiance to the food, no long waiting time, the staffs were all accommodating and the overall dining occurrence was just two thumbs up! I even found myself dancing while eating.
My colleagues also felt the same thing and as you can see, we were all happy campers upon our exit. It feels good to have our tummies filled and very happy.
Therefore, I highly recommend Golden Cowrie. It's been awhile since I got really happy after eating in a Filipino restaurant like this.
This blog entry was written and published by Jean Beltran-Figues for bitlanders.com.
Join me, click here to sign up.