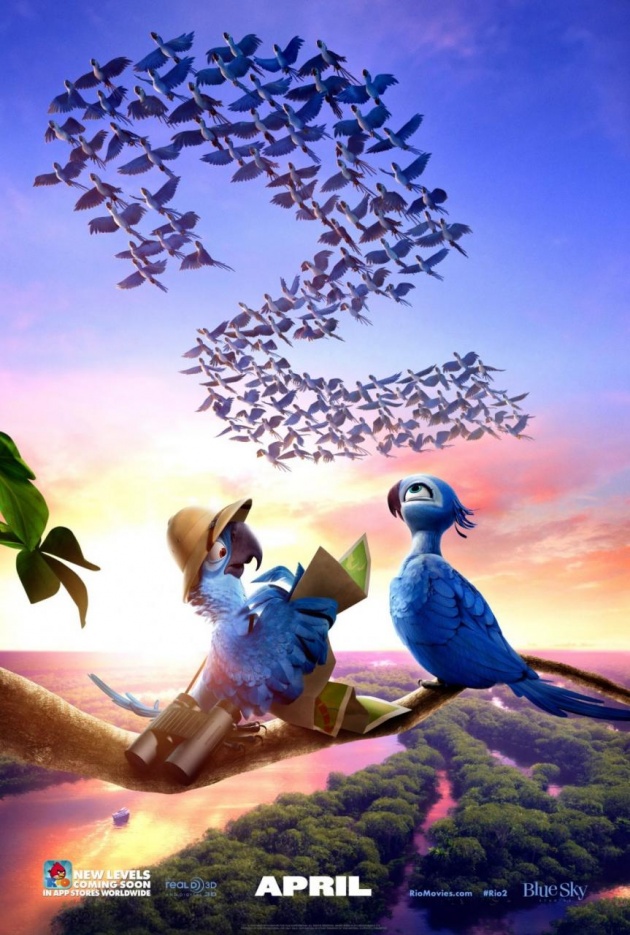 It is a tradition at events such as Comic Con that filmmakers appear before an audience, perhaps flanked by the talent (that's actors to you and me) and present footage from an upcoming movie. Blue Sky Animation missed the Comic-carnage last summer, so director Carlos Saldanha took the unusual step in February of touring San Francisco, Paris and London to present footage from RIO 2 to assembled journalists ahead of the film's release in April.
For those who don't remember the original – actually, I don't recall much of it, but am very old - it features Blu, (voiced by Jesse Eisenberg) a domesticated house toucan who ends up in Rio and is taught to fly by Jewel (Anne Hathaway). Naturally, they have a toucan romance. In the sequel, they are practically a flock – the couple have three offspring – and travel to the Amazon where they meet Bruno Mars, or a bird voiced by him and Andy Garcia, who voices Jewel's biological father. Now I am no bird expert – I often confuse Avian with Evian, which generally leads to a shortage of drinking water in my house - but I'm pretty sure no bird ever lives to see its offspring in an adult form. I know animated films such as RIO are anthropomorphic, but they should have their limits.
There should also be a rule that film titles should reflect the drama. RIO 2 isn't even set in Rio de Janeiro, or Brasilia, rather the jungle. I would have had Jewel change her name to Jasmine so the sequel would be called BLU AND JASMINE, but nobody ever asks me – and for good reason.
It does however begin in Carnival city on New Year's Night. Carlos – I feel I should be on first name terms with him, if only not to incur the wrath of my spellchecker – showed us the spectacular opening which introduces the main characters and Blu as a rather nervous parent who, of course, models himself on Marlin in FINDING NEMO. There is a set piece involving fireworks, but if I was a bird I wouldn't see New Year as something to celebrate, rather a night of hazardous incursions into airspace.
Carlos pays homage to Busby Berkeley musicals – GOLDDIGGERS OF 1933 and the like – though I would have liked to see a visual reference to the fan dancers of the 1960s, with birds flying out of the feather plumage, uncomfortable about being part of the gentleman-pleasing spectacle. You can tell I have a rather warped idea of kids' movies. Weirdly I kept think of the ICE AGE movies, one of which features similar images of animals in a ring surrounding Scrat the squirrel-rat.
Music plays a big part in the movie. The body percussion group Barbatuques provide some of the sound track and vocal talent also includes Kristen Chenoweth, who was in the original cast of WICKED. The soundtrack is rounded out by Janelle Monae, Carlinhas Brown and Sergio Mendes. Also, now that Anne Hathaway has won an Academy Award, try stopping her singing! As for Jesse Eisenberg, on the vocal evidence provided, someone should stop him singing, immediately and forever (sorry, Jesse).
In a slide described as 'The Journey Begins', Blu and family enter the jungle where they encounter more of Jewel's kind, including a would-be lover voiced by Bruno Mars. Now as I see it he is trying to break up a happy bird marriage but since Blu and Jewel have made a common-law flock, I suppose there is no legal impediment.
Animated films require proper villains – otherwise they would be FROZEN. Actually FROZEN has a villain, but he isn't revealed until the end – look, just give Jennifer Lee the Oscar now. Carlos' next slide reads: 'Nigel is back'. He's a bird who has aspirations to being a classical actor. I know, right? However, he is reduced to – well, you'll see. He has a sidekick, a pink poisoned frog voiced by Kristen Chenoweth, and later rides an anteater. Needless to say, he breaks out of his rather demeaning existence and is out for revenge - as opposed to out for a takeaway, though you can never trust carnival food.
Carlos' presentation took us to the end of the Second Act, a soccer match in which Blu tries to prove his worth. All I can say is, I don't Eisenberg is going to get the call up for 'Soccer Aid' any time soon, though Vanessa Redgrave, a recent co-star in his play THE REVISIONIST, might put in a good word.
Music playing a prominent role, there is naturally a talent contest, though there is no avian equivalent of Simon Cowell or Jennifer Lopez. We are promised instead a show-stopping moment from Nigel.
At this point, the presentation was opened up to the audience. At what point did Carlos know there would be a sequel? Well, just before RIO opened, he took a call from a studio executive who said 'have a think about where you would take the story'. No promises.
Was it important that the film had an environmental message? There is a subplot about a threat to a bird sanctuary, that is, illegal logging, not to be confused with illegal blogging, though I get confused quite easily. Carlos said that he has kids and he wanted the film to say something worthwhile.
There was a brief conversation about Blu's fanny pack – we British say 'bum bag'. I'm not saying the conversation went anywhere...
Wasn't Nigel killed in the first movie? 'His fate was quite ambiguous,' responded Carlos. So that's why they never show explicit death scenes in kids' movies. Bambi's mother lives too, right?
Given that the film's release coincided with the 2014 World Cup in Brazil, did the director always know that RIO 2 would feature soccer? Actually, there was a version of the script of RIO 2 that featured the Winter Olympics but it resembled ICE AGE too much. No, Carlos actually wanted to feature soccer in the first movie but could not find away to make it integral to the plot. (Comment: that's never stopped anyone.)
RIO 2 is actually Bruno Mars' second movie; he made his first screen appearance aged five. Carlos raised an eyebrow: 'Really - I didn't not know that!' Does RIO 2 hope to exploit his fan base? Carlos was impressed by Mars' appearance on 'Saturday Night Live' – 'I didn't know he could be so funny.' (Put him next to Andy Samberg and he's a laugh riot.) Mars performs a welcome song for Jewel which is something else. (A non-welcome song, perhaps?)
Finally, a question from yours truly: Blue Sky Animation does not really put pop culture references in its movies, but with Andy Garcia, star of THE UNTOUCHABLES, in the cast, was Carlos ever tempted? Actually, no, but Garcia, a musician as well as an actor, does improvise a number. What it's like? We'll have to wait until April to find out.
Presentation at the Soho Hotel, London, 18:45, Thursday 6 February 2014; with thanks to Twentieth Century Fox and Premier PR