PUBLIC SECURITY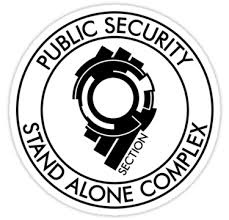 The Govt protects the lives and affluence of its community. This defense is called Public Security. Our Govt. has different Deptt. for this reason. They are described here in detail.
MILITARY. The Pakistan Military is responsible for protection of the state,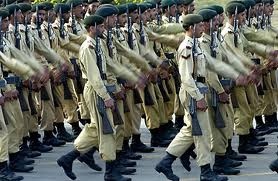 borders and administered territories. Pakistan military also took active part in relief operations whenever a natural disaster struck people of Pakistan. Pakistan Military consists of:
| | | | |
| --- | --- | --- | --- |
| (i) | Pakistan Army | (ii) | Pakistan Navy |
| (iii) | Pakistan Air Force | (iv) | Pakistan Coast Guard |
| (v) | Pakistan Strategic Nuclear Command | | |
All these departments' joint make Pakistan military the seventh largest in the world. In 2008, Pakistan had an energetic force of 921,000 men in reserve. The main three departments of Pakistan military are Army, Navy,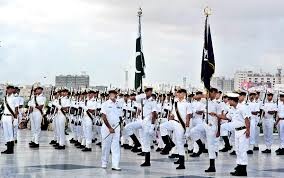 and Air Force. General soldiers are recruited with education of matriculate level. They train and serve Pakistan for eighteen years. For officers young people are recruited from all over the Pakistan.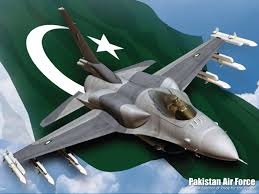 They get training in different academies. They serve as officers and lead men in diverse departments of Military on different ranks.
POLICE. Police department is responsible for the safety of life and possessions of the people. Police also take care of crimes against the state. Police departments have been setup tor taking care of the specific crimes against people e.g. drugs and illegal alliance. The protection of the Govt. buildings and Govt. officials is also the responsibility of the police department. There are twelve police departments in Pakistan that are: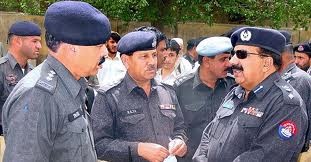 | | | | |
| --- | --- | --- | --- |
| (i) | Federal Investigation Agency | (ii) | Anti-narcotics Force |
| (iii) | Pakistan Railway Police | (iv) | Islamabad capital territory police |
| (v) | Punjab police | (vi) | Sind Police |
| (vii) | KPK Police | (viii) | Baluchistan police |
| (ix) | Baluchistan Constabulary | (x) | Frontier constabulary |
| (xi) | Azad Jammu & Kashmir police | (xii) | National Highways & Motorway Police. |
Police departments select people from all over the Pakistan for their departments. After training, they are posted on different ranks to run the departments. Govt has setup police stations all over the cities. Police vehicles patrol in their areas to restore peace. There are different telephone numbers through which police can be contacted.
TRAFFIC POLICE. Traffic police is responsible for the flow of traffic. They enforce the laws made for the safety of the people travelling on the road. It is also the duty of every citizen to know the traffic rules and road safety procedures. Drivers as well as the pedestrians must be aware of their duties and rights when they use a road. It is the duty of the traffic police to assist the citizens in fulfilling this obligation. Regulation of traffic, prevention of traffic violations and action over such violations are primary responsibility of the traffic police. Traffic police also issues drivers licenses in all districts and maintain records of punishments awarded for violations.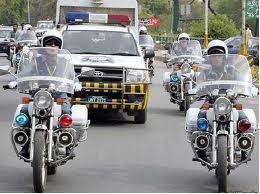 FIRE BRIGADE. Fire Brigade department is in charge for putting out fire and save people trapped in fire. People involve in the rescue are called the fire fighters.

They are extremely trained in putting out fire and providing medical care. Fire stations have been built all over the cities for better reaction time. Large cities have more than one fire stations where fire fighting vehicles are ready to respond to emergency calls 24 hours a day. These fire fighting vehicles are called fire engines. Fire departments equipped with different kind of fire fighting equipment and medical equipment. There are different kinds of vehicles fire fighters use according to the conditions. In a high raised building vehicles with extension ladders are used to rescue people. The fire department is also responsible for making certain that all the rules of safety are followed during the construction of the building.
Written By:
Sharafat Sheikh
Blogger: FilmAnnex.