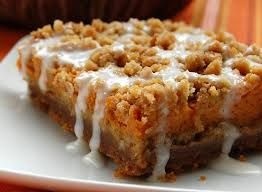 Here's another great recipe I like to make during the Fall months. These bars are so rich and creamy! My mouth is watering just thinking about them. Guess I'll be making these on Sunday for dessert. Yum!
Here's what you need:
1 1/3 cups All Purpose Flour
3/4 cup White Granulated Sugar
1/2 cup Light Brown Sugar
3/4 cup Butter (softened)
1 cup Quaker Old-Fashioned Oats
1/2 cup Pecans or Walnuts (finely chopped)
1 - 8 oz package of Cream Cheese (softened)
2 teaspoons Cinnamon
1 teaspoon Allspice
1 can Libby's Pumpkin
1 teaspoon Vanilla Extract
3 eggs
Preheat your oven to 350° degrees. You will need a 13 x 9 glass baking dish. Spray pan with cooking spray and set aside.
Combine the flour, 1/4 cup white sugar and light brown sugar in a medium sized bowl. Add in softened butter, oats and nuts. Mix well, set aside 3/4 cup for the topping at the end.
Place the crumb mixture onto bottom of your greased baking pan. Bake crumb mixture for 10-15 minutes.
Next in a medium bowl, mix together the cream cheese, cinnamon, allspice and remaining sugar. Beat mixture until smooth, then add pumpkin, vanilla and finally the eggs.
Remove crumb mixture from oven and pour blended mixture over warm crust. Sprinkle the remaining 3/4 cup of crumb mixture over top.
Place back in oven and bake for 20 - 25 minutes until filling sets. You can also use a toothpick to check the center. If the toothpick comes out clean, they are done.
Cool bars on a wire rack. Then cut into bars. Enjoy!!