One of my favorite tools for content syndication is a recipe generator called IFTTT. I wanted to share it with all of you so you can reap the benefits and explore how it can publish content (and more) automatically through its recipe generator.
IFTTT = If This Than That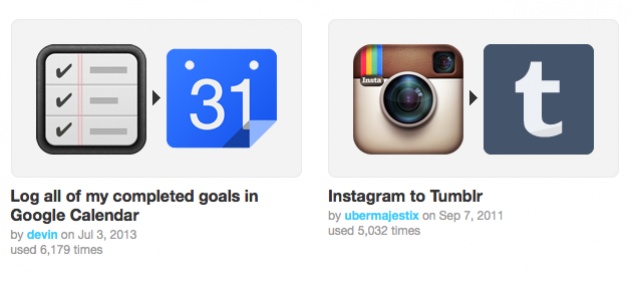 What IFTTT allows you to accomplish is of quite a high value considering all of content marketing and digital marketing takes a lot of time to perform and do correctly. By syncing your accounts with IFTTT you're able to allow certain actions to happen automatically when you perform a related action.
In the example above if I activate the Instagram to Tumblr recipe everytime I post ANYTHING to Instagram it will populate its own Tumblr post and publish to the Tumblr. This will happen automatically as long as the accounts are approved, synced within IFTTT, and I have the recipe turned on.
Now how long does it normally take you to post content to Tumblr organically? What if you wanted to share that Instagram content with the edits, but you couldn't pull it from Instagram? This saves you a lot of time which then you can focus on engagement and getting your content out there.
This is just one slight example, but there are others which are quite intense. My favorite has to be the Wordpress to Google Docs recipe which allows you to save all your blog articles as Google documents for future editing and storage. This is great for someone who writes for numerous blogs.
You can sign up for IFTTT entirely free here. Give it a shot and share your posts here on Film Annex using IFTTT! Save time, energy, and focus more on the quality of your content!