I have been noticing the back of wrappers of the products for many years .It always contains the post of comment and ask questions like given below the toothpaste, I have bought today.

Image credit : Photo taken by Pasafic of Toothpaste wrapper
I always think who wastes his/her time in making calls and doing comment or asking questions.According to me, this method is not fit for such a big business. Last wednesday, a new method of commenting on one's product and business came in front of my eyes when I logged into bitlanders and read the post of Fredo898. This new method is Querlo.My interest to know more about Querlo become stronger so I read blogs related to it like An overview of Querlo, the Chatbot ,Exploring and understanding Querlo - the innovative solution , Querlo - where surveys are fun and Everything about Querlo .I also wanted to share Micky's blog post that writing blog about Querlo will give you additional buzz bonus.
SO WHAT IS QUERLO??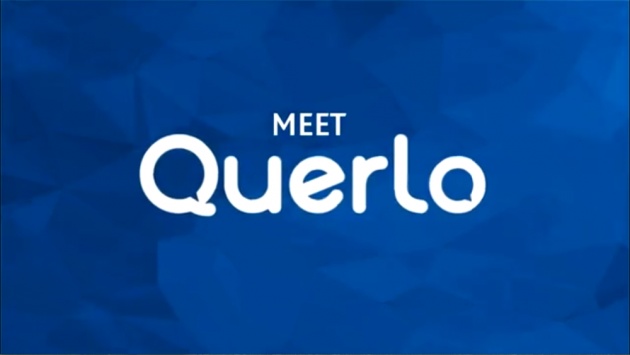 Image credit : Sky High advertising via You tube.com
Through the sites given below Querlo itself explains Querlo..
According to my knowledge,Querlo is new digital platform and creative technology where people can communicate through conversations .It is a survey chat and its logo reads"Chatbot with human touch". It was owned and introduced by MTI.USA.Inc in Dec 2016.It has its head offices in Dubai, Taiwan, Newyork and Italy.
According to Sky High Advertising manager director named Fahd Khater , Querlo is the new platform for communicating with your audience and creating a bond that can lead to loyal audiences. This is the new way to connect with your direct and indirect public through personal tailored conversations that will generate more of the real first party data that provides data which leads into best experience of your brand .This is your normal survey chat with your customer .Its a rewarding conversation for the piece of your target audience's mindWe believe that great market data delivers great media and great media delivers great data.
According to Fredo 898, Querlo is a chatbot with human touch, a brand new technology which allows data to be collected in an interactive way, can greatly impact by dynamic of your average user.
Primary benefits of Querlo according to Querlo itself
Establising a direct conversation and relationship with people
Learning about their passion and interest
Educating them about brand's of organization initiatives
Building,owning and controlling a qualitative data base and research-in Real time
Rewarding them for their interests and skills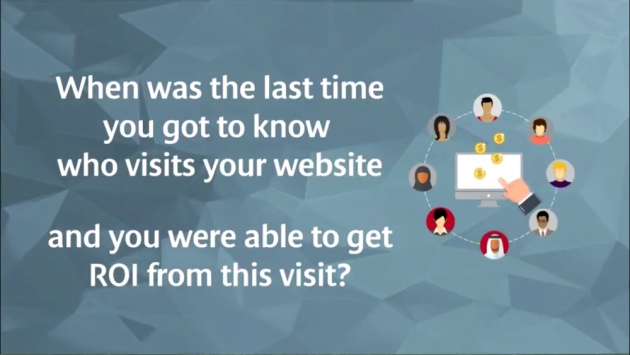 Image credit : Screenshot of Sky High Advertising via Youtube
"Characteristics of Querlo"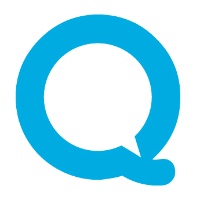 Image credit : https://www.linkedin.com/company/querlo
1.

Direct conversations in the form of dialogue
Conversation means "talking". As far as I think talking stands for listening, understanding and then answer. For great conversations, you must listen and engaged in it otherwise you will fail so Querlo is a way to connect people through their personal conversations. It connects people in an interactive way.Querlo works in the digital system.You ask question or share any topic , conversation partner must listen and then answer you.In my opinion, good conversations are in which you influence people.Question must start with asking name making the partner important then talk about his /her interests.Then ask question related to your topic.Don't forget to ask for his/her advice about your product or the topic you are chatting with.It means you value your customer or chat partner.
2.

Chat survey
In this era where facebook, snapchat and instragram are common. people take interest in them because they are being answered by clicking like or unlike buttons and passing short comments including smili faces etc.I think thats why , Querlo introduced survey in the form of chat.
As companies need quick comment about their products which is necessary for establishment of their business. For their ease digital technology of Querlo can be used.Not only big companies will be benefited by Querlo, local business men even a user of computer can create this simple chat and post the link on social media so if you want to create a Querlo survey chat , the top blogger Jean-Beltran explained tutorial to create Querlo survey chat
Video credit : Sky High Advertising via You tube.com
3.

Conversation with words, images and videos
So how can you make your chat conversations to be enjoyed and interested by others? Well, to make chatting and conversations more interesting, Querlo provides the options of adding images, ,links etc.. When you click the "start" button in Querlo survey chat, the options given below in screen shot lined with pink marker appear.Video chat and live chat can also be created.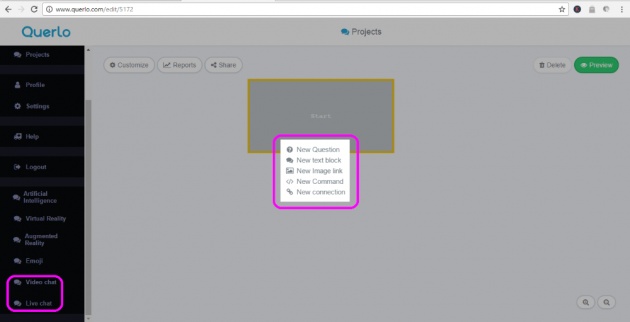 Image credit : Screenshot by Pasafic via Querlo.com
4.

Rewarding conversation
Everyone is definetly keen to earn rewards either they are in the form of money or gifts.Conversations become more powerful if rewards are given against every answer.In the same way, Querlo rewards you bitmiles for answering the questions which I think energy booster.I earn bitmiles when login Querlo through my bitlander account.I choose the category.."Are you a team player?" to give you as an example given below in the screenshot.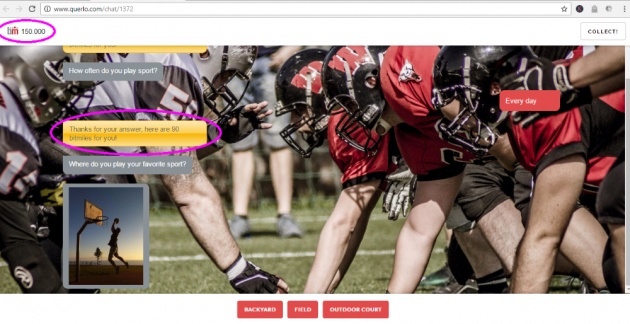 Image credit : Screenshot by Pasafic via Querlo.com
Querlo involves different topics like "Who is your favourite singer ?" , "How often do you travel?" etc..in which you answer the questions and get bitmiles.You can click here to enjoy these Querlo chats .Querlo chats can be embedded in blog . Bitlanders add an option of "Add Querlo Chat" when you write blog.

Screenshot by Pasafic via Bitlander.com
5.
Attractive pattern of Querlo
Have you heard about color therapy? Colors have deep impact on person's mood. Querlo takes special consideration of colours in creating main chat bubble background, user chat bubble background,main chat text colour, user chat bubble text colour, user chat bar text colour, bar background colour and main background colour.Seven colours of rainbow are given with varying frequency to setup the colours in each section according to your choice.I have made outline with pink colour to show colour frequency option in the screenshot given below.You can also change the background picture after few question by clicking "New image link."Wow! its makes your Querlo chat attractive.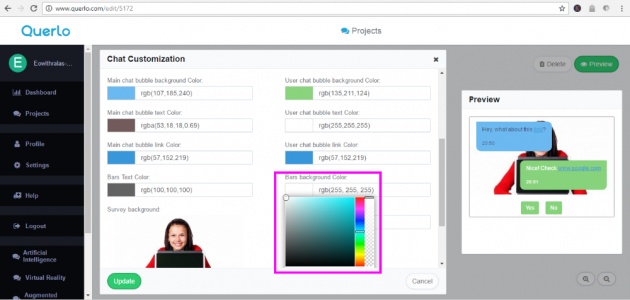 image credit : Pasafic via Querlo.com
6.
Easy to use
Querlo can be added to any site or mobile app as an API.The answers of question in Querlo usually comprises of Yes or No or short answers so it is easy for consumers to answer.In the meantime, given healthy recreation to consumer.
7.
Saves time
It can increase time per session of people visiting your website up to 800%.You create your survey and post the link to huge numbers of websites in minute.You will not take tension of making calls to customers which not only wastes time but also makes you tired.According to Querlo, traditional surveys engagement rate changes between 1-2.6% and Querlo's engagement rate surpass 32%.
8.
Cheap
Digital marketing of Querlo is cheap. It can eliminate the investment of making calls and other methods of taking customer's opinion so that saves money.According to me, traditional surveys require money but Querlo chat surveys cost nothing.
9.
Accessibilty
In this era of modern technology, data has to move fast all over the world.Querlo being a digital technology gained this property. Meaning full data can be transmitted within second.I think it is the quickest way to get consumer feedback and Nowadays every person has wifi mobiles and tablets to answer quickly.
Video credit :
Bit miles technology
via
You tube.com
10.
Multiple languages
Do you prefer international business?Querlo has multiple language system which makes it smartest in the sense that better opportunities of digital marketing are possible.It can talk in Arabic, English and Chineese etc. so that it can expand your company or business into markets all over the world.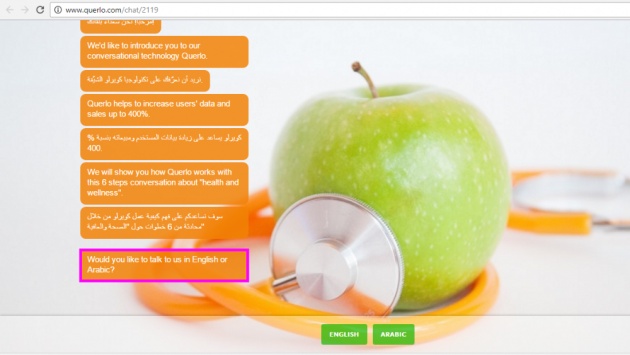 Photo credit : Screenshot by Pasafic via Querlo.com
11.
Identify people
Through Querlo, we can identify the gender, age, hobbies etc of the consumer/costumer by including some questions related to it.For example I have a business of perfumes, deodarants and body sprays so I have included questions in my survey to know more about choice of my customers.
12.
Blogger friendly
How effective the Querlo is!Bloggers who use Querlo chat in their blogs effect their readers to be increased as compared to blogs without Querlo chat and Micky-the-slanted-salerno has announced that blog about Querlo which contain embedded sample of Querlo chat will gain additional buzz bonus.
"Embedded sample of Querlo interactive chat"
How Querlo will change the world of business in next few years?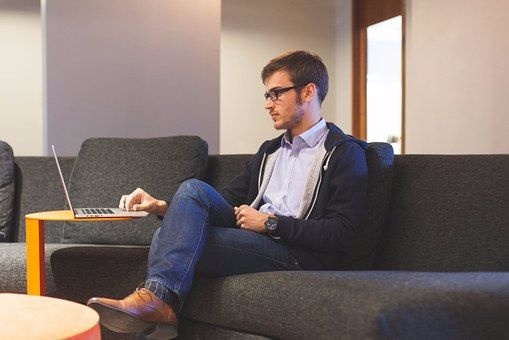 Photo credit : StartupStockPhotos via pixabay.com
Querlo has wonderful power of exciting passionate loyalty for businessmen around the world.The question arises in your mind that how it possible?To flourish business and make it more fast and better, requirements are
good advertisement
public opinion
Querlo has focused on my 2nd point, public opinions by using surveys. Every company wants to get people to use more of his products so that it more likely to upgrade in next upgrade cycles.Querlo establishes business in a better way.So how durable is this concept ?I think you have been doing traditional surveys since last past years.Try this method and answer me which one works better.Traditional survey or Querlo survey?
------------The things which I find interesting about Querlo , I have shared with you .Now its time to create your own Querlo chat !----------
Regards Pasafic