Photo credit: Photo is mine, edited via wordclouds.com
WOAH! I can't believe I am typing right now trying to create a new blog. It's not so long since I started with my new full-time work. Because of this, I recently admitted I might have a hard time blogging in Bitlanders. In fact, I almost thought I can never make another blog again and have to stop with Bitlanders.
Okay, that sounds too dramatic. But it's true. Because of my busy schedule, I almost believed I can't proceed with Bitlanders anymore. But I still don't want to make it seem like otherwise just because I am typing now. I just guess I still have enough time and capability right now to at least make this new blog.
Anyway, enough with all the intros. What I really want to talk about is this experience I had recently and how I gathered enough interest to write something on a challenge posed by Micky regarding blogging and content review.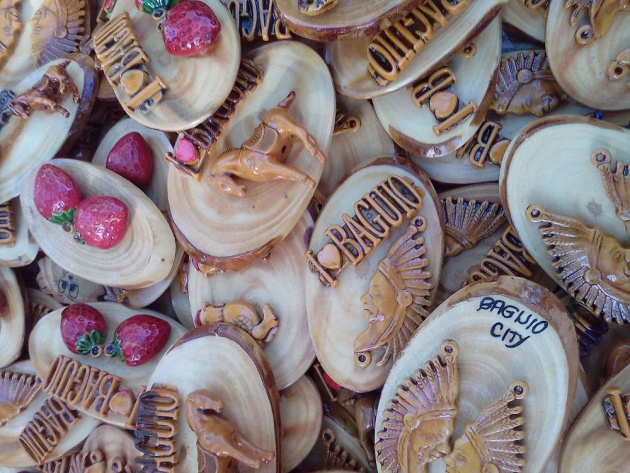 Photo credit: Photo is mine.
I bet you know that I was in Baguio last week (the photo above was of souvenirs I took when I was in the Baguio Botanical Garden). It was just a short vacation, just two days and one night. In my latest gallery, I admitted it was the first time I've been to that wonderful place... which might be a shock since Baguio is a common vacation spot, aside from being a popular tourist destination. Anyway, I am reserving this one for another blogpost.
BLOG ABOUT QUERLO AND GET SPECIAL BONUS
As of now, it was about two weeks ago since Micky-the-slanted-Salerno posted a new blog inviting every member of Bitlanders to participate in some contest-like blogging. It's hard to be exact since it is not really a contest for not only one might get the reward.
Photo credit: Photo is mine, screenshot via bitLanders.com
Anyway, let's just say it is a blog challenge. And the challenge is to write a blog about the new feature of the site which is called Querlo and submit it for review.

Querlo, according to Micky's blog itself, is a chatbot with a human touch. Since it is relatively new, the administration wants all members to know more about this new platform and get acquainted with it. One thing effective to spread information and knowledge is through blogs from the members themselves. And so, the purpose of the entire blog challenge.

To know more about the blog challenge, click here. It is important to note two things though. Members will not only write about Querlo. Their Querlo blog must: 1) contain at least one embedded querlo chat (you can find a list of possible querlo chats to be embedded in your future querlo blog here), and 2) be submitted for content review and get rated. These two are required in order for the blogs to be considered a querlo blog and qualify for the special bonus.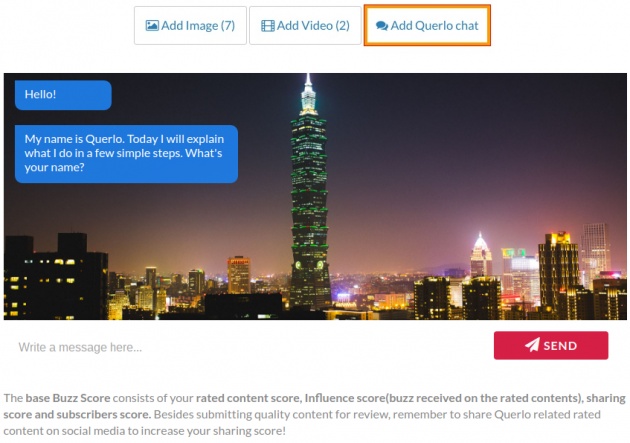 Photo credit: Photo is mine, screenshot via bitLanders.com
WHAT IS QUERLO: A BRIEF INFORMATION
Querlo was previously known as Bitmiles Technology and owned by MTI USA Inc. which is a company that has been operating since 1995.

Querlo: a chatbot with a human touch, is a brand new technology that allows data to be collected in an interactive way and can greatly impact the dynamic of your average user.

To me, the shortest and most exact way to define what Querlo is, is with its catchphrase "a chatbot with a human touch". Querlo is a platform mainly operating to crowdsource real time data, just like how typical surveys serve. However, its main difference is that, while it is a chatbot, it behaves or communicates to people like a human, which makes it interactive.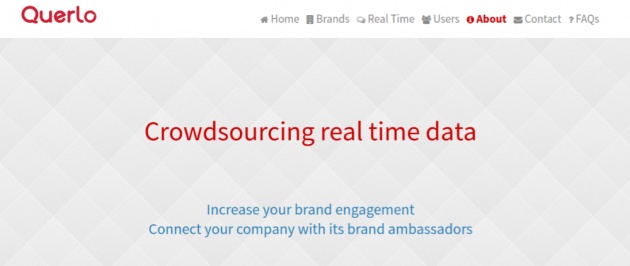 Photo credit: Photo is mine, screenshot via Querlo.com

Photo credit: Photo is mine, screenshot via Querlo.com
Unlike most surveys, the use of Querlo platform works on several important benefits. LinkedIn listed the following primary benefits of using chatbot technology:

1. Establishing a direct conversation and relationship with people
2. Learning more about their passion and interests
3. Educating them about the brand's or organization initiatives
4. Building, owning and controlling a qualitative database and research - in Real Time*
5. Rewarding them for their interests and skills

Aside from these, LinkedIn also noted that Querlo "increases consumers interactions up to 400% and time per session up to 800%. Traditional surveys perform between 1 and 2% of competition rate, Querlo is up to 32%."
Video credit: Sky High Advertising via YouTube.com
Video credit: BitMiles Technology via YouTube.com
According to Fredo898, Querlo recently added a feature which allows bloggers to insert Querlo chats in their blogs as embedded interactive survey chat. Right now, bloggers in Bitlanders can do this and make their blogs better-looking. Also, a more important thing to note of, blogs with embedded Querlo surveys in it that are submitted for content review can score higher compared to submitting the same blog without any embedded Querlo survey. This does not refer to the special bonus when submitting a Querlo-related blog but applies to submitting a blog relating to any topic, so long as it made use of at least one Querlo survey chat. Isn't it great?
JUSTAGIRL AND QUERLO
I have complained before, a few days ago, that I don't feel like creating a blog related to Querlo. One thing is that I barely have spare time for blogging, and another thing is that barely have enough knowledge about this querlo thing. The need to read further on a certain topic can demand quite a time on me and that, I was thinking, is not a great thing.

Photo credit: Photo is mine, screenshot via Querlo.com
However, seeing a lot of my fellow members write about Querlo, I suddenly felt the necessary interest I need to proceed with drafting a blog. By the way, here are some of the great blogs from our fellow talented Bitlanders bloggers about Querlo and how it works:

1. "Exploring and Understanding Querlo - the Innovative Solution" by JikZ
2. "I Made my Own Querlo" by Jean-Beltran
3. "Everything about QUERLO" by TRB
4. "An overview of Querlo, the Chatbot" by Khokarjamal69
5. "Querlo - Where Surveys Are Fun!" by Jean-Beltran
Meanwhile, this one is also a great blog related to Querlo but more about certain topics related to specific Querlo chats:
1. "Are You Rarely or Never on Time? You Must Be Creative!" by ArtGirl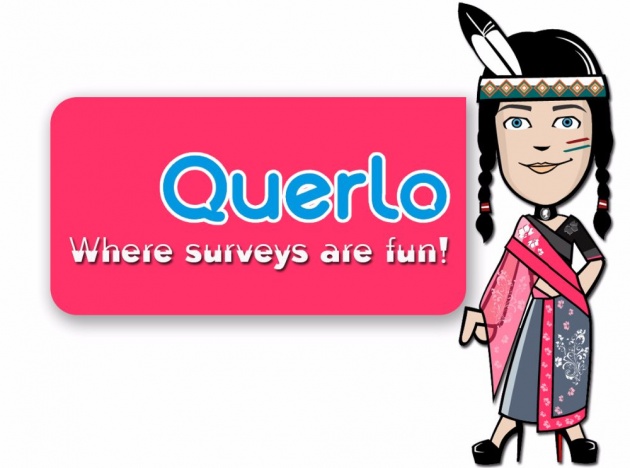 Photo credit: Jean-Beltran via bitLanders.com
So, I sat down a few minutes ago and decided, okay, I will do this. I will do my version of a Querlo blog. And here it is, the one I am currently writing.

Aside from the fact that I saw and read a couple of Querlo-related blogs that made me jumped into writing my own, another thing that pushed me to continue with it is through the survey chat related to traveling. Why? I saw this survey chat, the exact time I was traveling… yes, to Baguio.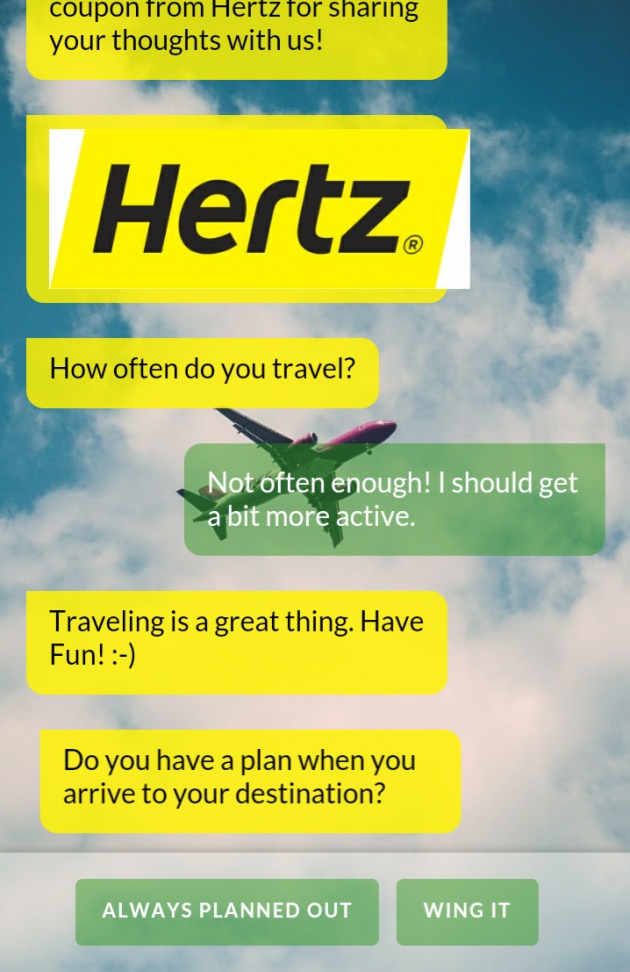 Photo credit: Photo is mine, screenshot via Querlo.com
As I said a while ago, I plan to create a separate blog about my traveling experience to Baguio. But I think it is worth sharing that cool, random circumstance. Anyway, this is the survey chat I am talking about. You may want to answer it too since a lot of people can find it enjoyable to do so because a lot of people like to travel a lot.
QUERLO CHATS IN BLOGS
All in all, I can say that inserting necessary and relevant Querlo chats in blogs, regardless if it is for the special bonus reward or just for regular blogging, can be of great help and benefit to bloggers. Because, as I have already mentioned a while ago, it can increase score for content reviews. Another thing is that having humanlike chatbot in blogs can induce readers to be more interactive than just plain reading the blogs.
Will I put relevant Querlo chats in my future blogs? I will.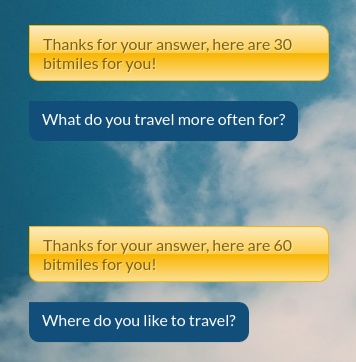 Photo credit: Photo is mine, screenshot via Querlo.com
Thank you for reading!

===============================================================

This blog is original. Do not copy. All photos and videos come with proper credits.