Photo Credit: Querlo, A chatbot with a human touch via LinkedIn
Querlo's development team continues to add new features to its chatbot technology in order to provide the best service to its customers. Before, you could only add still images in the chat. Now, you can also add animated images (better known as Graphics Interchange Format or GIF) to make your chat more attractive and fun!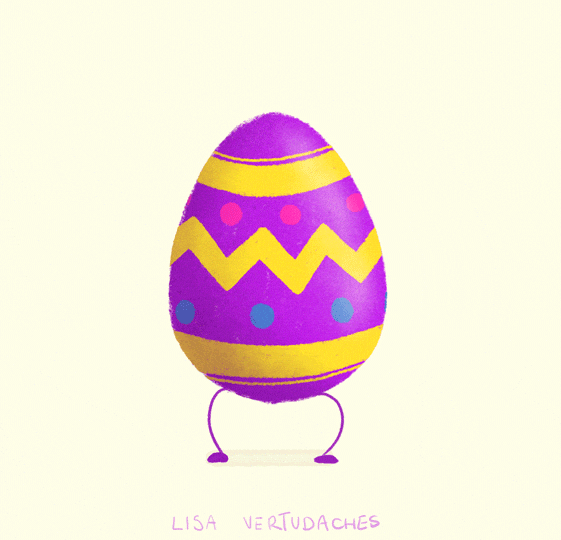 Easter Happy Egg.
Image Credit: Lisa Vertudaches via GIPHY
Want to see more Easter stuff? Click here to see more cute and fluffy Easter bitBunnies!
"My Querlo, My Blog" contest
Do you want to make your own Querlo chat and show others your creativity?
We are conducting a blogging contest "My Querlo, My Blog". Make your own Querlo chat and blog about it. Everyone can participate by submitting your blog to our editorial team. The following are the requirements for the contest:
(1) Create your own Querlo chat, possibly with images in it, and embed it in the submitted blog. (If you want to include GIFs in your chat, you can get free GIFs here https://giphy.com/search/feel-free-to-use)

(2) Choose a good title for your Querlo chat.

(3) Choose a good background image for your Querlo chat.

(4) Your Querlo chat must contain at least 5 questions nodes and the content must be relevant.

(5) The submitted blog must be related to Querlo and the topic of your Querlo chat.

See also the new rules about bitLanders Content Review: Citing sources for your blogs, Content review update.
Contest dates
The contest starts today and ends on April 26. To participate the contest, please submit your blog before April 26, 2017. The results and the rewards will be announced on May 03, 2017.

Contest Rewards
Our editorial team will choose and reward the top 10 most fun and interesting Querlo chats. Especially, the top 1 will be receiving 5 stars rating and double buzz bonus rewards! This means your base Buzz Score will also increase.
In addition, to thanks all the participants for their support to Querlo, all the submitted blogs which are adhered to the requirements above and accepted by our team will also be rewarded!
Top 1 reward: 5 stars rating and 30 Buzz Bonus for 5 Days

Top 2, 3, 4 reward: 5 stars rating and 20 Buzz Bonus for 5 Days

Top 5~10 reward: 4 stars rating and 10 Buzz Bonus for 5 Days

Participation reward: 3 stars rating and 5 Buzz Bonus for 5 Days
The Winners
Finally, May 03, 2017 has arrived and we have our winners for the contest! Congratulations to the winners and see their excellent work! Be sure to participate these interesting Querlo chats!
The winner for the Top 1 Reward: lapiz-lazuli

5 stars blog by lapiz-lazuli: Why Bitlanders is One of the Best Blogging Platforms Out There

What's your perspective on Chatbot?

The winner for the Top 2 Reward: jean-beltran

5 stars blog by jean-beltran: My Querlo Features Cebu's Top Summer Destinations

Cebu Summer Destinations

The winner for the Top 3 Reward: katsanslimites

5 stars blog by katsanslimites: Matcha: The Green Tea Sensation

Do you like matcha?

The winner for the Top 4 Reward: ArtGirl

5 stars blog by ArtGirl: Skin Art: Yay or Nay?

Do you like skin art?

Only the top 4 winners are listed here, all the other participants are rewarded according to the rating given by our team.

Please note, the extra rewards will start counting from tomorrow.
-Micky