What does Querlo, HSBC bank and TheOutnet.com have in common? Well they are all working together to improve each other's business and provide excellent service to everyone for that matter.


♣ What is a Partnership? ♣
According to the Wikipedia article:
A partnership is an arrangement where parties, known as partners, agree to cooperate to advance their mutual interests. The partners in a partnership may be individuals, businesses, interest-based organizations, schools, governments or combinations.
This partnership is what these three companies have done to further their businesses and help each other achieve their goals, either to provide a service and/or to help increase sales or sell products to consumers.
It is very different from licensing which Robinsons Land Corp. and Starwood Hotels and Resorts Worldwide, Inc. have come into via The Residences at The Westin Manila Sonata Place. It can, however, still be quite the same in the sense that there are at least two companies involved in a project.
I am not sure what exact partnership The Hongkong and Shanghai Banking Corporation (HSBC) & TheOutnet.com and HSBC & Querlo went into but it makes sense to partner with well known brands in order to further any business or project. Just like individual people, we cannot function alone. It is better to work together and reach a common goal than to do things on our own. If we are loners it is more difficult and sad to live our everyday lives.
♦ HSBC and it's Accelerating Ambition Program ♦
The Wall Street Journal and HSBC US is also working together in order to share HSBC's Accelerating Ambition program.
This bank's US arm even had a webinar series last year, with an overall theme of Looking Ahead - the summary of which can be found online. This year, the program seems to focus on The Future of Doing Business in China. Even TheOutnet.com is working on their Asian presence in China. No wonder China is being such a bully these days. Almost everything seems to be made in China, don't you think so?
Anyway what does HSBC & TheOutnet.com have to do with anything? Read on.
♦ HSBC & TheOutnet.com ♦
HSBC bank and TheOutnet.com have been in a partnership for a year or so to bring this online fashion store brand to the global market. HSBC's Accelerating Ambition "A New Model For Fashion Retail" is all about how the fashion retail website is expanding worldwide which of course was also due to their collaboration.
This web-based fashion retailer was founded in 2009 and has grown a lot since then. If you go to their website you'll indeed see a lot of usually high priced Western brands at a lower price and you can find items on sale too!
(Photo credit: screenshot via theoutnet.com)
You'll also find under HSBC US's YouTube page that TheOutnet.com is one of the bank's client with success stories, along with Drive Devilbiss and Hewlett-Packard (HP).


In the video, Shira Suveyke the Executive Vice President, Chief Merchant of TheOutnet.com says the site has over 350 designer brands at discounts of up to 75% off. Wow. Does this mean Zalora.ph can move over? Lol.
Also according to the video caption from the source above,
HSBC has provided guidance to the OUTNET on expanding into new markets, leveraging the knowledge of our retail & apparel specialists. THE OUTNET now ships to over 170 countries worldwide.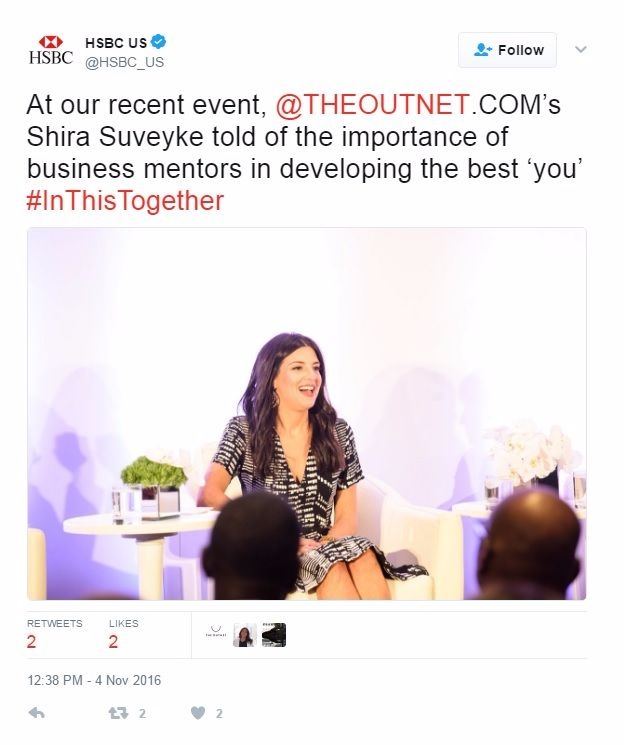 (Photo credit: Screenshot via Twitter.com)
Definitely the partnership of these two looks like it's helping people reach branded fashion products at a more affordable price! Must be great to have a big global bank as partner in business right? :)
Anyway, how are these big fashion brands priced lower at this fashion online retailer? Well if you watched the video above, there are lots of items for sale from the past seasons so all you have to do is purchase those clothes. Even at a more affordable price you'll still be as stylish as possible by wearing the top brands you like.
♣ What Else do we Need to Know about TheOutnet.com? ♣
I checked the Instagram account of this website and found a disturbing comment. Not sure if it's true yet but it is kind of a "shock" especially if it's your first time to hear about an interesting website. Not that I'm out to discredit them or anything but it's just bothersome to see such comments when people are only out to save money.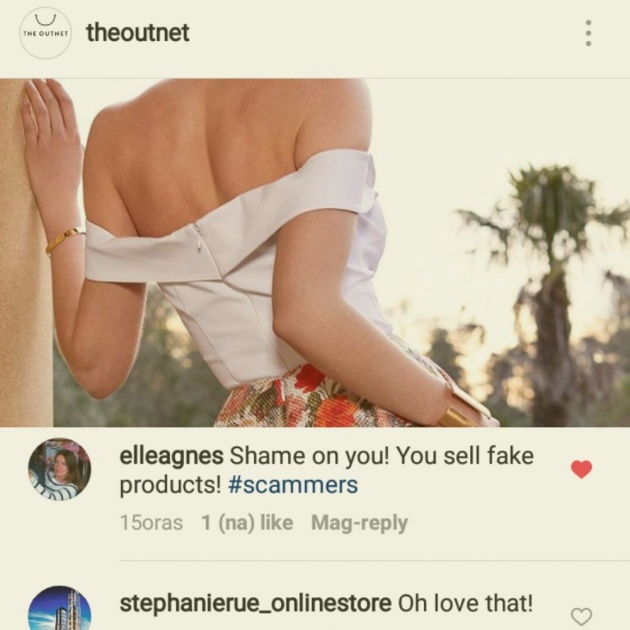 (Photo credit: ArtGirl's edited mobile screenshots via Instagram.com)


And then I found trustpilot.com reviews of the site and boy the negative reviews don't look too good as expected, much like eBay.com reviews weren't looking too good. I worked in eBay so I know there are a lot of buyers who don't read the description and there are a lot of sellers who don't put honest descriptions and so eBay customer service deals with such problems and educates both buyers and sellers. Reviews still have a lot to say about brands though, you just have to weigh them all in to decide if you'd like to buy a product or use a service.
As for buying on TheOutnet.com, I'm not sure if it's the same as buying from an outlet store. Further research led me to an online article that linked to what BuzzFeed had to say in 2014 about items bought from outlets. I even found a 2009 snopes.com discussion about it.
Branded luxury items are not usually sold at a low price right? So the secret seems to be out years ago but I just found it out today. Lol. Outlet clothes aren't discounted but are just made cheap due to cheap quality or because it's a factory defect or something. I know this because we have local factory overruns which are supposedly defective or low quality version of the branded clothes. Now I can't say if this is true with online stores like TheOutnet.com. I haven't got any inside information but if outlets aren't selling actual quality branded items, what's the chance of this website selling authentic high quality items too right?
Oh and theOutnet.com has it's own clothing line which was launched in 2012. They have seasonal collections every year for Iris & Ink. Maybe we should buy their own branded products instead of the supposedly more affordable luxury designer brands they sell eh?
Personally I'm not into branded items anyway so if it says it's of a certain luxury brand and it's cheaper than usual, I don't see the problem. It might be that we're being kind of scammed but hey it's all about the price and the brand baby. Or maybe it's more of always all about the price. Everything is a business and everybody's out to save and make money, so let's all just be merry and buy whatever we want to spend our money on. After all it is our hard-earned money anyway.
Now then, what does all this have to do with Querlo?
♦ HSBC & Querlo ♦
Quite recently, HSBC partnered with Querlo, a chatbot with a human touch, and has been using its service and technology. Now we all know Querlo is a technology owned by MTI USA Inc., the same people behind Bitlanders. With the partnership, Querlo is able to help out HSBC in interacting more with the customers and clients interested in building their business in terms of financial solutions.
In a recent article posted on the Partners - Wall Street Journal web page, HSBC showcased it's Querlo chat bot, together with the video of HSBC and TheOutnet.com.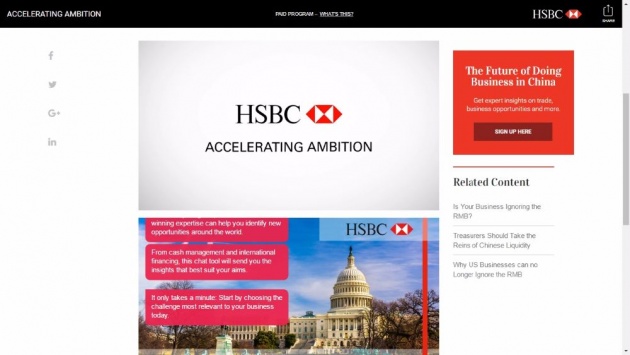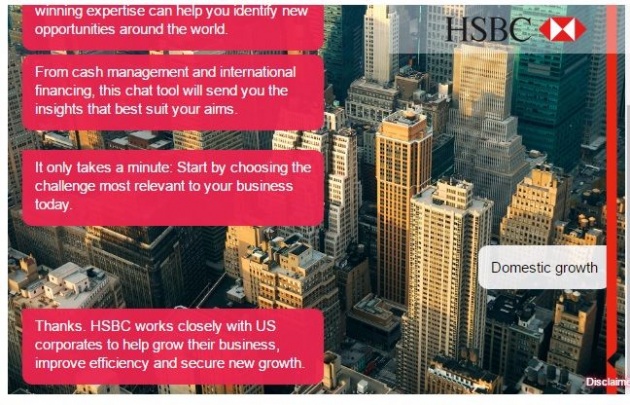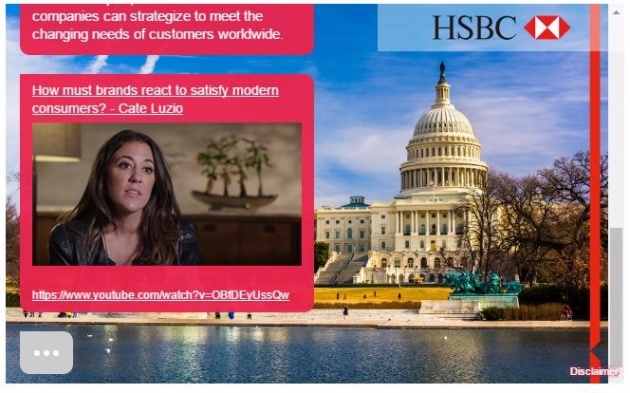 I clicked on a few choices and most of them are really about how HSBC can help you further your business in terms of finances. If it's global expansion help you want and need, then it looks like this bank is one of the best ones to go to.
© Art x Stephanie Rue
All rights reserved.