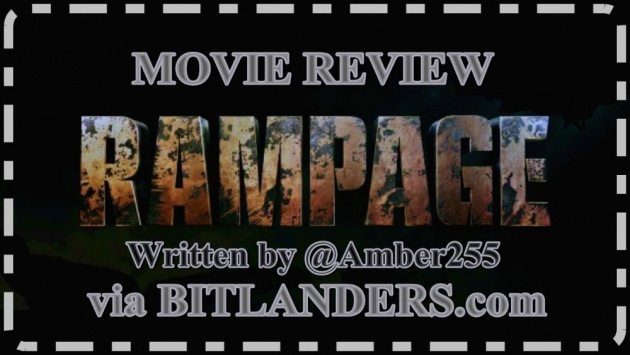 RAMPAGE movie review - Photo credit: Amber255 via Bitlanders.com
Welcome to read my new movie review. This time is a RAMPAGE movie review. RAMPAGE movie premiere started in our cinemas on April 13th, 2018. It's a fantasy-science fiction film with one of the most-earning Hollywood star Dwayne Johnson, having the most well-known pseudonym THE ROCK. He did not hide before the premiere that the creation of the thriller was one of the most exciting and interesting experiences in his life.
I am a big fan to watch new movies. Especially if there are playing great actors. Of course, I read reviews and decide to watch it or not. This time I said no, this is a movie for children with monsters and so on. But my boyfriend very wanted to watch it so I decided just to have an entertainment and at the same time to rest in the cinema watching an easy movie.
Brad Peyton, the director of RAMPAGE reunited with Dwayne Johnson, the world's most acclaimed actor and presented another epic-looking fantasy-science fiction film. It is based on the Arcade game - RAMPAGE created and presented to the public in 1986. The director said that has watched a lot of interviews with actors and filmmakers, and Dwayne Johnson fell to the eye more than any other professional in his field. It was already the third time that a 39-year film creator worked with The Rock, and he says that this actor can be bravely named his muse.
Brad Peyton: I mean, to me the whole movie, the central pillar of the movie is the relationship between Davis and George. Like that's the heart of the movie.

Credit: screenrant.com
The short story of the RAMPAGE movie
Primate explorer David Okoye loves animals more than humans. His most loved one is the mighty gorilla boy George. Some time ago, Davis has saved gorilla when he was still very little, and since then a special connection has been made between him and George: the buddies are even able to communicate in a sign language.
RAMPAGE - OFFICIAL TRAILER
Credit: WarnerBrosPictures via Youtube.com
One day, George finds a mysterious chemical weapon in a forest whose radiation instantly changed his DNA and caused genetic mutations to the gorilla. George becomes aggressive, his body mutates, and he himself does not understand what is happening to him. The gorilla started to grow up, and from a two-meters, animal soon became a triple big monster. Now, the only person who can help him is Davis, a primate specialist, and his good friend.
One day, Deivis is contacted by government representatives, from whom the scientist also learns about the genetically affected giant wolf. However, the mutation of George and his reckless actions are causing more complications, and all military forces are chasing him. Moreover, he is not the only animal already that has encountered a chemical weapon that has changed his shape. Very soon, George and Davis will have to face not only with the angry military but also with monsters of unprecedented size who want to destroy the entire city of Chicago.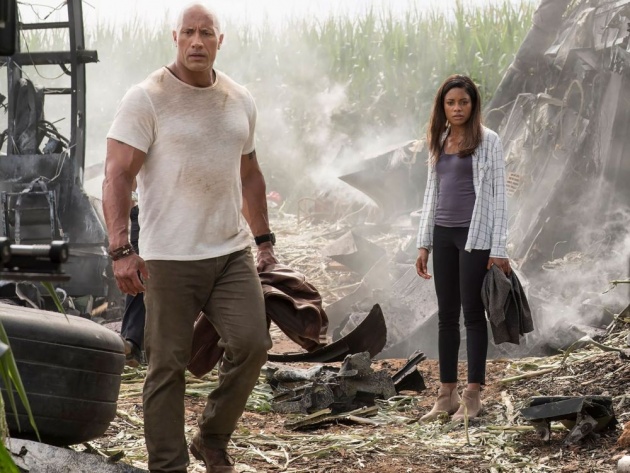 RAMPAGE movie premiere - Photo credit: wallpapersden.com
Now, it depends only on Deivis, whether it's possible to stop their rage, avoid the catastrophe and get back his friend Georg. Davis united with gene engineer Keith to find an antidote. In addition, he is struggling to prevent a global catastrophe and save the horror, causing creature that has just not long ago has been his friend.
While reading my movie review, check Querlo chat:
The content of the RAMPAGEmovie
After a month after the really cool "Tomb Raider", we are already getting a second screening of a famous computer game, which at first glance looks really worthwhile. The only difference is that the foundation of the Brad Python's movie was created by an arcade game with very little story, the principle of which was simple as two pennies - the city is attacked by big monsters and the government has to deal with them in every possible way, so that civilians cannot be harmed. And everything, that's the plot of this movie, which, in fact, did not completely amaze me.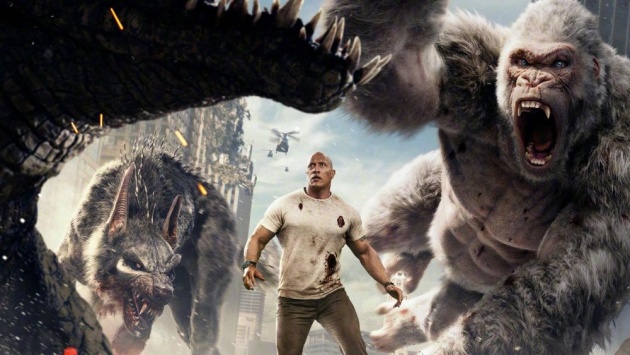 Fantasy-science fiction film RAMPAGE - Photo credit: blog.hdwallsource.com
Still, going to watch this movie, I knew what I would get - a stupid, but a pleasing eyes entertainment, which would allow me to rest my brain for a couple hours and forget everyday worries. That is precisely why these films are a great and inexpensive relaxation tool that does not cause headaches. But I understand perfectly well that there is such a group of people who are hoping to see a new "Jurassic Park" in such films, and when do not get what they want, despair and write negative reviews. But such movie watchers should blame themselves for their choices.
The storyline, as I wrote earlier, is very primitive and does not cause any surprise. However, lately in cinema screens, we can often see enormous monsters or robots that fight each other to destroy huge cities or entire worlds, islands. And almost all of them gave you the fun moments in the cinema. The RAMPAGE allows you to experience the same pleasant moments.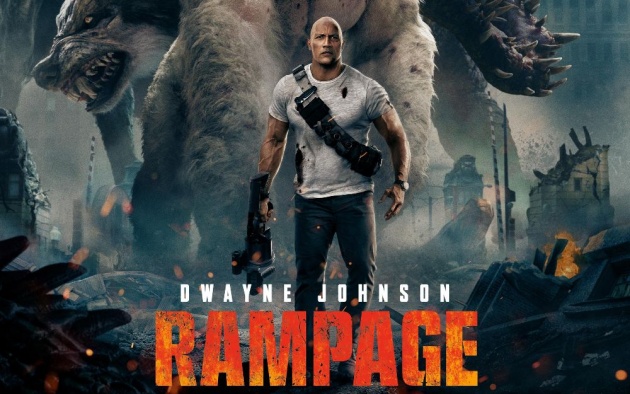 RAMPAGE movie scene with Dwayne Johnson Photo credit: blog.hdwallsource.com
The monsters themselves - the gigantic gorilla, the lizard, and the scary wolf, are doing their best in the film. They are the same as in the game that I once played. Their impressive appearances cause a lot of tension in the overall context of the narrative, but on the other hand, their presentation is too sluggish. Apparently, it was not interesting for the creators to present their prehistory and to answer some of the questions about their mutation. But we did not come here because of that.
In addition to the monsters, the film also has a very important, albeit template theme for animal-human friendship, which develops from the perspective of George and Davis. It really does not annoying, although it was seen a million times already, but in other forms - human friendship with a horse, a big whale, dolphin, a lion, etc. But it could not be otherwise. It was necessary at least somehow to insert heroes played by the humans into the story of a film, who not only wanted to destroy huge monsters, but also to touch their hearts.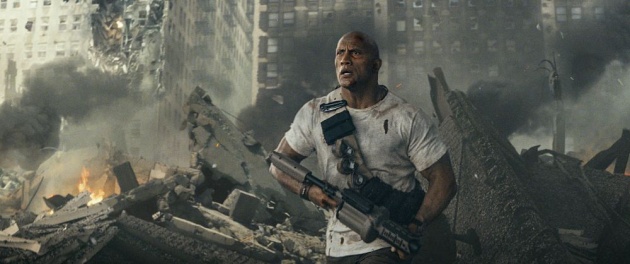 Movie RAMPAGE scene Photo credit: doublepworkshop.blogspot.com
Continuing with the characters, one of the most prominent heroes of the movie became not Deivis, who was the main hero of this story, but highly motivated and very charismatic agent Rasel. It's just because of this hero, the film review has become much more vigilant because the main action begins only on the second side of the band, and this player makes it harder to get bored due to his escapades.
There are also bad guys because, thinking logically, not only the monsters become real antagonists. Something had to trigger their incredible mutation. But I'll better stop here because I do not want to disclose everything and make the watching too dull.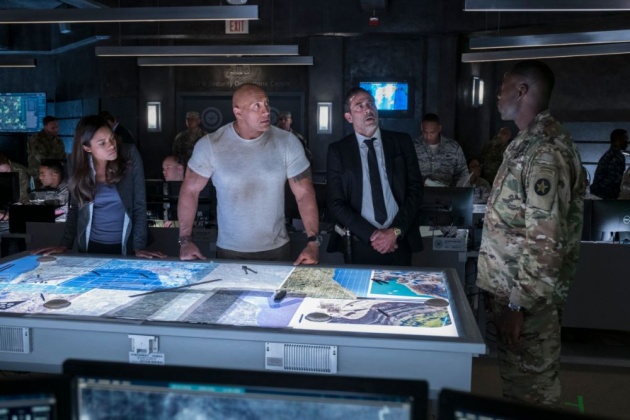 Brad Peyton's movie RAMPAGE - Photo credit: dwaynejohnson-therock.blogspot.com
If to talk about the action, there was a lot of action which makes the movie fun and lively. But if we talk about the main clash in the streets of the Chicago city between the monsters, you will have to wait more an hour to see it. Yes, yes... Because only the last twenty minutes of this movie justify its name when we see creatures on the screen really breaking down everything. Up to this moment you have to keep patience and just monitor the events that lead to an epic battle.
After the end of the film, I went out of the cinema with a calm conscience that what I expected - a stupid but very entertaining experience that gave me a wonderful rest in the cinema and somewhat caused a sense of nostalgia, recalling my first steps in the world of computer games. Nothing more I needed or expected. Therefore, I recommend watching the movie for those people who grew up playing arcade games, who like the funny and not very smart fantastic movies, and those who want to escape from reality for at least a few hours. All of that can offer you Brad Python's movie RAMPAGE.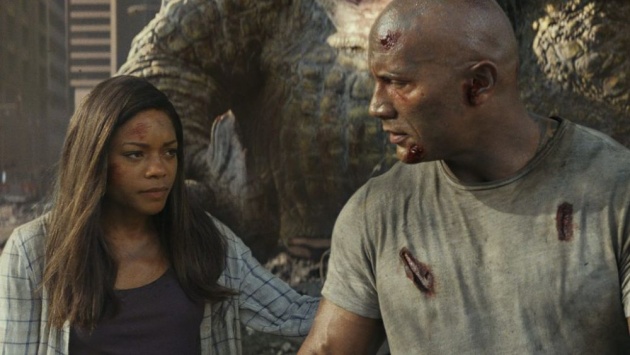 Dwayne Johnson with Naomie Harris Photo credit: theupcoming.co.uk
The technical side of the movie
Every year, I am increasingly surprised by the CGI technology, which creates very realistic special effects. In this film, from the pluses of the visual part, I would mention George's presentation, which reminded me of the magnificent looking Caesar from the new trilogy of the "Monkey Planet". It's a pity that other creatures were not so gracefully presented, and the ruins often seemed too unrealistic, but with 3D glasses, most of the inaccuracies disappeared. I'm not saying that the film's three-dimensional space is fabulous looking like Steven Spielberg's "READY PLAYER ONE", but in general, I'm not complaining about it, so I'd recommend choosing cinematic sessions that include 3D.
What I really liked, this is really a good job of the operator Jaron Presant, which allowed to enjoy not only the last epic monsters' fight, which, due to its images, managed to create a terrible, but also a smoothly developed storyline. The greatly filmed scenes in which George was fighting with a lizard, was a nail of all collisions. Just for that, I would raise the overall evaluation of the film.
The soundtrack is very standard for such films - many epics and hard-sounding musical compositions that enliven the overall picture and prevents boredom awaiting more interesting moments where dominate the chaos in Chicago and gigantic monsters.
The editing is good - both the picture and the sound do not cause any unpleasant moments.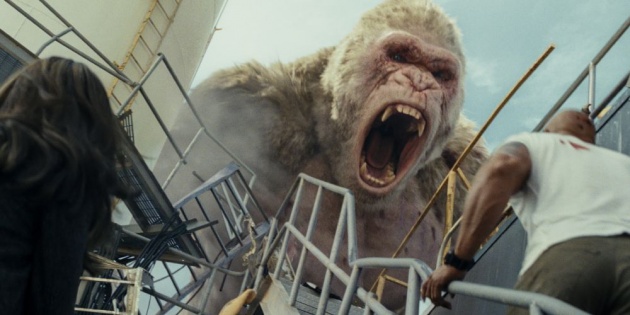 Gorilla George in movie RAMPAGE - Photo credit: digitaltrends.com
Actors' collective work
The main hero is playing (if we can call it playing) Dwayne Johnson, so there is nothing to speak about high-level performance from his side, but there is one thing... This man is able to create a smile, he does not annoy and it is always pleasant to watch him, whether it embodies a tooth fairy or a cool guy. The only aspect that can be annoying is the fact that a former wrestler too often comes on cinema screens.
JOHNSON: I enjoy working with Brad. This is my third movie with him. There is ambition there. He's a very ambitious director. I enjoy working with him, creatively. I come from the world of sports, and I enjoy being coached and pushed.

Credit: collider.com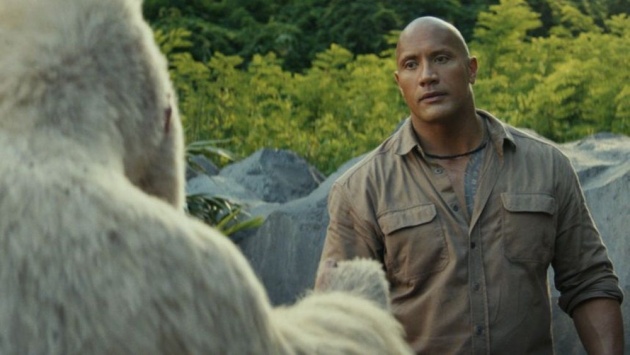 Dwayne Johnson in a movie RAMPAGE Photo credit: wallpaperspick.com
Another bright hero, in my opinion, is agent Harry Russell embodied by actor Jeffrey Dean Morgan, was the most charismatic movie character. He coped with his role very well. It's only a shame to me that we can rarely meet him in bigger cinema projects.
Joe Manganiello, Malin Akerman and Naomie Harris are also seen in the second plane of the movie.
Rampage Review
Credit: Manny The Movie Guy via bitLanders.com
On the final note - Verdict
Of course, not everybody will enjoy this movie. Who wants action, goes to the action movies. Who wants a comedy, goes to a comedy movie. Who wants a fantasy, goes to a fantasy movie. Probably, you understand what I wanted to say? If you do not like a genre of movie, you better stay at home or choose another movie and do not bother to think about what you do not like.
You do not need to criticize the genre you are not interested in because some people really like what you do not. The cinema was full of people, and many were excited for real, and I heard their excitement. Although, for me, it was just an entertainment to watch this kind of movie. Who like to watch such films, they are waiting for premieres and rushing to first seances. As for this movie, it is full of action and a lot of fantasy, and even some humor, so who love the films of this genre, they will go and just enjoy the movie.
I watched, everything was fun and interesting. In my opinion, there is what to criticize about the film's storyline, but the movie has a good ending, a good job was done here what is so rare about this type of movie.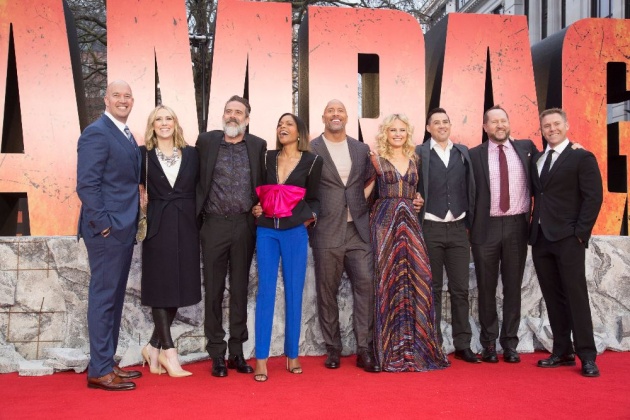 RAMPAGE movie premiere in Europe Photo credit: whatsontheredcarpet.com
And so, my verdict - RAMPAGE is pleasing to the eye and perfectly brain-relaxing movie. Due to its light and effective looking content, not requiring any deeper analysis of the storyline, expensive special effects, scenes full of high-quality actions, and the Dwayne Johnson, who once again is trying to save the world, the movie becomes fun for every fan of adventures and easy fantasy films.
Have a fun watching! Relax, and enjoy!!!
***************************************************************************************************
Thank you for stopping by and reading my blog.
2018, All Rights Reserved.
You are very welcome to join Bitlanders and share your valuable knowledge and opinion.
***************************************************************************************************
You can check my other blogs with movie review:
1. THREE BILLBOARDS OUTSIDE EBBING, MISSOURI movie review: the story that keeps you in unknown for two hours
2. Movie review: READY PLAYER ONE - a visual masterpiece of Steven Spielberg's science fiction adventure genre
3. Movie GRINGO Review - Crime Comedy Full of Sarcasm
Come back to find more...
**************************************************************************************************